Skip to main content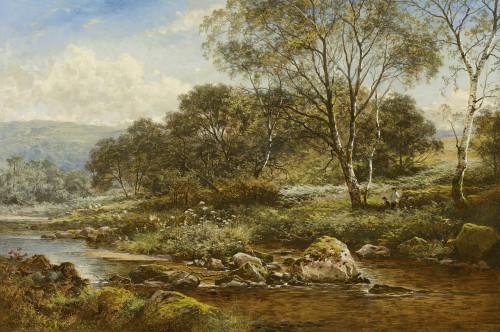 Benjamin Williams Leader A birchwood on the Llugwy
Oil on canvas: 24(h) x 36(w) in / 61(h) x 91.4(w) cm
Signed and dated lower left: B.W. LEADER 1880.
This artwork is for sale.
Please contact us on: +44 (0)20 7493 3939.
Email us
BX 123
BENJAMIN WILLIAMS LEADER RA
Worcester 1831 - 1923 Shere, Surrey
A birchwood on the Llugwy
Signed and dated lower left: B.W. LEADER 1880.
Oil on canvas: 24 x 36 in / 61 x 91.4 cm
Frame size: 30 ½ x 42 ½ in / 77.5 x 108 cm
In a Victorian style gilded composition frame
Provenance:
M. Newman Ltd., London
Private collection, Jersey, acquired from the above, then by descent
Literature:
Frank Lewis, Benjamin Williams Leader RA 1831-1923, Frank Lewis Publishers Ltd., Leigh-on-Sea, 1971, p.38, no.165 (with inverted measurements)
In this beautiful painting, Benjamin Williams Leader represents the River Llugwy, a tributary of the river Conwy which has its source at Ffynnon Llugwy, a lake in the Carneddau mountain range in Snowdonia. The Llugwy, passing through the village of Capel Curig, over the Swallow Falls and flowing past Betws-y-Coed, is shallow in places and in the summertime drops to a very low level uncovering rocks, as seen in the foreground. Leader first went to Betws-y-Coed in north Wales, a favoured location for professional and amateur artists, in 1859 and represented the rivers Llugwy, Conwy and Lledr throughout his long career. 
A later painting of the Llugwy, also capturing a bend in the river, it's wooded banks and shallow pools, was purchased from the Royal Academy exhibition of 1914 by King George V and Queen Mary, the first to enter the Royal Collection. He was later commissioned to paint a miniature watercolour of pine trees for Queen Mary's Doll's House.
The River Llugwy near Bettws-y-Coed, 1914                   The valley of the Llugwy, 1883
Oil on canvas: 67.9 x 99.7 cm                                  Oil on canvas: 119.4 x 200.7cm
Royal Collection Trust                                              Tate Britain
Harvest time, on the banks of the Llugwy, 1884               On the Llugwy below Capel Curig, 1903
Oil on canvas: 58 x 90 cm                                        Oil on canvas: 125.7 x 176.2 cm
Bristol Museum and Art Gallery                              National Museum Wales, Cardiff
On the Llugwy, North Wales                                         A sunny morning on the Llugwy, 1888
Oil on canvas: 74.5 x 110 cm                                   Oil on canvas: 46.3 x 76.5 cm
Haworth Art Gallery, Accrington                            Norfolk Museums Service
BENJAMIN WILLIAMS LEADER RA
Worcester 1831 - 1923 Shere, Surrey
Born as Benjamin Williams, he added the surname Leader, his father's middle name, to distinguish himself from the Williams family.  Upon abandoning a profession in engineering for art, he became a pupil at the Royal Academy in 1853.  The following year he showed his first picture there, and continued to exhibit prolifically up until his death in 1923.
He achieved notable success with his painting, February Fill Dyke exhibited in 1881.  It
remains one of the most famous Victorian paintings, and is a tribute to Leader's artistic talents.  The Royal Academy elected him an associate in 1883, and academician in 1898.  He also exhibited abroad, winning the gold medal and the legion of honour in Paris in 1889.
Leader was extremely popular in Victorian times and his work sold for high prices.  Today he is recognized as one of the most accomplished Victorian landscape artists of his day.  He usually chose scenes from the Midlands and the Thames valley, although he was also partial to Welsh landscapes, especially around Bettws-y-Coed.
His earlier work reflects his admiration of the Pre-Raphaelites, however, he later developed a broader, more naturalistic style.  A realistic feeling of space and a lightness of atmosphere are characteristic of his work.  James Dafforne, the contemporary art critic of the Art Journal, praised his work in glowing terms in 1871: 'his style is a happy medium between excess of detail and over elaboration on the one hand, and a dash of execution on the other...we regard Mr. Leader as one of our best landscape painters.'
The work of Leader is represented in the Aberdeen Art Gallery and Museum, the Birmingham City Art Gallery, the Blackburn Museum and Art Gallery, the Towneley Hall Art Gallery, Burnley, the Bristol City Art Gallery, the Ferens Art Gallery, Kingston-upon-Hull, the Guildhall Art Gallery, the Royal Academy of Arts, the Tate Gallery and the Victoria and Albert Museum, London, the Manchester City Art Gallery, the Mappin Art Gallery, Sheffield, the Atkinson Art Gallery, Southport, the Royal Holloway and Bedford New College collection, Surrey and the Worcester City Art Gallery.