Skip to main content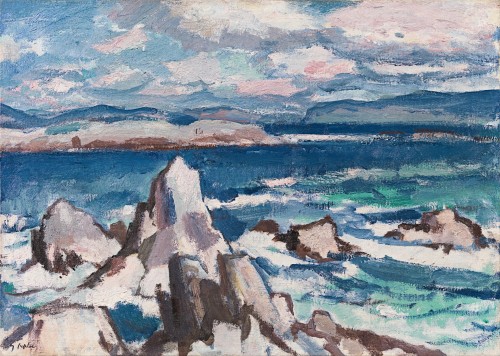 Samuel John Peploe A breezy day, Iona
Oil on canvas: 20(h) x 28(w) in / 50.8(h) x 71.1(w) cm
Signed lower left: S Peploe; inscribed on a label attached to the frame: Breezy Day, Iona
This artwork is for sale.
Please contact us on: +44 (0)20 7493 3939.
Email us
SAMUEL JOHN PEPLOE RSA
1871 - Edinburgh - 1935
Ref: BZ 235
A breezy day, Iona
Signed lower left: S Peploe; inscribed on a label attached to the frame: Breezy Day, Iona
Oil on canvas: 20 x 28 in / 50.8 x 71.1 cm
Frame size: 26 ¾ x 34 ¾ in / 67.9 x 88.3 cm
In a carved and gilded Louis XIV style frame
Painted circa 1924
Provenance:
Mrs SJ Peploe, Edinburgh
The Herald, Melbourne
Sir Keith Murdoch, Chairman and Managing Director of The Herald newspaper group and founder of News Limited, Cruden Farm, Victoria, acquired from the above in 1939, then by descent
Dame Elisabeth Murdoch, Cruden Farm, Victoria, then by descent
Private collection, Melbourne
Exhibited:
Glasgow, Royal Scottish Academy, McLellan Galleries, Memorial Exhibition of Paintings by SJ Peploe, February 1937, cat.no.60
Melbourne, Town Hall, organised by The Herald, Exhibition of French and British Contemporary Art, from the 16th October 1939, cat. no.182
Literature:
E Chanin and S Miller, Degenerates and perverts: the 1939 Herald Exhibition of French and British Contemporary Art, The Miegunyah Press, Melbourne, 2005, pp.261, 272
It was solely due to his friendship with fellow Scottish Colourist, FCB Cadell (1883-1937), that Samuel John Peploe ventured to Iona, a remote and rugged island off the south-western tip of Mull in the Inner Hebrides of Scotland. Cadell first visited the island in 1912 and it was clear from his extensive studies of the landscape that its rocky shores, white sandy beaches and emerald seas had a profound effect on him. He made repeated trips there, often spending entire summers in the western Hebrides in retreat from the tumult of life in Edinburgh. In 1920, he invited his close friend Peploe, who was equally entranced, and together they embarked upon a decade's worth of work that would see them both make many visits and paintings of the island. 
Peploe and Cadell became the only members of the Scottish colourists to paint on Iona and returned frequently; their landscapes not only exceptional works of art, but 'also comprise an interesting historical recording' of the island.[1] Philip MacLeod Coupe examines the topography of the landscape in intricate detail in his book Paintings of Iona, Cadell and Peploe, his extensive studies matching the artist's works to specific sites around the island. Unlike Cadell, who painted different subjects in a variety of locations, Peploe almost entirely focused his depiction of Iona on one favourite spot. In a letter to his wife Margaret during his first visit, Peploe writes, 'I have seen most of Iona now. It is a beautiful place…The most beautiful part of the island is the north end: white sands and beautiful rocks, looking across to Mull.'[2]
Peploe chose to stay closer to the north end of the island in the years following his first Ionian summer. Captivated by its deserted white sands and the distinctive pink-hued 'Cathedral Rocks' that rise from them, he found the north end provided all the inspiration he
needed to produce bright, dramatic seascapes. A breezy day, Iona illustrates how much Peploe valued the undisturbed natural beauty of the island. He was immediately fascinated by its remoteness and the island came to be of great significance to the artist, acting as a sanctuary. The artist's grandson writes: 'As his vision mellowed and a greater naturalism took hold in
subsequent years, the intensity of colour he observed in the waters of the Sound of Iona in bright sunshine, varying over shallow reefs and sand bars,'[3] provided him with endless subject matter. The machair, beaches and rocky outcrops, all under an ever-changing light that moved the sea from turquoise and azure blue to dark green and grey, all belonging to Cadell and Peploe's much cherished Isle of Iona.
In this remarkable work, Peploe seems to depict Pulpit Rock from the Headland on the extreme northeast coast of Iona, with Eilean Annraidh in the middle distance and the cliffs at Gribun on the horizon.[4] Peploe's interest in the rocky coast of Scotland can be seen in his earlier views of Barra in the Outer Hebrides, circa 1903, which demonstrate similarly strong contrasts of dark and light, with bold outlines and shading of rocks. In spite of the painting's title, the summer of 1923 was quite challenging with Peploe observing that 'we had most miserable weather in Iona this year – worst in living memory, gales and rain the whole time, I got very little done. But that kind of weather suits Iona, the rocks and distant shores seen through falling rain, veil behind veil, takes on an elusive, mysterious quality, and when the light shines through one has visions of rare beauty.'[5]
A breezy day, Iona, was included in the landmark Exhibition of French and British Contemporary Art, initiated by Sir Keith Murdoch, Chairman and Managing Director of The Herald newspaper group, which toured Australian venues in 1939. The curator, Basil Burdett, used his extensive personal and professional contacts alongside those provided by Murdoch to source 217 artworks by twenty-seven British and fifty-two French artists. Featuring paintings by Van Gogh, Gauguin, Cézanne, Picasso, Matisse, Modigliani, Dali and Ben Nicholson, the exhibition attracted more than 70,000 visitors overall, with a spectacular 45,000 in Melbourne alone during its two-week tenure at that city's Town Hall. Murdoch purchased sixteen works from the exhibition by artists including Pierre Bonnard, Walter Sickert, Stanley Spencer and Paul Signac, as well as SJ Peploe's A breezy day, Iona.
Sir Keith Murdoch was the first chairman of Trustees of the National Gallery of Victoria following its separation from the National Museum and Library in 1945 and was instrumental in its choice of site, 'due to his conviction that a new art gallery and cultural centre at the entrance to the city' was fundamental to Melbourne's future.'[6] In opposition to the NGV Director, JS MacDonald, Murdoch was a cultural liberal in favour of modernising and diversifying the permanent collection. Dame Elisabeth was an equally generous patron of the arts and philanthropist, becoming the first woman to sit on the Council of Trustees of the NGV in 1968 and in 1976 co-founding the Victorian Tapestry Workshop. She was also an active supporter of the McClelland Sculpture Park and Gallery.
The Cathedral Rocks                   Stormy weather, Iona, c.1929        Cathedral Rock, Iona, 1920         Iona Landscape: Rocks
Oil on panel: 35.5 x 43 cm       Oil on canvas: 51.2 x 61 cm     Oil on board: 38.2 x 45.6 cm  
Kirkcaldy Galleries                  Both Aberdeen Art Gallery & Museums
A Rocky Shore, Iona                   Iona                                          Rocks at Iona,
Oil on canvas: 40.7 x 50.5 cm  Oil on panel: 37.6 x 45.3 cm    Oil on panel: 32 x 39.8 cm
City Art Centre, Edinburgh     Hunterian Art Gallery,             Manchester Art Gallery
                                                University of Glasgow
SAMUEL JOHN PEPLOE RSA
1871 - Edinburgh - 1935
Samuel John Peploe was the eldest of the Scottish Colourists and worked in a style remarkable for its painterly freedom and richness of colour. Together with Francis Campbell Boileau Cadell, George Leslie Hunter and John Duncan Fergusson, whose work was also characterised by the bold handling and use of colour, they were dubbed 'Les Peintres de L'Ecosse Moderne' following their first exhibition in Paris in 1924.
Peploe first studied at the Edinburgh College of Art in 1893, and then continued his training in Paris, at both the Académie Julian under Adolphe William Bouguereau (1825-1905), and the Académie Colarossi. At this time he was considerably impressed by the work of Jean-Baptiste-Camille Corot (1796-1875), Jean-Baptiste-Siméon Chardin (1699-1779), Gustave Courbet (1819-1877) and Paul Cézanne (1839-1906). He also admired Diego Velázquez (1599-1660), and seventeenth-century Dutch painters, especially Frans Hals (c1582-1666), whose work he saw on a visit to the Rijksmuseum, Amsterdam, in 1895. During this period, Peploe led a cosmopolitan life, working in Britain, and travelling extensively throughout France, in the company of his friend and colleague, Fergusson, with whom he spent several holidays painting at Etaples, Paris Plage, Dunkirk, Berneval, Dieppe and Le Tréport. In 1896, Peploe returned to Edinburgh and settled at his first studio in Shandwick Place, where the dark surroundings suited the sombre palette of his early still lifes, nudes and figure studies. He moved to Devon Place in 1900, where he developed a more sophisticated choice of subject matter, matched by an increasingly rich application of paint, and to York Place in 1905, where lighter space was reflected in the heightened tonality of his work.
The work of Samuel John Peploe is represented in Aberdeen Art Gallery & Museums, University of Aberdeen; University of St Andrews; Rozelle House Galleries, South Ayrshire; Birmingham Museums Trust; Cartwright Hall Art Gallery, Bradford; Brighton and Hove Museums and Art Galleries; the Fitzwilliam Museum, Cambridge; Pallant House Gallery, Chichester; Gracefield Arts Centre, The Stewarty Museum, Dumfries and Galloway; Lillie Art Gallery, East Dunbartonshire; Dundee Art Galleries and Museums, University of Dundee; National Museum Scotland, Scottish National Gallery of Modern Art, Scottish National Portrait Gallery, Royal Scottish Academy of Art & Architecture, Edinburgh, City of Edinburgh Council, University of Edinburgh; Kirkcaldy Galleries, Fife; the Burrell Collection, Hunterian Art Gallery, University of Glasgow, Kelvingrove Art Gallery and Museum, Glasgow, Glasgow Museums Resource Centre; Ferens Art Gallery, Hull, University of Hull; McLean Museum and Art Gallery, Inverclyde; Abbot Hall Art Gallery, Lakeland Arts Trust, Kendal; Leeds Museums and Galleries; The Courtauld Gallery, the Fleming Collection, Tate Britain and William Morris Gallery, London; Middlesbrough Institute of Modern Art (MIMA); Manchester City Galleries; National Trust for Scotland; Laing Art Gallery,
Newcastle; Paisley Museum and Art Galleries, Renfrewshire; Perth & Kinross Council; The Atkinson, Southport; The Potteries Museum & Art Gallery, Stoke on Trent and Ulster Museum, National Museums Northern Ireland.
[1] Philip MacLeod Coupe, Paintings of Iona, Cadell and Peploe, The Heirs of Philip MacLeod Coupe, Malvern, 2014, p.13.
[2] The artist cited in, Guy Peploe, S. J. Peploe 1871-1935, Mainstream Publishing, Edinburgh, 2000, pp.63-64.
[3] Guy Peploe, S. J. Peploe 1871-1935, Mainstream Publishing, Edinburgh, 2000, p.65.
[4] Philip MacLeod Coupe, op. cit., p.138.
[5] Samuel Peploe, letter to William MacDonald, 5th November 1923 cited in Stanley Cursiter, Peploe, Thomas Nelson & Sons Ltd., London, 1947, pp.71-72.
[6] 'Keith Murdoch – A great Australian', The Herald, 6th October 1952, p.4.