Skip to main content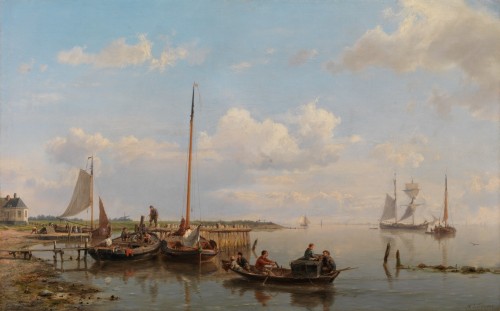 Hermanus Koekkoek Snr A calm on the Zuider Zee
Oil on canvas: 14.5(h) x 23(w) in / 36.8(h) x 58.4(w) cm
Signed lower right: H. Koekkoek
This artwork is for sale.
Please contact us on: +44 (0)20 7493 3939.
Email us
BY 138
HERMANUS KOEKKOEK SNR
Middelburg 1815 - 1882 Haarlem
A calm on the Zuider Zee
Signed lower right: H. Koekkoek          
Oil on canvas: 14 ½ x 23 in / 36.8 x 58.4 cm
Frame size: 20 ½ x 29 in / 52.1 x 73.7 cm
Painted in the 1840s
Provenance
Charles Baring Wall (1795-1853);
from whom acquired by his cousin Thomas Baring (1799-1873);
by descent
Hermanus Koekkoek Snr was trained by his father, the marine painter Johannes Hermanus Koekkoek (1778-1851), in Middelburg, on the central peninsula of the province of Zeeland. He was renowned for capturing the changeable quality of coastal light, the drama of clouds and sudden squalls. Hermanus was equally brilliant at evoking calm weather, in the tradition of seventeenth century masters such as Jan van de Cappelle (1624-1679) and Willem van de Velde the Younger (1633-1707).
The Zuider Zee was the huge body of water north of Amsterdam, closed off from the North Sea and extensively reclaimed in the twentieth century. The salt water inlet, which in the seventeenth century Golden Age supported prosperous trading towns such as Hoorn and Enkhuizen, is today the fresh water Ijsselmeer. Koekkoek depicts the Zuider Zee on a radiant, calm day, the low horizon emphasizing the glorious cloudscape and the vast area of barely-rippling water. The distant shipping and shoreline are seen through a haze of moisture-laden air. Koekkoek is a precise observer of life on the Zuider Zee: fishermen mend their nets and a passenger boat heads towards the shore. An air of contentment pervades the scene.
Hermanus Koekkoek Snr, Sea piece: calm waters.
Victoria & Albert Museum, London.
HERMANUS KOEKKOEK SNR
Middelburg 1815 - 1882 Haarlem
Hermanus Koekkoek Snr specialized in marine subjects, but also painted river scenes and occasionally other types of subject matter. His pictures were most admired for his ability to depict skies. During his own lifetime, he was the youngest and most famous of the four artist brothers who founded the Koekkoek dynasty of painters. Trained under his father Jan or Johannes Hermanus Koekkoek (1778-1851) in Middelburg, Hermanus Snr was the father and teacher of Hermanus Jnr (1836-1909), Willem (1839-1895, Johannes Hermanus Barend (1840-1912) and Barend Hendrik (1849-before 1909), who also became successful artists.
Hermanus Snr lived and worked in both Amsterdam and Durgerdam between 1832 and 1873. He was elected to membership in the Royal Academy of Amsterdam in 1840 and to the Rotterdam Society the next year. He exhibited regularly at the Living Artists Exhibitions held in Amsterdam, The Hague and Rotterdam between 1832 and 1881. In 1876, he appears to have been living in London, exhibiting a painting at the Royal Academy entitled A fresh breeze on the French coast and giving his address as 16 Charlotte Street, the area of Fitzrovia popular with artists. He was awarded a gold medal at the 1875 'Arti et Amicitae' Society Exhibition in Amsterdam.
The work of Koekkoek is represented in the Glasgow City Art Gallery, Kelvingrove; the National Gallery of Victoria, Melbourne; the Rijksmuseum, Amsterdam; the Mappin Art Gallery, Sheffield; the Amsterdam Museum; the Museum Paul Tetar van Eleven, Delft; the Rijksmuseum, Enkhuizen; the Groninger Museum, Groningen; the Rijksmuseum, Leeuwarden and the Museum Boymans-van Beuningen, Rotterdam.