Skip to main content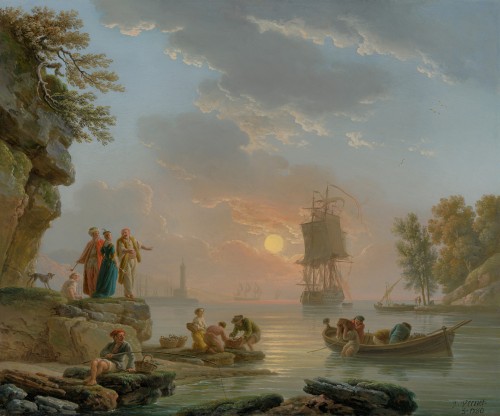 Claude Joseph Vernet A Mediterranean port at sunset with fishermen landing their catch and a British man-of-war at anchor
Oil on copper: 16.1(h) x 19.3(w) in / 41(h) x 48.9(w) cm
Signed and dated lower right: J Vernet . /f. 1780
This artwork is for sale.
Please contact us on: +44 (0)20 7493 3939.
Email us
BT 164 / BT 165
CLAUDE-JOSEPH VERNET
Avignon 1714 - 1789 Paris
A Mediterranean port at sunset with fishermen landing their catch and a British man-of-war at anchor
A mountainous landscape with young women bathing in a river
A pair
The former signed and dated lower right: J. Vernet . /f. 1780;
the latter signed and dated lower right: J. Vernet . f /1781
Oil on copper: 16 1/8 x 19 ¼ in / 41 x 48.9 cm
Frame size: 22 ½ x 25 ½ in / 57.2 x 64.8 cm
Provenance:
Commissioned by l'Abbé Alaume in March 1780 for the price of 1,200 livres for the pair (according to the entry in Vernet's 'Livres de raison')
Probably collection of Prince Mikhaïl Galitzine (1804-1860)[1]
Baron Emmanuel Leonino (1864-1936);
his estate sale, Galerie Charpentier, Paris, 18th-19th March 1937, lots 61 and 60
Private collection, France
Exhibited:
Copenhagen, Charlottenborg Palace, L'Art Français au XVIII siècle, 25th August-6th October 1935, no.245 and 246
Literature:
Claude-Joseph Vernet's MS 'Livres de raison', C. 286 (Bibliothèque Calvet, Avignon)
Florence Ingersoll-Smouse, Joseph Vernet, Paris 1926, vol. II, p.33, no.1062-63
Claude-Joseph Vernet was born in Avignon in the South of France and spent almost twenty years in Italy, from 1734 to 1753, before returning to his homeland. His idealised views, which found favour with Louis XV and an international clientele, are informed by his intense observation of Mediterranean architecture, nature and light. This pair of paintings is the more exquisite for being painted on copper, the smooth surface of which is ideal for Vernet's delicately nuanced cloudscapes and beautifully-observed figure groups. Vernet discovered copper supports – favoured by Dutch painters and introduced from Holland – around 1757, but used copper panels particularly in the later part of his career. This pair from 1780 and 1781 is a superb example of his smaller-scale cabinet paintings prized by connoisseurs. They were probably commissioned by the Abbé Aleaume, Secretary to the Comte de Provence, Louis XV's grandson (the future Louis XVIII). In 1773 Aleaume wrote a poem entitled 'Les Quatre Parties du Jour', an interest in the qualities of different times of day that is reflected in Vernet's paintings.  
A Mediterranean port at sunset shows Vernet's ability to harmonise a panoramic landscape with lively human drama in the foreground. Local fisherfolk contrast with three exotic, Oriental figures standing to the left, observing a British man of war and a lateen-rigged Mediterranean craft. Vernet, who painted a great series of The ports of France for Louis XV (1755-65), was a meticulous observer of shipping and often uses men-of-war as important elements in his compositions. (His wife was the daughter of an Irish Captain in the Papal Navy).
A mountainous landscape with young women bathing in a river is remarkable for its harmonies of cool colours: the green trees of the shadowed gorge and the deep blue of the river, against which the figures of the bathers stand out with classical clarity.
CLAUDE-JOSEPH VERNET
Avignon 1714 - 1789 Paris
Claude-Joseph Vernet was one of the most eminent and influential French landscape painters of the eighteenth century. Born at Avignon, son of the painter Antoine Vernet, Claude-Joseph showed great talent at an early age. Patronised by the Marquise de Simiane, the Marquis de Caumont and the Comte de Quinson, he went to Italy in 1734. In Rome, Vernet probably worked initially in the studio of the French marine painter Adrien Manglard. By 1738 he had established a reputation as a painter of landscapes, seaports and coast scenes, reminiscent of seventeenth century masters such as Gaspard Dughet. In 1745 he married Virginia Cecilia Parker, daughter of Mark Parker, an Irish Captain in the Papal Navy.
Vernet was particularly concerned with rendering the transience of nature and the effects of light and weather.  His paintings won critical acclaim for his ability to capture the changing beauties of nature. His subtle interest in changing landscape is seen in the way he conceived works in pairs and sets, contrasting times of day, weather, sea and shore scenes.
Vernet became a member of the Académie Royale and returned to France in 1753. That year he was commissioned by Louis XV to paint his famous series of the Ports of France, a celebration of the country's principal seaports, in which he combined the exacting demands of topography with a poetic monumentality.  Vernet completed only fifteen of the proposed twenty or more ports, exhibited at the Salon between 1755 and 1765. However, both in scale and quantity, this was one of the greatest official commissions of the century. Vernet finally settled in Paris in 1765, working for a large international clientele. He travelled to Switzerland with his patron Jean Girardot de Marigny in 1778, and died in Paris on the brink of the Revolution in 1789.
The work of Claude-Joseph Vernet is represented in the Musée du Louvre, Paris; the Château de Versailles; the National Gallery, London; the Hermitage, St Petersburg; the Prado, Madrid and the Philadelphia Museum of Art.
[1] Inscriptions in Cyrillic Gol 8 on both paintings.