Skip to main content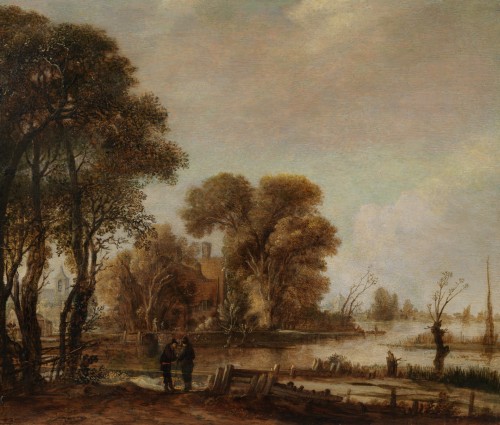 Aert van der Neer A river landscape with figures and a cottage among trees on the bank of a stream
Oil on panel: 8.5(h) x 9.9(w) in / 21.6(h) x 25.1(w) cm
Signed and dated 1640 lower right
This artwork is for sale.
Please contact us on: +44 (0)20 7493 3939.
Email us
BX 223
AERT VAN DER NEER
Gorinchem 1603/4 – 1677 Amsterdam
A river landscape with figures and a cottage among trees on the bank of a stream
Signed and dated lower right: AvdNeer 1640 Oil on panel: 8 ½ x 9 7/8 in / 21.7 x 25.1 cm
Frame size:
Provenance:
Dr Cornelis Johannes Karel van Aalst (1866-1939), Hoevelaken;
by descent to HJ van Aalst, Hoevelaken[1] Possibly Sotheby Mak van Waay, Amsterdam, 13th December 1982, lot 54 Christie's London, 4th July 1997, lot 1, illus. in colour;
where acquired by Konrad Bernheimer, Munich;
from whom acquired in 1997 by Albert van Daalen (1927-2018) and Leonie van Daalen-Röell (1930-2018), Geneva, Switzerland
Literature:
JW von Moltke, Dutch and Flemish Old Masters in the Collection of Dr CJK van Aalst, Hoevelaken 1939, p.230, pl.LV
F Bachmann, 'Zu Datierung eines Landschaftesbildes von Aert van der Neer', Oud Holland, vol. LXXXIII, no.3/4, 1968, p.220
W Schulz, Aert van der Neer, Doornspijk 2002, p.443, no.1290; colour pl.29; pl.87
AERT VAN DER NEER
Gorinchem 1603/4 – 1677 Amsterdam
Aert van der Neer was one of the most important European landscape painters of the seventeenth century. He was born in 1604 at Gorinchem (Gorcum), a town on the river Waal east of Dordrecht. He was the son of Egrom van der Neer and Aeltge Jansdr. In his youth Aert was for a short time a steward (majoor) in the service of the lords of Arcel just north of Gorinchem, but by 1628 had settled in Amsterdam. Nothing is known of his early artistic development or training. He is called a painter in 1629, but his first known work dates from 1632. In 1629 van der Neer was living at Herenmarkt near the Brouwersgracht. He married Lijsbeth Govers from Bergen-op-Zoom, who lived in the Warmoesstraat near the Damrak.
In his landscapes of the 1630s van der Neer was influenced both by Flemish and the Haarlem school of landscape painting. In 1633 he worked in Amsterdam with Jochem Camphuysen, whose brother Rafael he probably also knew. In 1635 van der Neer painted his first commissioned landscape, of large dimension. Although this was followed by further commissions around 1640, it is only after 1643 that van der Neer found his personal style. He excelled in extraordinary poetic landscapes of sunrise and sunset and is unrivalled as a painter of moonlight in Dutch art. Today, as in the eighteenth century, van der Neer's winter scenes rank in critical estimation with those of Hendrick Avercamp (1585-1634).
Van der Neer's first real evening landscape was the painting of 1643 now in Schloss Friedenstein, Gotha. In the second half of the 1640s he explored the changing effects of light in late evening or at night, reflected in rivers, lakes and marshes. His first really remarkable paintings of this kind are the moonlit river landscape of circa 1646 from the Six Collection, now in the Rijksmuseum, Amsterdam, and the townscape by moonlight in the Museum Bredius at The Hague. There is a fine comparable riverscape in the Städelsches Kunstinstitut, Frankfurt. This phase of van der Neer's development culminated – after the huge summer landscapes of around 1650 – in small, jewel-like paintings for collectors' cabinets, which he executed in the 1650s.
From 1659 to 1662 van der Neer kept a tavern on the Kalverstraat, while continuing to paint winter landscapes of the highest quality. In December 1662 he was declared bankrupt. He continued to paint, probably until the beginning of the 1670s. In spite of being one of the most outstanding landscapists of the seventeenth century, van der Neer died in poverty in Amsterdam on 9th November 1677. His son Eglon van der Neer (1634-1703) became a successful genre painter while Johannes (Jan) van der Neer (1637/8-1665) followed his father as a landscape painter.
The work of Aert van der Neer is represented in the Rijksmuseum, Amsterdam; the Museum Boymans-van Beuningen, Rotterdam; the Mauritshuis, The Hague; the National Gallery, London; the Wallace Collection, London; the Metropolitan Museum of Art, New York and the Louvre, Paris.
[1] Not in the 1960 Hoevelaken sale.