Skip to main content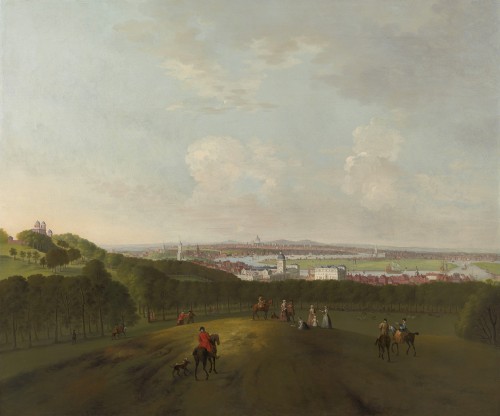 Peter Tillemans A view of Greenwich, with riders & other figures
Oil on canvas: 40.7(h) x 48.7(w) in / 103.5(h) x 123.8(w) cm

This artwork is for sale.
Please contact us on: +44 (0)20 7493 3939.
Email us
BM 100
PETER TILLEMANS                                                                                            
Antwerp 1684 – 1734 Suffolk
A view of Greenwich from One Tree Hill, with riders and other figures
Oil on canvas: 40 ¾ x 48 ¾ in / 103.5 x 123.8 cm
Frame size: 46 ½ x 55 ½ in / 118.1 x 141 cm
Painted circa 1718
Engraved:
By J Wood in 1744 and by Stevens with alterations circa 1750
Provenance:
Jacob Pleydell-Bouverie, 2nd Earl of Radnor (1750-1828)
Major WF Batt
Sotheby's London, 19th July 1972, lot 75
Leggatt, London
Private collection, UK
Literature:
Hugh Phillips, The Thames About 1750, London 1951, p.21
Robert Raines, 'Peter Tillemans, Life and Work with a list of representative Paintings', Walpole Society, vol.47, 1978-80, Pitmen Press 1980, p.53, no.52, as Greenwich Hospital and the Thames
This famous view of Greenwich, surprisingly unchanged today, shows the Royal Naval Hospital and the Thames from One Tree Hill, with the City of London and the dome of St Paul's Cathedral in the distance. On the left is the Royal Observatory, designed by Sir Christopher Wren for the first Astronomer Royal, John Flamsteed, in 1675. In front of Wren's Greenwich Hospital is the rectangular block of Queen's House, begun for Anne of Denmark and completed in 1635 for Charles I's Queen, Henrietta Maria.
Shining in the sun on the edge of the river is the Naval Hospital, built on the site of the Tudor Greenwich Palace and intended to cater for sailors wounded while serving their country, as the magnificent Chelsea Hospital catered for the Army. Designed by Christopher Wren and Nicholas Hawksmoor, it remains one of the finest architectural assemblages in Britain. In Tillemans's painting, the left-hand, King William's Block, built between 1698 and 1723, is near completion, while the right-hand, Queen Mary's Block, completed after 1716, lacks the balancing dome over the Chapel. Raines (op. cit.), thus dates this work circa 1718.
To the left of the Naval Hospital is Hawksmoor's St Alfege, Greenwich, newly built in 1718. Across the river are the still-green spaces of the Isle of Dogs, with a line of windmills positioned to catch the river breezes: they give their name to today's Millwall.
This painting was engraved by J Wood in 1744, with variants in the figures. It was engraved by Stevens circa 1750, with the staffage again changed to show ladies in the height of fashion. Tillemans made several variants of this view, depicting the Naval Hospital in various stages of construction. A similar version is in the collection of the Bank of England Museum.
Peter Tillemans, London from Greenwich Park.
Bank of England Museum.
PETER TILLEMANS                                                                                            
Antwerp 1684 – 1734 Suffolk
Pieter Tillemans was born in Antwerp in 1684 and probably worked in the studio of the battle and landscape painter, Jan Baptist van der Meiren. In 1708 he came to England with his brother-in-law, the bird painter Pieter Casteels. By 1711 he was a member of Kneller's Academy of Painting; in 1725 he was Steward of the Society of St Luke. Tillemans painted decorative works, landscapes, copies of Old Masters and the occasional portrait. From 1715 his major patron was George II's Chaplain, Dr Cox Macro of Little Haugh Hall, Norton, near Bury St Edmunds; he also worked for Earl Spencer, the Earl of Derby and the Dukes of Devonshire, Rutland, Bolton and Somerset. From 1719-21, Tillemans made drawings for John Bridges's projected History and Antiquities of Northamptonshire. In the 1720s, Tillemans travelled England making country house
views which depict mansions in rolling, panoramic landscapes peopled with lively figure groups, such as hunting scenes. These country house portraits, derived from Flemish landscapes, were
very influential on succeeding generations of painters, as were Tillemans' views of racing at Newmarket, in which he rivalled John Wootton. In 1724 Tillemans collaborated with Joseph
Goupy on scenery for the Opera House in the Haymarket. In 1733 he retired to Richmond; he died suddenly at Little Haugh Hall in 1734. Among Tillemans's pupils were Joseph Nollekens and Arthur Devis.
The work of Pieter Tillemans is represented in the Fitzwilliam Museum, Cambridge; Chatsworth, Derbyshire and the Yale Center for British Art, New Haven.