Skip to main content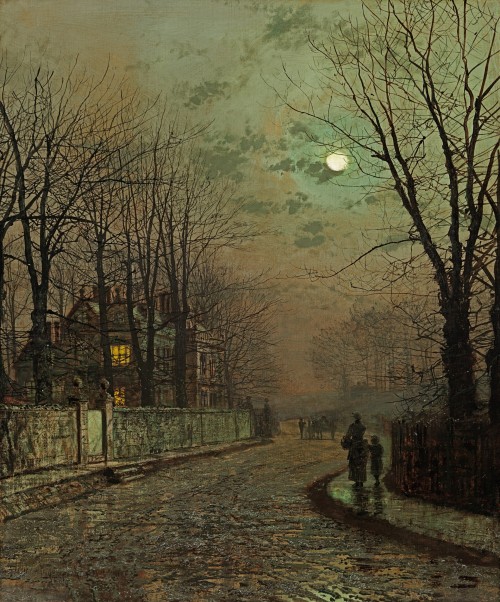 John Atkinson Grimshaw A wet road Knostrop, Yorkshire
Oil on canvas: 30(h) x 25(w) in / 76.2(h) x 63.5(w) cm
Signed and dated lower left: Atkinson Grimshaw/1886/+; Signed, dated and inscribed on the reverse: A wet road/(Knostrop. Yorks.)/Atkinson Grimshaw/1886/+
This artwork is for sale.
Please contact us on: +44 (0)20 7493 3939.
Email us
BY 157
JOHN ATKINSON GRIMSHAW
 1836 - Leeds - 1893
A wet road, Knostrop, Yorkshire
Signed and dated lower left: Atkinson Grimshaw/1886/+; Signed, dated and inscribed on the reverse: A wet road/(Knostrop. Yorks.)/Atkinson Grimshaw/1886/+
Oil on canvas: 30 x 25 in / 76.2 x 63.5 cm
Frame size:
Provenance:
Sotheby's London, 6th November 1995, lot 204
Richard Green, London
Private collection, UK
During the 1870s, Grimshaw became famous for his atmospheric nocturnal scenes of suburban lanes around London and Leeds, with leafless trees silhouetted against the moonlit sky. A wet road, Knostrop, Yorkshire also displays the artist's study of cloud formations and their effect on the quality of moonlight. In his celebrated work, Modern Painters, John Ruskin applauded Turner's attention to the effects of cirrus clouds, evoking both 'the serenity of sky and intensity of light'. Absorbing these important principles, Grimshaw developed the moonlit scenes which were to become synonymous with his name and are perhaps most characteristic of the artist, unrivalled in his depiction of evening twilight.
Grimshaw's iridescent, viridian sky and its reflection on the wet road are skilfully juxtaposed with the warm brown, brick manor, whose artificial light emanates a hospitable glow. Grimshaw was fascinated by the stately mansions of Victorian Leeds, a golden age of architecture. Knostrop Hall, the artist's home for twenty-three years from 1870 until his death in 1893 at the age of 57, was often the inspiration for fantastical composite buildings in Grimhaw's lane scenes. It is a highly recognisable motif for the artist, the manor's tall yet partially hidden red-brick structure rising from behind the stone wall that marks its perimeter, a golden yellow light radiating out through the mansion's delicate windowpanes and further illuminating the moon-washed scene. In the present work, moonlight floods down 'through a tangle of branches, casting shadows over the wall and roadway. An eerie light pervades the whole composition' and the sky is momentarily flecked with small clusters of paper-thin clouds that drift overhead.[1] In A wet road, Knostrop, Yorkshire, Grimshaw achieves an undeniably poetic rendering of the moon and its effects on all that resides below it.
Grimshaw's move from Cliff Road, Woodhouse to the village of Knowsthorpe two miles east of Leeds signified the artist's success and standing as an important local figure. A seventeenth century manor house on the Temple Newsam estate, Knostrop was once the home of Adam Bayes, MP for Leeds during the Commonwealth, but sadly was demolished in the 1960s.
John Atkinson Grimshaw, Silver moonlight, 1885.
Oil on canvas: 29 ¼ x 24 ½ in / 74.5 x 62.3 cm.
Kirklees Museums and Galleries, West Yorkshire.
JOHN ATKINSON GRIMSHAW
1836 - Leeds - 1893
John Atkinson Grimshaw was a Victorian artist who became famous for his sombre views of the dockyards and his nocturnal scenes of urban lanes with leafless trees silhouetted against the moonlit sky. During his later life, he became a close friend of James McNeill Whistler who admired his work and admitted: 'I thought I had invented the Nocturne, until I saw Grimmy's moonlights'.
Born in Leeds, the son of an ex-policeman, Grimshaw first took up painting while he was employed as a clerk for the Great Northern Railway. He married his cousin Frances Theodosia Hubbarde in 1858 and by 1861, he had abandoned his job in order to devote all his time to becoming an artist. In his early work, John Atkinson Grimshaw was influenced by John Ruskin's creed of 'truth to nature' and adopted the detailed Pre-Raphaelite technique of the Leeds painter, John William Inchbold. He was also fascinated by the relatively new art of photography and may have used a camera obscura in developing his compositions. Towards 1865, Grimshaw painted many urban scenes in which moonlight and shadows were the most striking features. The towns and docks that he painted most frequently were Glasgow, Liverpool, Leeds, Scarborough, Whitby and London. These works have become his best known though he also painted landscapes, portraits, interior scenes, fairy pictures and neo-classical subjects. Grimshaw painted mostly for private patrons. He exhibited five works at the Royal Academy in 1874, 1880, 1885 and 1886. He also exhibited at Sir Coutts Lindsay's Grosvenor Gallery in 1885.
By 1870, Grimshaw had become successful enough to move to Knostrop Old Hall, a seventeenth century mansion about two miles from the centre of Leeds, which featured in many of his paintings. He rented another home near Scarborough which he called 'The Castle by the Sea', towards 1876. Grimshaw suffered a serious financial disaster in 1879 and had to leave his house at Scarborough. He moved to London from 1885-87 and rented a studio in Chelsea, leaving his family at Knostrop. He returned to Knostrop, where he died in 1893. Several of his children, Arthur Grimshaw (1864-1913), Louis H Grimshaw (1870-1944), Wilfred Grimshaw (1871-1937) and Elaine Grimshaw (1877-1970), became painters.
The work of John Atkinson Grimshaw is represented in the Bradford City Art Gallery, the Shipley Art Gallery, Gateshead, the Gloucester Museum and Art Gallery, the Bankfield Museum, Halifax, the Harrogate Museums and Art Gallery, the Ferens Art Gallery, Kingston-upon-Hull, the Huddersfield Art Gallery, Kirklees Metropolitan Council, the Harris Art Gallery, Preston, the Leeds City Art Gallery, the Walker Art Gallery, Liverpool, the Guildhall Art Gallery and Tate Britain, London, the Scarborough Art Gallery, the Wakefield Art Gallery and Museums, the Pannett Gallery, Whitby, the Musée des Beaux-Arts, Brest, France, the Wadsworth Atheneum, Hartford, Connecticut, the Nelson-Atkins Gallery, Kansas City, Missouri, the Minneapolis Institute of Arts, Minneapolis, Minnesota, the Yale Centre for British Art, New Haven, Connecticut, the Museum of Art, New Orleans, Louisiana, the Rhode Island School of Design, Providence, Rhode Island in the United States, the Shepparton Art Centre, Welsford, Victoria, Australia and the King George VI Art Gallery, Port Elizabeth, South Africa.
[1] Alexander Robertson, Atkinson Grimshaw, London, Phaidon Press, 1999, p.35