Skip to main content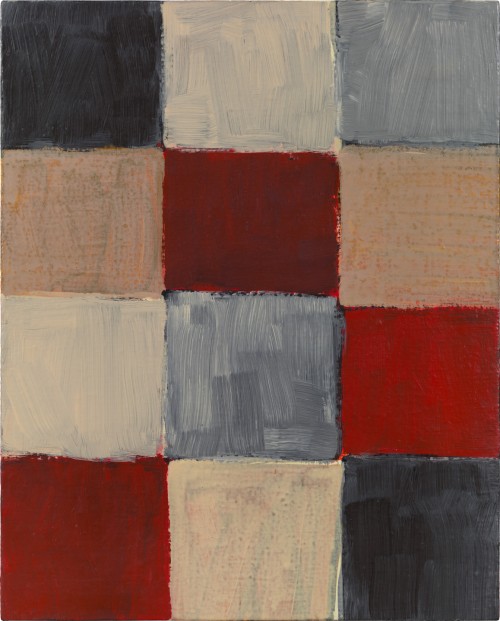 Sean Scully Barcelona 10.5.99
Oil on linen: 20(h) x 16(w) in / 50.8(h) x 40.6(w) cm
Signed, dated and inscribed on the reverse: Sean Scully / BARCELONA / 10.5.99
This artwork is for sale.
Please contact us on: +44 (0)20 7493 3939.
Email us
BS 298
SEAN SCULLY RA
Born 1945 Dublin
Barcelona 10.5.99
Signed, dated and inscribed on the reverse:
Sean Scully / BARCELONA / 10.5.99
Oil on linen: 20 x 16 in / 50.8 x 40.6 cm
SSP99 36
Provenance:
The Artist
Galerie Bernd Klüser, Munich
Private collection, acquired from the above, 2000
Exhibited:
Galerie Bernd Klüser, Munich, Sean Scully: Barcelona Paintings, 14th December 1999-14th February 2000
Literature:
Sean Scully: Barcelona Paintings, exhibition catalogue, Galerie Bernd Klüser, Munich, 1999, p. 31, illus. in colour
"To my mind, a great abstract painting allows one to travel without having to endure the tedium of a journey"[1]
Painted in Barcelona on the 5th October 1999, this small, vertical chequerboard canvas is no less poignant or powerful for its small, approachable scale. Its rich colouring and sensuous surface are characteristic of Scully's monumental works, as are the collision of asymmetric squares and the exquisite tension of their relationships. From cream to grey to black, juxtaposed with flesh tones and deep, blood red, Scully confidently layers paint with controlled, yet expressionistic force, his visible, fluid brushstrokes creating a sense of restless movement within each irregular square.
The book produced by Bernd Klüser for the exhibition of Scully's Barcelona Paintings in 1999, reproduced a review of a Rothko retrospective written by the artist in which Scully highlights specific aspects of Rothko's art which both painters possess: 'On the one hand, Rothko is severe and geometric; but, on the other, he is prone to sensual despair…Nothing in a Rothko painting is hard-edged, nothing is secure and nothing is definite. He works sadly and constantly against the dying of his own light, a fact he cannot hold off, even with his radiant reds, oranges, yellows and blues. His use of black and grey towards the end of his life is not so much the submission of the sensual imagination, but his acceptance of his own closure and conclusion. His life accompanies art, and his art reflects the passage of life, as inseparable as a body and its shadow.'[2]
Klüser in his own essay reiterates 'the complex mixture of formal and sensual qualities' Scully inherited from the Abstract Expressionist and which may have been at the forefront of his mind when he created this series of paintings:
'Despite all their spirituality and formal reduction, Rothko and Scully remain rooted in reality because they integrate the expression of feelings, moods, atmospheres and sensuality in the shaping of their works. They elucidate the process of their picture creation, a central element between the point of departure (real life, energy, will, intent) and the ultimate formulation (general idea, transcendence, reduction, style).
This profound emotion adds to the communicative power of the pictures a central humane element, which Scully calls romantic…as a moment of truthfulness that includes the artist's emotional state of mind when creating pictures. This ethical premise requires absolute truth if it is to be credible. It is therefore not surprising that this process can be detected by the viewer in Rothko's  and Scully's works: overpainted attempts, colour elements of the first and later colour layers that become clearly visible in the colour expanses, edge zones and colour transitions, and yet give the pictures, despite all decisiveness, the vulnerability of a poem.'[3]
The reproduction of Scully's exhibited works in the book, face verse by one of the most important Spanish poets and playwrights of the twentieth century, Federico Garcia Lorca, whose reference to form, tone and colour provides a perfect accompaniment. Opposite the present work is Clock Echo:
I sat down
In a clearing in time.
It was a pool of silence.
White silence.
Incredible ring
where the bright stars collide
with a dozen floating
black numbers.
Scully has kept a studio in Barcelona since 1995, David Carrier suggests as a result of learning Spanish following frequent trips to Mexico between 1984 and 1990,[4] and has developed a strong relationship with the city. The artist has created a site-specific space or permanent installation within a chapel at Santa Cecilia de Monteserrat, a medieval church in a Monteserrat monastery more than 1,000 years old on the outskirts of Barcelona, with twenty-two of his works including frescoes, paintings on canvas, aluminium, copper, stained glass and candlesticks which he designed.
[1] The artist, 'Against the dying of his own light: Mystery and sadness in Rothko's work', The Times Literary Supplement, 6th November 1998.
[2] The artist, ibid.
[3] Bernd Kluser, 'The Difficulties of the Simple: Notes on the pictures of S. Scully, M. Rothko and B. Newman', Sean Scully: Barcelona Paintings, op. cit., pp. 51-53.
[4] David Carrier, Sean Scully, Thames and Hudson, London, 2004, p. 99.