Skip to main content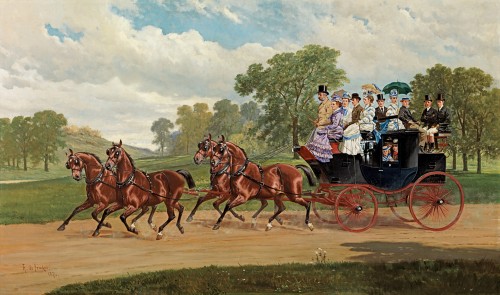 Alfred Frank de Prades Basil Sparrow, JP, of Gosfield Place, Essex driving his wife and family to church
Oil on canvas: 32 x 54 (in) / 81.3 x 137.2 (cm)
Signed and dated lower left: A. de Prades. / 1874
This artwork is for sale.
Please contact us on: +44 (0)20 7493 3939.
Email us
ALFRED FRANK DE PRADES (ANACHARSIS-FRANÇOIS PRESTREAU)
Lunel 1825 – 1885 London
Ref: CA 221
Basil Sparrow, JP, of Gosfield Place, Essex driving his wife and family to church
Signed and dated lower left: A. de Prades. / 1874
Oil on canvas: 32 x 54 in / 81.3 x 137.2 cm
Frame size: 45 x 63 in / 114.3 x 160 cm
Provenance:
By descent in the Sparrow family to Col. Richard Sparrow, CMG, DSO, FRGS, FZS (1871-1953);
bequeathed in 1953 to his second cousin Peter Rushbrooke, RN;
by descent
This delightful painting of a proud Victorian paterfamilias with his wife and all their brood in their Sunday best is remarkable for having descended in the family with full documentation of all the participants. Basil Sparrow drives his four smart bays through his lush summer parkland. The sober clothing and black top hats of his elder sons offset the butterfly brilliance of their sisters. Basil, fifty-four years old, drives four-in-hand with calm control. Beside him, in purple, is his wife Julia (née Scratton), 44. On the seat behind are Isabel (23), Basil (21) and Serena (22). On the back seat are Herbert (17), Florence (20) and Reginald (14), with the grooms Ike Dury and James McBean facing them. Inside the coach are Beatrice (15), Ethel (12) and Richard ('Dick') (3), jaunty in his sailor suit. Even the horses are identified: the leaders Nell and Jamaica and the wheelers Sailor and Judy.
Basil Sparrow owned Gosfield Place, 'a handsome modern mansion in a large park'[1], built around 1800, in Gosfield, near Halstead in Essex. He owned Sparrows Bank, which later became part of Barclays. With his wife Julia, Basil had thirteen children in twenty-one years. Missing from this portrait are Amy, 24, who had married in 1872; Valentine (d.1872), Lucy (d.1869) and Augusta (d.1870). Surprisingly, none of the children had male issue. The painting passed to the boy in the sailor suit, Richard and after his death in 1953 was inherited by his second cousin, Peter Rushbrooke[2].
Alfred Frank de Prades was a successful painter of sporting and military subjects. He was born Anacharsis-François Prestreau in 1825 in Lunel, Occitan, the son of a Huguenot shipping magnate, Emile Prades-Prestreau and his wife Pascale Garnier. The Prestreaus had been Jacobin supporters of Napoleon and in 1838 the anti-Monarchist Emile fled with his two elder sons to London, where he reverted to the family name Prades. Anacharsis-François became Alfred Frank.
Alfred Frank began painting horses at an early age. It is not known with whom he studied, but he became an accomplished painter of equine subjects and portraits, exhibiting at the British Institution, the Royal Academy and the Royal Society of British Artists. At the RA in 1857 Prades showed The meeting of Prince Albert and Emperor Napoleon III on the Heights of Boulogne, 8th September 1854 (private collection; formerly in the Christopher Forbes Collection), marshalling a huge group of dignitaries on horseback in a panoramic landscape. Prades also painted The 79th Regiment at Chobham Camp, 1853, depicting the first major Army manoeuvres of the Crimean War (Highlanders Museum, Ardersier, Inverness). Among his racehorse portraits is the St Leger winner Robert the Devil, 1881 (private collection). Alfred Frank de Prades lived near Covent Garden but travelled widely for commissions. He died suddenly in 1885 after a fall from a hansom cab outside his house at 8 Southampton Street.
The work of Alfred Frank de Prades is represented in the Royal Collection; the Walker Art Gallery, Liverpool and Bristol Museum and Art Gallery. 
Nineteenth century English School, Gosfield Place.
[1] White's Directory of Essex, 1848.
[2] Basil Sparrow's niece, Constance Julia (1860-1933), married Peter Rushbrooke's grandfather, Robert Wyndham Jermyn Rushbrooke, in 1885.