Skip to main content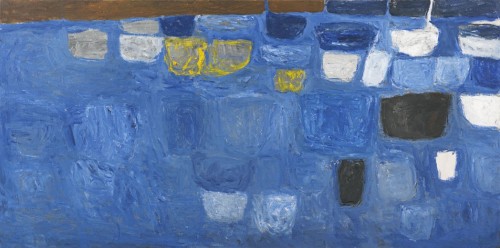 William Scott Blue, yellow and brown
Oil on canvas: 30(h) x 60(w) in / 76.2(h) x 152.4(w) cm

This artwork is for sale.
Please contact us on: +44 (0)20 7493 3939.
Email us
BX 180
WILLIAM SCOTT CBE RA
Greenock 1913 – 1989 Somerset
Blue, yellow and brown
Oil on canvas: 30 x 60 in / 76.2 x 152.4 cm
Frame size: 31.4 x 61.4 in / 79.8 x 155.9 cm
Painted in 1957
Provenance:
Private collection, a gift from the artist
Denise Bibro Fine Art, New York
A charitable foundation, acquired from the above in June 2004
Exhibited:
New York, André Emmerich Gallery, William Scott Paintings on Paper and Canvas, 1st-25th April 1992, no.4
New York, Denise Bibro Fine Art, William Scott works from the Scott Collection, 8th April–5th June 2004, no.2, illus. in colour
Literature: Dana Micucci, 'St Ives Modernists. British Painters of the 1950s Inspired by a Small Cornish Village', Architectural Digest, vol.54, no.8, August 1997, pp.124-5, illus. in colour
Norbert Lynton, William Scott, Thames & Hudson, London, 2004, pp.198-9, 200-201, illus. in colour
Sarah Whitfield (ed.), William Scott Catalogue Raisonné of Oil Paintings, Volume 2,
1952–1959, Thames & Hudson in association with William Scott Foundation, London,
2013, p.231, no.356, illus. in colour
Norbert Lynton writes of Scott's development in 1957 'from austerity and a degree of realism to a richer and almost abstract display of colour, form and paint…In fact they mark a climax in his work. Blue, Yellow and Brown is an outstanding example. It is obviously a blue painting: four-fifths of it is the blue tabletop; only a narrow band above it warrants the term "brown". Yellow are the scrawls of paint, top centre, that bring light and life to three bowls, but allow glimpses of white and blue between the strokes. Much of the surface is given to white forms, some opaque, others transparent, to two strong black forms, and to blue/black sections in the top band. The blue of the table is a broken surface, not only hinting at other colours beneath but also revealing other object-shapes in or beneath it, ghostlike forms that one senses before one sees them. The effect is luscious as well as mysterious, hinting at time, growth and decay.'[1]
Choosing objects of purely formal significance, William Scott's representation of still life subjects concentrated on a contrast between the primitive austerity of the objects depicted and the sensuous qualities of paint and colour. Blue, Yellow and Brown, painted in 1957, vividly demonstrates this contrast, displaying simple objects enlivened by a rich paint surface, thick with impasto. Suggesting a gradual development towards a second period of abstraction, Ronald Alley discusses Scott's still lifes from 1957–58, describing the increased simplification of form and the importance of texture: 'Though still life remained the theme for most of his paintings, the pots and pans began to lose their identity and to turn into irregular oblong or lozenge shapes…The quality of the picture surface was now extremely important, the textural contrasts, the thin paint and the thick paint and the scratched lines. But although Scott treated oil paint as a delectable substance, he was anxious to avoid a too perfect finish, a facile smartness.'[2]
'During the last ten years I have aimed at expressing my ideas in as direct and simple a manner as possible taking for my subjects things seen, which are common and ordinary, believing that the
poetry of the subject will be in the painting of it'.[3]
William Scott, Blue still life, c.1957                         William Scott, Blue abstract, 1957
Oil on canvas: 106.6 x 132 cm                             Oil on canvas: 160 x 199.5 cm
Leeds Art Gallery, a gift from the                         Walker Art Gallery, a gift from Sir John Moores, 1959
Contemporary Art Society, 1959
WILLIAM SCOTT CBE RA
Greenock 1913 – 1989 Somerset
Born in Greenock, Scotland on the 15th February 1913 to an Irish father and Scottish mother, William Scott grew up in Enniskillen, a small town in Northern Ireland.  He studied at Belfast College of Art from 1928-31 and at the Royal Academy Schools in London from 1931-35, first in the sculpture school then from 1934 in painting.  During his education at the Royal Academy, Scott won a silver medal for sculpture, became a Landseer scholar in painting and on leaving the schools was awarded a Leverhulme Scholarship.  In 1936 Scott worked for six months in Mousehole, Cornwall.  The following year he married a fellow student at the Royal Academy, Mary Lucas.  For the next two years William and Mary Scott travelled and lived abroad, mainly in France, Venice and Rome.  William, Mary and Geoffrey Nelson ran an art school at Pont-Aven in Brittany in the summer months of 1938 and 1939, living for the rest of the year in the south at St. Tropez and Cagnes–sur-mer.  In 1938 he was elected Sociétaire du Salon d'Automne, Paris.  He left France in the autumn of 1939, spending a few months in Dublin before returning to London.  In January 1941 he took a cottage at Hallatrow, near Bristol, where he ran a market garden and taught part-time at Bath Academy. 
In 1942 Scott was given his first one-man exhibition at the Leger Galley, London.  The same year he volunteered for the army and served nearly four years from 1942-6 in the Royal Engineers, during which time his painting practically ceased.  While in the map making section, Scott learnt the technique of lithography.  In 1945 he illustrated the Soldier's Verse, chosen by Patric Dickenson with original lithographs by W Scott.
In 1946 Scott was appointed Senior Painting Master at Bath Academy, Corsham.  He was elected a member of the London Group in 1949 and in 1953, after teaching at a summer school in Canada, Scott visited New York, where he met Jackson Pollock, Willem de Kooning, Mark Rothko and Frans Kline.  In 1958 a retrospective exhibition of Scott's work was exhibited at the British Pavillion at the Venice Biennale, and he was commissioned to create a large mural for Attnagelvin Hospital, Londonderry.  In 1959 he was awarded first prize in the painters section at John Moores Liverpool Exhibition.  William Scott died on the 28th December 1989.
[1] Norbert Lynton, William Scott, Thames & Hudson, London, 2004, pp.198-9.
[2] R. Alley, William Scott, ibid.
[3] The artist cited in Ronald Alley, William Scott, Methuen, London, 1963.