Skip to main content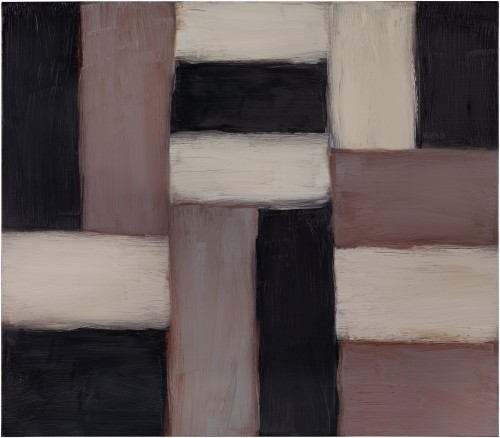 Sean Scully Doric light, 2011
Oil on linen: 28(h) x 32(w) in / 71.1(h) x 81.3(w) cm
Signed, dated and inscribed on the reverse: DORIC / LIGHT Sean / Scully / 12 - 11
This artwork is for sale.
Please contact us on: +44 (0)20 7493 3939.
Email us
SEAN SCULLY RA
Born Dublin 1945
Ref: BS 263
Doric light, 2011
Signed, dated and inscribed on the reverse:
DORIC / LIGHT Sean / Scully / 12 - 11
Oil on linen: 28 x 32 in / 71.1 x 81.3 cm
Unframed
SS1612
Provenance:
Timothy Taylor, London
Private collection, Europe
Exhibited:
Athens, Benaki Museum of Art, Sean Scully: Doric, 8th May – July 2012, no. 26, illustrated in colour; this exhibition then travelled to Valencia, Spain, Institut Valencia d'Art Modern, 28th July – 28th October 2012
Literature:
Oscar Humphries, Ben Luke, Kelly Grovier and Sean Scully, Sean Scully. Doric, Oliver Wood, London, 2012, illustrated in colour pl. 26
Jean Fremon and Kelly Grovier, Sean Scully. Doric, Galerie Lelong, Paris, 2014, illustrated in colour, p. 103
'The inspiration for DORIC was the architectural form that accompanied the birth of Democracy. Athens being the cradle of Democracy, and all that followed in the west, was what I wanted to pay homage to. I wanted to express order and humanism. It is very rare that an artist's intentions are met so directly by location, so it is extraordinary that their world premier takes place in the city they refer to: Athens.' Sean Scully, 9th August 2016
Doric Light, 2011, belongs to a monumental series which Sean Scully has been producing and contributing to since 2008. In homage to the humanist ideals of ancient Greek civilisation, the artist named the collection after the earliest and least ornate of the three architectural orders, which impressed him with its simplicity and force. Inspired by the structure and proportions of the classical order, Scully arranges soft blocks of colour, like light and shadow on stone, in broad horizontal bands and vertical columns across the canvas, simultaneously combining formal austerity with a rich and nuanced surface. Scully layers these fundamental forms with sensitivity, sensuality and movement in his expressive handling, the blurred edges and intervals between columns offering '…space for thought, for light, for questioning and growth.'[1]
Doric sky, 2011 [SS1444]
Oil on aluminium: 110 x 159.9 in
Centre Georges Pompidou, Musée National d'art Moderne, Paris
Sean Scully was born in Dublin in 1945 and emigrated with his family to London four years later. He took evening classes at the Central School of Art in the early sixties before studying at Croydon College of Art, London from 1965-68 and then at Newcastle University from 1968-72. From 1972-73, Scully studied at Harvard University, Cambridge, MA, having received a John Knox Fellowship, then returned to the UK to teach at Chelsea and Goldsmith's Schools of Art in London from 1973-75. He held his first major one-man exhibition in 1973 at the Rowan Gallery, London. Scully moved to the US in 1975, teaching at Princeton University, New Jersey from 1978-82, and became an American citizen in 1983, the same year in which he received the Guggenheim Fellowship. Scully's first retrospective exhibition was organised by the Arts Council at the Ikon Gallery in Birmingham in 1981. In 1984 he was awarded an Artists Fellowship from the National Endowment for the Arts and exhibited in a group show entitled, An International Survey of Recent Paintings and Sculptures at the Museum of Modern Art in New York. The following year he held his first solo exhibition in an American Museum at the Carnegie Institute in Pittsburgh. His first solo show in a European Museum followed in 1989 at the Whitechapel Gallery, London, before touring to Palacio Velázquez, Madrid and Städtische Galerie im Lenbachhaus, Munich. Scully was shortlisted for the Turner Prize for the first time that same year (he was nominated again in 1993).  From 2002-2007, Scully was Professor of Painting at Akademie der Bildenden Künste, Munich, during which time his Wall of Light series toured The Phillip Collection, Washington DC, the Modern Museum of Fort Worth, Texas, the Cincinnati Art Museum, Ohio and the Metropolitan Museum of Modern Art, New York. The Sean Scully Gallery, with a permanent display of the artist's paintings, opened at The Hugh Lane, Dublin City Gallery in May 2006. In 2007 he married the artist Liliane Tomasko, with whom he has a son, Oisin, born in 2009. Scully was elected Royal Academician in 2013.
Sean Scully lives and works in New York, Barcelona and Munich. The work of Sean Scully is held in various international public collections including The Metropolitan Museum of Art and the Museum of Modern Art, New York; Tate, London; Albertina, Vienna, Austria; Museu d'Art Contemporani de Barcelona, Spain; Musée National d'Art Moderne, Centre Georges Pompidou, Paris, France; Museo Nacional Centre de Arte Reina Sofia, Madrid, Spain; Bridgestone Museum of Art, Ishibashi Foundation, Tokyo and Nagoya City Art Museum, Nagoya, Japan, amongst many others.
[1] The artist cited in 'Sean Scully: Doric', www.hughlane.ie, 28th March 2013.