Skip to main content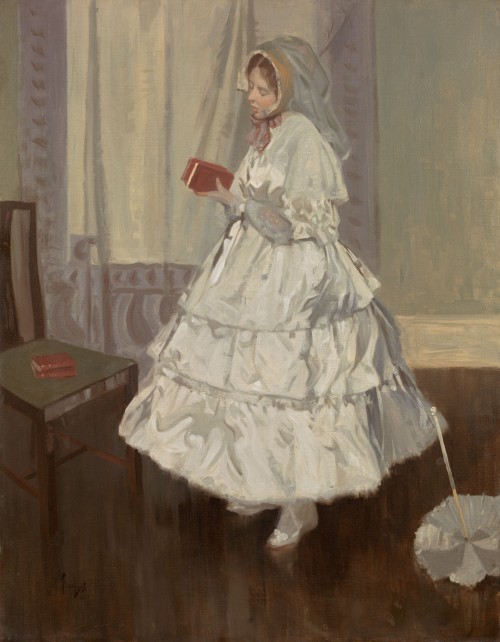 Fred, Leist Early editions
Oil on canvas: 36.5(h) x 28(w) in / 92.7(h) x 71.1(w) cm
Signed and dated lower left: Fred Leist /10
This artwork is for sale.
Please contact us on: +44 (0)20 7493 3939.
Email us
BB 60
FRED LEIST
1878 – Sydney - 1945
Early editions
Signed and dated lower left: Fred Leist /10
Oil on canvas: 36 ½ x 28 in / 92.7 x 71.1 cm
Frame size: 42 ¾ x 34 ¾ in / 108.6 x 88.3 cm
Provenance:
Private collection, UK
Exhibited:
London, Royal Academy, 1910, no.452
Early editions was the first painting exhibited by Fred Leist at the Royal Academy of Arts in 1910. Leist had moved to London from Australia with his wife and daughter two years earlier, joining the Graphic, amongst other publications, as an illustrator. Images such as, 'The Revival of "The Whip" at Drury Lane: A glimpse of the hunting men from the flies', 26th March 1910, show Leist's professional interest in the theatre, which may have led to his painting the actress Coralie Decima Chatteris (1885-1910) in the present work.