Skip to main content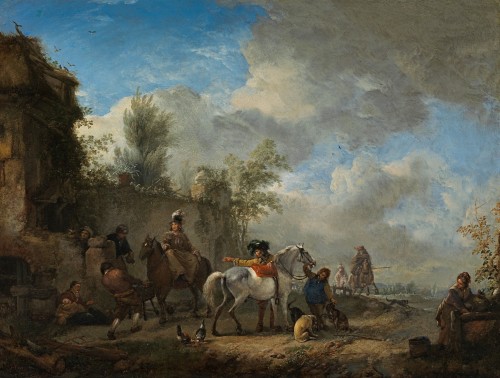 Philips Wouwerman Elegant couple before an inn
Oil on copper: 10.5(h) x 14(w) in / 26.7(h) x 35.6(w) cm
Signed lower left with monogram: PHLW
This artwork is for sale.
Please contact us on: +44 (0)20 7493 3939.
Email us
BY 111
PHILIPS WOUWERMAN
1619 - Haarlem – 1668
An elegant couple before an inn
Signed with monogram lower left: PHLW (in ligature)
Oil on copper: 10 ½ x 14 in / 26.5 x 36 cm
Frame size: in / cm
Painted circa 1655
Engraved:
Etched by Friedrich Voltz, 1852
Provenance:
Eugène de Beauharnais, from 1817 1st Duke of Leuchtenberg (1781-1824), Munich;
by descent to Maximilian de Beauharnais (1817-1852), 3rd Duke of Leuchtenberg, Munich, by 1851;
by descent to Nikolaus Maximilian de Beauharnais (1843-1890), 4th Duke of Leuchtenberg and Duke Romanovsky, St Petersburg;
his son Nikolaus de Beauharnais (1868-1928), Duke of Leuchtenberg, St Petersburg, by 1908
Pieter de Boer, Amsterdam, 1959
Private collection, New York
Exhibited:
Schloss Cappenberg, Westphalia, Museum für Kunst and Kulturgeschichte Dortmund, Austellung Meisterwerke alter Malerei, April-July 1954, no.53, illus. (label on the reverse)
Literature:
J Smith, A Catalogue Raisonné of the Works of the Most Eminent Dutch, Flemish and French Painters, London 1829-42, vol. I, 1829, p.354, no.522
JD Passavent, catalogue Galerie Leuchtenberg. Gemälde-Sammlung seiner kaiserl. Hoheit des Herzogs von Leuchtenberg in München, Frankfurt-am-Main 1852, no.166 (etching by Friedrich Voltz)
C Hofstede de Groot, A Catalogue Raisonné of the Works of the Most Eminent Dutch Painters of the Seventeenth Century, London 1909, vol. II, pp.380-381, no.437; p.388, no.458
P de Boer, Catalogue, 1958-9, illus.
B Schumacher, Philips Wouwerman: the Horse Painter of the Golden Age, Doornspijk 2006, vol. I, p.334, no.A414
Philips Wouwerman (1619-1668) was one of the most versatile and prolific artists of seventeenth-century Dutch art. Embedded in the artistic environment and tradition of his home town of  Haarlem, Wouwerman with his achievements in the genre of 'landscapes with animals' made an important and highly influential contribution to the canon of seventeenth-century Dutch painting.
His skill in the depiction of horses in movement is legendary and the quality of the landscape in the masterworks of his best period, around 1650-1660, is undisputed. With their delicate, subdued colours and soft atmosphere, as well as the richness of often quite witty details in his scenes, many of Wouwerman's paintings are really gems.
The present painting, An elegant couple before an inn, belongs to this category. It can be dated around 1655 and is painted on copper, a precious support that Wouwerman seldom used - and only in his middle and late periods. In 1829 it was listed as part of the renowned art collection of Napoleon's stepson Eugène de Beauharnais, Duke of Leuchtenberg (1781-1824), in Munich. The main focus of his extensive collection was on Italian art, but it also had a good share of distinguished Dutch and Flemish paintings. The Wouwerman remained in the Beauharnais family until the twentieth century.
Wouwerman produced pictures around the theme of travellers/horsemen by a building or inn throughout his entire career, in great variety and mostly in small to medium sizes. In his early years he favoured peasant figure staffage, but after 1650 this rustic staffage was increasingly replaced by members of the upper classes, as can be seen here. Resting at an inn, these travellers were often confronted by poor and working people – in this case, among others, with a begging woman sitting on the ground, a groom with hay and a maid at a well. For the contemporary viewer, these picturesque confrontations very probably enhance the visual appeal of the subject, giving Wouwerman the opportunity to add witty details and narratives to the scenes.
The centre of the scene here is the group around the marvellously depicted white horse, both with regard to the composition and to the colouring. Wouwerman accentuated this group by the use of especially bright colours in yellow, red and blue in exquisite harmony. The artist used the sunshine as a kind of a spotlight which brightens up only this special group and the ground in front. The other parts of the landscape are darker and rendered in muted, less refined colours as if the viewer should concentrate primarily on the centre, showing Wouwerman's popular trademark. But it should be mentioned that the sunshine also highlights the vegetation, which is painted with filigree delicacy.
The blue sky with the voluminous white and grey clouds occupies a large part of the scene. The clouds add to the dramatic structure of the composition: they seem to drift from left to right, whereas the figures communicate with each other through postures and gestures from the right to left.
A pleasing composition with many narrative details, such as the swallows' nest on the roof of the inn and the young boy playing with a bird on the wall near the entrance, the painting was most likely destined for the free art market, where Wouwerman's works were in high demand from the contemporary art collectors.
A similar composition, Halt before an inn, also painted on copper, is in the Städelsches Kunstinstitut, Frankfurt (inv. no.1072; Schumacher 2006, no.A401).
Dr Birgit Schumacher
Note on the provenance
This painting comes from one of the most outstanding collections of the nineteenth century, that of Eugène de Beauharnais, 1st Duke of Leuchtenberg (1781-1824), stepson and adopted son of the Emperor Napoleon. Beauharnais was the only son of the French aristocrat Alexandre de Beauharnais (1760-1794) – executed during the Terror – and Joséphine Tascher de la Pagerie (1763-1814), Napoleon's great love. Napoleon married Joséphine in 1796 and in 1804 made her his Empress, but her inability to bear him an heir caused him to divorce her in favour of Marie-Louise of Austria six years later.
Handsome and dashing, Eugène is regarded as among the most able of Napoleon's relatives. He served in the Italian and Egyptian campaigns and showed great bravery as a cavalry officer in the Battle of Marengo (1800). He returned to Italy in 1805 as Commander of the Imperial Guard and Viceroy. Beauharnais accompanied his stepfather on the ill-fated Russian campaign, commanding the Army of Italy (IV Corps) at Borodino (1812) and escorting the defeated remnants of Napoleon's army back westwards.
In 1806 Beauharnais married Princess Augusta of Bavaria, daughter of King Maximilian. After the fall of Napoleon he retired to Munich at the behest of his father-in-law, who in 1817 created him Duke of Leuchtenberg and Prince of Eichstätt. Eugène and Augusta's seven children married into the ruling families of Europe, with Josephine becoming Queen of Sweden and Auguste Prince Consort of Portugal.
The Empress Joséphine was famously elegant and a discerning, if spendthrift, connoisseur of art, architecture and horticulture. Eugène inherited his mother's love of fine objects and amassed a superb collection of pictures. They were housed at the Hôtel de Beauharnais in Paris (today the German Embassy) and later in the Palais Leuchtenberg in Munich, commissioned in 1818 by Eugène from Leo von Klenze. The collection was catalogued in 1826, 1841 and 1852 and open to the public.
Beauharnais's collection was particularly strong in Italian and Dutch and Flemish Old Masters. He was one of the founders of the Pinacoteca di Brera in Milan (1809) and obtained Giovanni Bellini's Pietà for the gallery. Beauharnais owned Bronzino's Portrait of Laura Battiferri (today in the Palazzo Vecchio, Florence), Cima da Conegliano's Saints Roch, Anthony Abbot and Lucy (Metropolitan Museum of Art, New York), Guercino's St Jerome (Pushkin Museum, Moscow), Parmigianino's Circumcision of Jesus (Detroit Institute of Arts) and Canova's The Three Graces (Hermitage, St Petersburg). Among his northern European works were Rembrandt's Self-portrait wearing a hat and two chains (Thyssen-Bornemisza Museum, Madrid), Peter Paul Rubens's David beheading Goliath (Norton Simon Museum, Pasadena) and Jacob van Ruisdael's View of Alkmaar (Museum of Fine Arts, Boston). Beauharnais owned two works by Wouwerman, the present painting and A hay waggon, c.1650-55 (private collection, on loan to the Los Angeles County Museum)[1].  
The Leuchtenberg gallery was closed after the death of Maximilian de Beauharnais (1817-1852), 3rd Duke of Leuchtenberg, who in 1838 married Grand Duchess Maria (1819-1876), daughter of Tsar Nicholas I of Russia. Their son Nikolaus Maximilian de Beauharnais (1843-1890), 4th Duke of Leuchtenberg and Duke Romanowsky, transferred the collection to St Petersburg. Some of the Beauharnais Collection was dispersed in sales in the late nineteenth century and other works after the Russian Revolution, with many paintings going to the Hermitage and Pushkin museums.
Eugène de Beauharnais.
Friedrich Voltz after Philips Wouwerman, An elegant couple before an inn, 1852.
Etching. © RKD.
Philips Wouwerman, Halt before an inn, c.1655-59. Oil on copper: 7 x 9 ¾ in / 18 x 25 cm.
Städelsches Kunstinstitut, Frankfurt, inv. no.1072.
PHILIPS WOUWERMAN
1619 - Haarlem - 1668
Philips Wouwerman specialised in Italianate landscapes with horses and figures, riding schools, hunts and battle scenes. He also painted religious and mythological subjects. Wouwerman was a prolific painter who enjoyed considerable acclaim during his lifetime and his works were avidly sought after by aristocratic collectors in the eighteenth and nineteenth centuries.
Wouwerman was born in Haarlem in 1619, the eldest son of Pauwels Joostens Wouwerman (c.1580-1642), a painter from Alkmaar. He received his earliest instruction from his father and probably studied with Frans Hals. His early works were considerably influenced by two Haarlem painters, Pieter Verbeeck (c.1610-c.1654) and Pieter van Laer (Il Bamboccio) (1599-c.1642), who had returned from Italy in 1639.
Wouwerman went to Hamburg circa 1638 in order as a Protestant to be able to marry a Catholic, Annetje Pietersz. van Broeckhof, allegedly against his father's wishes. During this period he is reputed to have worked in the studio of the German history painter Evert Decker (d.1647). He returned to Haarlem, joined the Guild of St Luke in 1640, and was elected Vinder (Commissioner) in 1646. From 1642 to 1655 Wouwerman was a member of the militia company of Sint Joris. Unlike many Dutch artists of the seventeenth century, there is no documentary evidence that Wouwerman ever travelled to southern Europe, although in accordance with the fashion of the day Italianate landscape and architecture feature in many of his finest paintings.
Wouwerman's work of the 1640s, influenced by Pieter van Laer, has a warm brown tonality. The following decade he changed to a light, silvery tone. Wouwerman's staffage becomes richer and more elegant as his career progresses; some of his very late work returns to a more subdued palette. Wouwerman prospered from his career and was a pillar of the community in Haarlem; he speculated in property and was able to provide well for his ten children. The artist died on 19th May 1668 and was buried in the Nieuwe Kerk in Haarlem. His younger brothers Pieter (1623-1682) and Johannes (1629-1666) emulated his style; he also had a number of pupils, including Nicolaes Ficke (c.1620-1702) and Anthony de Haen (1640-before 1675).
The work of Philips Wouwerman is represented in the Rijksmuseum, Amsterdam; the Staatsgalerie, Schleissheim; the Louvre, Paris; The Hermitage, St Petersburg; the National Gallery, London; the Prado, Madrid; the Liechtenstein Museum, Vienna; the Metropolitan Museum of Art, New York; the Museum of Fine Arts, Boston; Cleveland Museum of Art and the Minneapolis Institute of Arts.
[1] Oil on panel: 14 ¾ x 13 in / 37.5 x 33 cm. Schumacher, op. cit., p.345, no.A442.