Skip to main content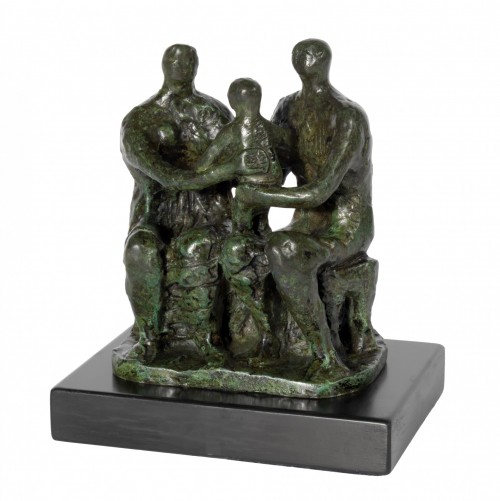 Henry Moore Family group
Bronze: 5.5(h) x 4.8(w) in / 14(h) x 12.2(w) cm
Signed and numbered at the base of the bench: Moore 3/9
This artwork is for sale.
Please contact us on: +44 (0)20 7493 3939.
Email us
HENRY MOORE
Castleford 1898 - 1986 Much Hadham
Ref: BR 28
Family group
Signed and numbered at the base of the bench: Moore 3/9
Bronze: 5½ x 4¾ x 3¼ in / 14 x 12.1 x 8.3 cm
On a slate base: 1 x 6 x 4 ½ in / 2.5 x 15.2 x 11.4 cm
Conceived in terracotta in 1945 and cast at Fiorini in 1969 in a numbered edition of 9 plus one artist's copy LH237
Provenance:
Jeffrey H. Loria & Co., New York
Private collection, 1970, acquired from the above in 1970
Christie's, New York, 9th November 2000, lot 271
James Goodman Gallery, New York
Sidney E. Frank, USA
Literature:
David Sylvester (ed.), Henry Moore Complete Sculpture 1921–1948, Vol. I, Lund Humphries, London, 1990, no. 237, p. 15 (terracotta illustrated)
Ionel Jianou, Henry Moore, Paris, 1968, no. 234, p. 74 (terracotta illustrated)
Franco Russoli & David Mitchinson, Henry Moore Sculpture, London, 1981, no. 177, p. 94 (another cast illustrated) (catalogued as an edition of 8)
With subtle changes to position and posture, Moore expressed a range of interrelations within his family group studies. Centred on the tentative standing form of the young child, the insular trio in this work appears both more dynamic and more intense as the parents look and turn towards the infant, supporting it with their arms. The sense of movement is further enhanced by the irregularity of the surface which seems to ripple in the light as the mother and father react to the vitality of their growing child.
Notwithstanding the stimulus of his public commissions, Moore was fascinated by the subject of the mother and child throughout his career and executed numerous versions in a wide variety of media: 'From very early on I have had an obsession with the Mother and Child theme. It has been a universal theme from the beginning of time and some of the earliest sculptures we've found from the Neolithic Age are of a Mother and Child... (Later on, I did the same with the Reclining Figure theme!) So that I was conditioned, as it were, to see it in everything. I suppose it could be explained as a "Mother" complex.'[1] At this time the subject had a particular resonance for Moore and his wife who longed to start a family, but had suffered a number of miscarriages.[2] Moore's family, in particular his female relatives, were very important to him, his mother, sister and wife acting as models for many of his works. When Henry and Irina finally had a daughter on 7th March 1946, they named her Mary after her grandmother and aunt.
The artist later explained the personal nature of the series' origin: 'The family group ideas were all generated by drawings: and that was perhaps because the whole family group idea was so close to one as a person; we were just going to have our first child, Mary, and it was an obsession.'[3]
HENRY MOORE OM, CH
Castleford, Yorkshire 1898 - 1986 Much Hadham, Herts
The seventh child of Raymond Spencer and Mary Moore, Henry was born in Castleford, Yorkshire in 1898. His paternal great-grandfather was of Irish origin, but his father and grandfather were born in Yorkshire where, for two or three generations, they worked the land or went down the mines. At the age of twelve Moore obtained a grant to study at the Grammar School in Castleford where he was inspired by his art teacher to pursue a career in the arts. In 1916 he began to teach, but by February 1917 he had joined the army and left to fight in France.
After being wounded in action in November 1917 at the battle of Cambrai, Moore was excused from active service. He returned to England, where he became a physical education instructor in the army. At the end of the war, Moore received a veteran's grant to study at Leeds School of Art and in 1921 he joined a course at the Royal College of Art in London. A further grant enabled him to travel extensively from 1925, visiting Rome, Florence, Venice, Ravenna and Paris, where he met Picasso, Giacometti, Ernst, Eluard and Breton among others.
On returning from his travels Moore was appointed Professor of Sculpture at the Royal College of Art where he worked two days a week until 1931, as well as teaching at the Chelsea School of Art until 1939. He was appointed an Official War Artist during the Second World War from 1940–1942 for which he made a series of drawings of people sheltering in the London Underground, as well as studies of miners at the coal face. In these pictures he frequently used watercolour over wax crayon.
After the war Moore enjoyed a great deal of success, with his works receiving critical acclaim all around the world. He executed many major commissions for museums, public institutions, private collectors and municipal buildings and as a result he became one of the most famous British artists of the twentieth century.
At the beginning of the 1970s Moore created a foundation, the aim of which was to promote public awareness of sculpture and to protect his own work for the future. Located in his home village of Much Hadham, Hertfordshire, the foundation houses a library, archives and a collection of drawings, prints, maquettes and sculptures by the artist. Heavily influenced by the work of Michelangelo, Moore created monumental works in marble, stone and bronze and was enthralled by the theme of the family, and in particular the mother and child. His unique oeuvre draws inspiration from prehistoric, archaic, Egyptian, African, Mexican and Roman sculpture. Throughout his career he was noted for his output of graphic art – drawings, watercolours, etchings and lithographs which were not necessarily related to individual sculptures.
[1] The artist cited in John Hedgecoe and Henry Moore, Henry Spencer Moore, Simon and Schuster, New York, 1968, p.61.
[2] See Ann Garrould (ed.), Henry Moore: Complete Drawings 1940–49, Vol. III, Lund Humphries, Aldershot, 2001, p.x.
[3] David Sylvester, 'Henry Moore Talking', Listener, Vol. 70, no. 1796, 29th August 1963, cited in Claude Allemand-Cosneau, Manfred Fath and David Mitchinson (eds.), Henry Moore From the Inside Out: Plasters, Carvings and Drawings, Prestel, Munich, 1996, p.112.