Skip to main content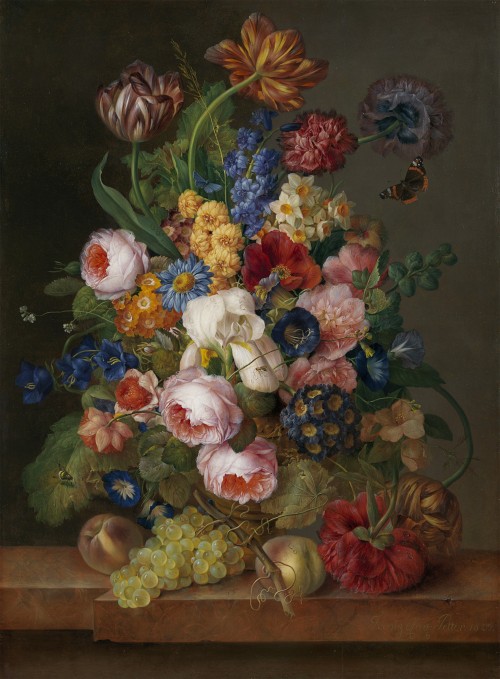 Frans Xaver Petter Flowers with a Red Admiral, a bee and other insects in a sculped urn
Oil on panel: 31.6(h) x 23.6(w) in / 80.3(h) x 60(w) cm
Signed and dated 1820
This artwork is for sale.
Please contact us on: +44 (0)20 7493 3939.
Email us
BM 34
FRANS XAVER PETTER
1791 – Vienna – 1866
Still life of roses, tulips, an iris, narcissus, peonies, morning glory and other flowers in a sculpted urn, with a Red Admiral butterfly, a bee and other insects, and peaches and grapes on a marble ledge
Signed and dated lower right: Franz Xav: Petter. 1820 Oil on panel: 31 5/8 x 23 5/8 in / 80.1 x 60 cm
Frame size: 39 x 31 in / 99.1 x 78.7 cm
Provenance:
Private collection, Europe, acquired circa 1965;
by descent
Viennese painting of the first half of the nineteenth century, an epoch generally known in Central Europe as 'Biedermeier', reveals a remarkable fondness for flower painting. No other contemporary European artistic centre set a greater value on this pictorial theme. There are several reasons for this: the Viennese loved nature, seeking to experience it on an emotional level (true of musicians and composers too – think of Schubert and the Schubertiads). This is why landscape painting from around 1780 had played such a significant role in Vienna. One notable instance of this preference was the Vienna Porcelain Factory, producing wares with a profuse variety of floral decoration. Handsome bouquets on large-format porcelain plaques and vases, painted by the most talented artists, were both desirable and very expensive. In order to fulfil demand, many painters were fortunate enough to receive specialized instruction in a Manufakturschule closely connected with the Academy. Models were of course at hand in nature itself – in the numerous gardens and greenhouses of the city - but were also available in drawings executed by experienced teachers.
One significant reason for this love of flower still lifes lay also in the fact that many members of the Imperial family, the Emperor included, were extremely knowledgeable amateur botanists, thereby setting an example taken up on many levels by the aristocracy and the bourgeoisie. Vienna was also, in the decades before and after 1800, a centre for scientific and botanical illustration, due in no small measure to the influence of the famous botanist Nikolaus von Jacquin (1727-1817) who was working in the capital. The ground was therefore very well prepared for the cultivation of an exceptional generation of flower painters.
Franz Xaver Petter (1791-1866) was one of the most successful and accomplished painters of this genre. His father had been a painter of porcelain, but he devoted himself almost exclusively to easel painting. From 1815 he was a Corrector (teaching assistant) at the School of Flower Drawing at the Academy of Fine Arts in Vienna, in 1832 he was appointed Professor, and in 1851 he retired. Even in retirement he was active as an artist and had an appreciative clientele. From 1816 Petter exhibited regularly at the Academy art exhibitions. In his large-scale bouquets of flowers Petter was drawn to the Netherlandish flower painting of the late seventeenth and eighteenth centuries, though without being a slavish copyist. This was also true of Johann Baptist Drechsler (1756-1811), older by a generation, who played an important part as teacher to Petter and many other Viennese flower painters. He was the first to take the paintings of Jan van Huysum, Rachel Ruysch and other Dutch flower painters as an example, so laying the foundations for this new Viennese development. Works by these Old Masters were available for study in various Viennese collections, particularly in the Imperial Art Gallery.
This vibrant painting was made in 1820, when Petter was working as a Corrector at the School of Flower Drawing. It is an exquisite example of his art, uniting all the virtues of Viennese flower painting of this period, with its technical perfection and the botanical exactitude of blossoms, leaves and fruit. These were vital preconditions. Failure to fulfil them meant an artist could not exhibit at the Academy. The major artistic achievement over and above these 'normal' criteria, however, lay in the arrangement of all the diverse shapes and colours. In this painting it is the bright area formed by the white and light-coloured blossoms in the centre – white iris and pale pink roses – that creates the individual character of this particular bouquet. The matte, shadowy background enhances this impression of costliness and exclusivity. The tightly-packed bouquet with its abundance of hues – deep blue hyacinths nestling against creamy narcissus, morning glory against rich pink peonies – is in accordance with Biedermeier taste for assertive colours, seen also in fashion and interior decoration. Petter is more interested in rich, heavy sculptural blooms than in the delicate wildflowers which weave around the larger forms in seventeenth century Dutch flower painting, although here he creates trompe-l'oeil effects from the golden tendrils of stamens and from a few grasses and small flowers which are scattered across the canvas. The drops of dew on the flowers and fruit are tours de force of trompe-l'oeil and a homage to Petter's seventeenth century predecessors.
In the choice of fruit lying on the marble ledge near the vase, the painter displays consistency – it is autumn fruit. In nature, however, the flowers bloom at various seasons throughout the year. They were only arranged together for this pictorial composition: the customary procedure for flower painting of that period (and also for the Netherlandish painters of old). A picture such as this is not created within the space of a few weeks but over an entire season, so that every flower can be experienced in natura.
Report based on essays by Dr Gerbert Frodl, former Director of the Österreichischen Galerie Belvedere, Vienna.