Skip to main content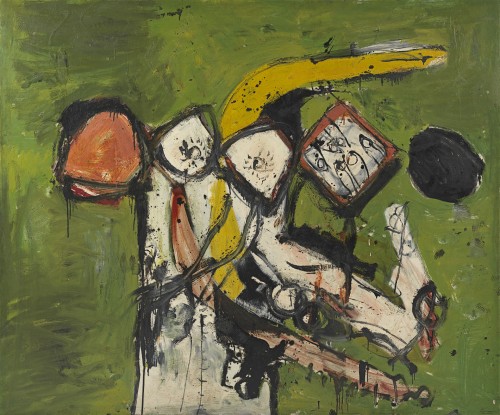 Alan Davie Goddess of the green
Oil on masonite: 63(h) x 75.5(w) in / 160(h) x 191.8(w) cm
Signed, dated twice and inscribed on the reverse: Alan Davie Dec '54 /"GODDESS OF THE GREEN"/ Alan Davie / 54
This artwork is for sale.
Please contact us on: +44 (0)20 7493 3939.
Email us
BE 65
ALAN DAVIE RA CBE
Grangemouth, Scotland 1920 – 2014 Hertfordshire
Goddess of the green
Signed, dated twice and inscribed on the reverse: Alan Davie / Dec '54 /"GODDESS OF THE GREEN" / Alan Davie / 54
Oil on masonite: 63 x 75 ½ in / 160 x 191.8 cm
Frame size: 63 ⅝ x 76 ⅜ in / 161.6 x 194 cm
Provenance:
The Collection of Stanley J. Seeger (1930-2011)
Exhibited:
Edinburgh, The Arts Council Scottish Committee, Seven Scottish Painters: An Exhibition of Paintings by Seven Scottish Artists now working in London and the South of England, 1955, no.18
New York, Catherine Viviano Gallery, Alan Davie, March-April 1956, no.9
London, Redfern Gallery, Metavisual, Tachist, Abstract, 4th April–4th May 1957, illus.
Minnesota, Minneapolis Institute of Arts, New European Painting and Sculpture, 23rd September 195–16th October 1960 (as Number 9, 1954)
Princeton University, The Art Museum, The Stanley J. Seeger Jr. Collection, June 1961, no.55, (as Number Nine), illus. in the catalogue
Literature:
Michael Horovitz, Alan Davie, Methuen, London, 1963, illus.
Alan Bowness (ed.), Alan Davie, Lund Humphries, London, 1967, no.80, pl.19
Douglas Hall and Michael Tucker, Alan Davie, Lund Humphries, London, 1992, p.170, no.109, illus. p.17, pl.7
In the early 1950s, Alan Davie began painting in series as a result of a process initiated in his brush drawings, such as Image of the Fish God, 1954 (Scottish National Gallery of Modern Art). The procedure involved the artist laying a dozen or so sheets of paper on the floor and making a similar mark or motif on each piece. He would then add further marks automatically in sequence, consistently altering the forms and their placement resulting in a group of drawings with a common vocabulary. Davie's free and intuitive approach was influenced and encouraged by his interest in Zen Buddhism and Jungian psychology, whose notion of the collective unconscious involved a forgotten or repressed 'archetypal symbolism' which could only be accessed by giving free expression to the unconscious mind. Through this process of serial painting, Davie developed a number of symbols which reappeared during the 1950s including triangle and diamond shapes as well as figurative references.
At the beginning of the decade Davie painted mainly on masonite board and mixed his own paints in order to get a greater intensity of colour and the required fluidity to facilitate his quick, spontaneous application, occasionally adding sawdust to give texture. As the works got larger, he had to stand on the picture to get to the centre and as in the present painting, added his footprints to the finished work. As the artist described in relation to another work of the mid 1950s, Birth of Venus (Tate), 'I must make it clear that the titles of my pictures are not meant to be taken literally but are in fact my own poetic interpretation of the work, thought up usually after the work is complete'.[1] 
Davie's international reputation grew throughout the 1950s and in 1956 he had his first one-man show at the Catherine Viviano Gallery in New York. As preparations for the exhibition were being made, Stanley Seeger visited the gallery and met with the owner and the artist Jackson Pollock. As Davie's paintings were unpacked, Seeger and Pollock discussed them and Goddess of the green caught his eye. Pollock's reaction, as recounted by Seeger, was instinctive 'I know exactly what he means, push and pull, black and white, good vs bad'. Pollock's evident awe as well as the vitality and immediacy of the painting convinced Seeger to buy it before the exhibition opened. It was the first of many works by the artist to enter his collection. 
ALAN DAVIE RA CBE
Grangemouth, Scotland 1920 – 2014 Hertfordshire
Alan Davie was born on 28th September 1920 at Grangemouth, Scotland, to a pianist mother and artist father. Davie studied at the Edinburgh College of Art from 1937 and was awarded the Andrew Grant Scholarship in 1938 and 1941. From 1941–46, Davie carried out his military service with the Royal Artillery, during which he received the Guthrie Award for best painting at the Royal Scottish Academy summer show of 1942. He also discovered a passion for writing and reading poetry, in particular the work of Walt Whitman. In 1945 the artist was impressed by exhibitions on Picasso and Klee which he visited while on leave in London. Demobilised from the army, Davie held his first one-man exhibition in a bookshop in Edinburgh in 1946. On a visit to London that same year, an exhibition of African sculpture inspired a profound interest in primitive art. The following year he married Janet (Bili) Gaul, an artist/potter, and became a full-time jazz musician, playing tenor saxophone with Tommy Sampson's Orchestra. He also began making and selling silver jewellery (in 1951, jewellery designed by Davie was worn by Vivian Leigh in Anthony and Cleopatra). Davie took up his deferred scholarship and travelled throughout Europe in the late 1940s through France, Switzerland, Spain and Italy, holding exhibitions in Florence and Venice, where he met and sold a painting to Peggy Guggenheim in 1948. Guggenheim also showed Davie her important collection of modern art, which may have been his first glimpse of American Abstract Expressionism. In 1950 he held his first solo show at Gimpel Fils, London and exhibited there every two years after that. Davie bought a cottage in Landsend, also in 1950, which he visited during the following summers. In 1954 the artist converted stables at Gamels, Hertfordshire into a home and studio.
Davie's first American exhibition was held at the Catherine Viviano Gallery, New York in 1956, which he attended, meeting Abstract Expressionists Willem de Kooning, Franz Kline, Robert Motherwell, Jackson Pollock and Mark Rothko. The Museum of Modern Art (MOMA) and Albright Art Gallery, Buffalo, purchased paintings from the exhibition.  The artist's interest in Zen Buddhism, inspired by Eugen Herrigel's book Zen in the Art of Archery, developed from the mid-1950s along with the Jungian idea of the collective unconscious, animating his intuitive, improvisatory approach to painting. Davie taught at the Central School of Art from 1953-56 and from 1956–59 at Leeds College of Art, having been awarded the Gregory Fellowship at Leeds University. Two retrospectives of Davie's work were held in 1958, at the Whitechapel Art Gallery, London (which made an impact on David Hockney) and Wakefield Art Gallery. Retrospectives were also subsequently held in 1993 at the Barbican Gallery, London and in 2003 at Tate St Ives. During the 1960s, he took up gliding and experimented with lithography. He also produced the first of several records by the Alan Davie Music Workshop. In 1963, Davie exhibited in the British section of the Bienal at São Paulo, Brazil, winning the award for best foreign painter. Alan Bowness published his monograph of the artist with Lund Humphries in 1967. Davie was awarded a CBE in 1972 and was commissioned the same year by the architect Peter Haupt to paint the Berlin School Murals. He also produced tapestry and mosaic designs, the latter for his home town, Grangemouth, for which he was awarded the Saltire Award in 1977. From the late 1970s, Davie began spending winters in St Lucia. He was elected a Senior Royal Academician in 2012 and was the subject of a BP Spotlight display at Tate Britain in 2014, featuring the eight oil paintings by Davie in their collection.
[1] The artist, 9th August 1958, quoted on the Tate website.