Skip to main content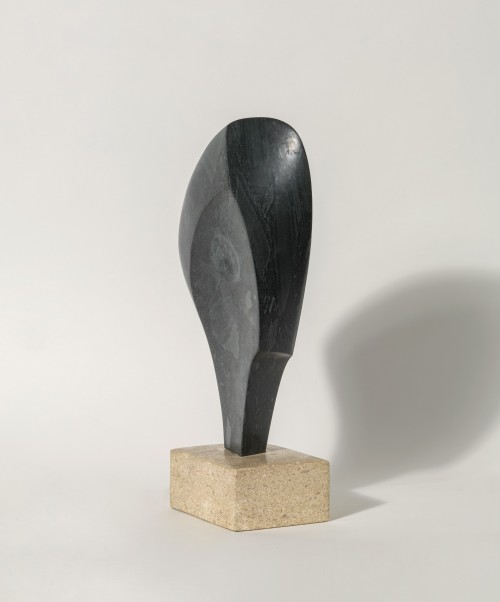 Denis Mitchell Head
Honister slate: 12.2(h) x 6.5(w) in / 31.1(h) x 16.6(w) cm
Signed with initials, dated and inscribed under the base: HEAD / 1977 / D.A.M
This artwork is for sale.
Please contact us on: +44 (0)20 7493 3939.
Email us
DENIS MITCHELL
Wealdstone 1912 - 1993 Newlyn
Ref: BZ 226
Head
Signed with initials, dated and inscribed under the base:
HEAD / 1977 / D.A.M
Honister slate: 12 ¼ x 6 ½ x 3 ½ in / 31.1 x 16.5 x 8.9 cm
On a stone base: 2 ¼ x 5 x 4 in / 5.7 x 12.7 x 10.2 cm
Provenance:
Wills Lane Gallery, St Ives, circa 1980;
Private collection, London, acquired from the above
Exhibited:
Bath, Festival Gallery, Denis Mitchell Sculptures 1950-1978, April 1978, no.58
Swansea, Glynn Vivian Art Gallery and Museum, Festival Exhibition of Sculpture by Denis Mitchell, 6th October-3rd November 1979, no.53, illus.
This elegant, semi-abstract head, described in smooth, curved planes of highly polished stone, was exhibited at Denis Mitchell's retrospective at the Glynn Vivian Art Gallery and Museum, Swansea in 1979, two years after it was created. In profile its silhouette is more angular, tapering at the neck towards a small stone base, while retaining elemental figurative signs; a shallow circular recession on the left suggests an eye and the line where the front plane of the sculpture cuts away towards the base could be read either as a nose or as the jaw and throat beneath. The beautiful olive-green stone used to carve this unique sculpture is honister slate, whose fascinating composition could be studied and enjoyed for centuries.
Though an unusual piece for the sculptor, Mitchell was uniquely trained to carve it. During the Second World War, he worked at Geevor tin mine near Land's End: 'This episode was to have a great influence, for it was the carving and hewing of rock, the handling of tools and the manipulation of loads which gave him new skills and developed his sensitivity to three-dimensional work. When at the end of the war Bernard Leach suggested his name to Barbara Hepworth as a suitable assistant, he was the right man at the right place.'[1] Mitchell became Hepworth's principal assistant, remaining with her from 1949-59 and overseeing some of her best-known sculptures. He later acknowledged, 'Barbara had a fantastic eye for purity of form; time was no object to her until she was absolutely satisfied with the final shape. It was from this I learned that even on a very large carving less than a hair's breadth rubbed off with emery paper could alter the whole sculpture. From this experience I acquired the ability to work and concentrate on my own sculpture for eight hours a day, which is a rare capacity.' [2] Tom Cross writes of this apprenticeship, 'At first he worked with her on the same piece, following her design and assisting with all the stages of carving and finishing. In later years he became an extension of her hands, able to translate her intensions exactly, but under her continuous scrutiny and to her exacting requirements.' [3] Mitchell was fully immersed in the post-war St Ives art scene, counting Hepworth, Ben Nicholson, Terry Frost, Bryan Wynter and Wilhelmina Barns-Graham his friends and from the 1960s, shared a large studio space in Newlyn with fellow artist, John Wells.
Writing an appreciation of the artist for Mitchell's British Council exhibition catalogue in 1978, Breon O'Casey declares: 'There are two kinds of sculptors: those that build outwards from a skeleton framework and those that carve into a solid block. The carver is the rarer bird, and Denis Mitchell is a carver. He started as a sculptor carving wood…It is a slow and painstaking method of working, but it is part of the reason why a work by Denis Mitchell has an enduring quality which puts it above the swirls of fashion, and why those that are familiar with his work prize it so highly…an object at once serene, but yet full of energy; severe, yet full of gentleness; abstract, yet full of humanity – is a secret that belongs only to Denis Mitchell and his Creator.'[4]
[1] John Halkes, Obituary, Independent, 25th March 1993.
[2] Denis Mitchell, Festival Exhibition of Sculpture by Denis Mitchell, with the support of Welsh Arts Council, exh. cat., Glynn Vivian Art Gallery and Museum, Swansea, unpaginated.
[3] Tom Cross, Painting the warmth of the sun: St Ives artists 1939-1975, Westcounty Books, The Lutterworth Press, Devon & Cambridge, 1995, p.118.
[4] Cited in Denis Mitchell Sculptures 1950-1978, exh. cat., Festival Gallery, Bath, 1978, unpaginated.