Skip to main content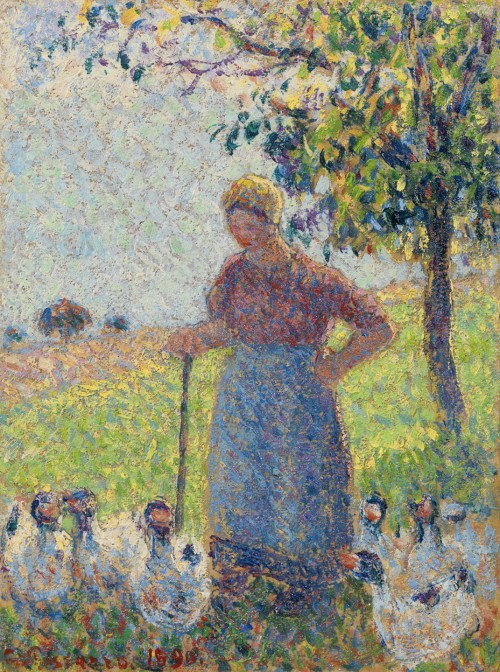 Camille Pissarro La gardeuse d'oies
Oil on paper laid down on panel: 7.2(h) x 5.4(w) in / 18.4(h) x 13.7(w) cm
Signed and dated lower left: C. Pissarro. 1890
This artwork is for sale.
Please contact us on: +44 (0)20 7493 3939.
Email us
BV 199
CAMILLE PISSARRO
Charlotte Amalie, Saint Thomas 1830 - 1903 Paris
La gardeuse d'oies
Signed and dated lower left: C. Pissarro. 1890
Oil on paper laid down on panel: 7 ¼ x 5 3/8 in / 18.4 x 13.6 cm
Frame size: 12 ½ x 11 in / 31.8 x 27.9 cm
In an antique Louis IVth carved and gilded frame
Provenance:
Simon Bauer, Paris, acquired circa 1946
Mr and Mrs Fred Bohen, Des Moines, Iowa, acquired by 1966;
by descent to the late Patrick Henry, Jr.
Exhibited:
Des Moines, IA, Des Moines Art Center, Collection of Mr and Mrs Fred O Bohen, June 1966, no.27 (as Goose girl)
Des Moines, IA, Des Moines Art Center, Selections from the Collection of Mrs Fred Bohen, 13th November 1977-1st January 1978, no.12, illus. (as Goose girl; size wrongly given as 19.1 x 14.6 cm)
Literature:
Ludovic-Rodo Pissarro, notes for a supplement to the catalogue raisonné of his father's works (recorded in Pissarro and Durand-Ruel Snollaerts, p.588)
J Pissarro and C Durand-Ruel Snollaerts, Pissarro, Catalogue critique des peintures, Paris 2005, vol. III, p.588, no.893, illus. (medium wrongly given as oil on panel and size as 23 x 18 cm)
Camille Pissarro made six oil paintings on canvas on the theme of the goose girl between 1876 and 1900, as well as a number of works on paper[1]. It fitted with his interest in the rural tasks that took place round his property in Eragny, with the advantage of being an activity carried on near the house, by countrywomen who had some leisure to pose. Pissarro commented 'I don't want my geese to look like the real geese one puts in official genre scenes and illustrations, not Japanese ones either. I conceive them as being unpolished, ornamental, complements to the composition, that's all, but above all alive'[2].
This small, jewel-bright painting reflects the renewed energy which infused Pissarro's work after he abandoned his three-and-a-half-year experiment with Neo-Impressionism in 1890. Always open to new ideas, Pissarro became fascinated with the theories of his much younger contemporaries George Seurat (1859-1891) and Paul Signac (1863-1935), who juxtaposed dots of paint according to a strict optical method so that complementary colours would blend in the eye of the beholder. A brilliantly instinctive painter, Pissarro ultimately found this technique too constraining, bewailing 'the impossibility of pursuing the altogether varied effects of nature….I wasn't made, it would seem, for this art, which gave me the sensation of the levelling down….of death!'[3]
La gardeuse d'oies vividly exemplifies Pissarro's supple technique and mastery of composition as well as the boldness with colour that he had learned from his Neo-Impressionist phase. The goose girl is a calm, Junoesque figure, standing in the dappled shadow of a tree with her head enveloped in a halo of sunlight. Her silhouette has the simplicity and grace of a Greek caryatid. She links the delicious cool of the foreground with the pulsating light of the summer landscape, its sky composed of melded dabs of duck-egg-blue, eau-de-nil and pink, the meadow formed from touches of sulphur yellow, emerald and pea-green. Pissarro weaves complementary colours into the girl's clothes, her pink blouse being given life by a network of blue brushstrokes which tone with her blue apron and skirt.
The geese crowd noisily into the foreground of the painting, 'unpolished, ornamental', full of vigour. Their white bodies light up the base of the composition, contrasting with the shadowed grass which the artist has rendered with lavish dabs of blue, red and green, and his own signature, which is in a bold cherry-red. Pissarro has made a work which evokes his unsentimental delight in the timeless rhythm of the agricultural world, and which has a grandeur which belies its comparatively small size. 
CAMILLE PISSARRO
Charlotte Amalie, Saint Thomas 1830 - 1903 Paris
Camille Pissarro was perhaps the greatest propagandist and the most constant member of the Impressionists and the only one to participate in all eight of their exhibitions. Born in 1830 in the Danish colony of Saint Thomas[4] in the West Indies, of Sephardic Jewish parentage, he went to school in Paris and then worked in his father's business for five years. Ill-suited to being a merchant, Pissarro decided to become a painter, studying at the Ecole des Beaux Arts and the informal Académie Suisse. He was considerably influenced and encouraged by Corot and to a lesser extent by Courbet.
During the 1860s Pissarro exhibited at the official Salons and in 1863 at the Salon des Refusés. He increasingly associated himself with the Impressionists, especially Monet and Renoir, and with the outbreak of the Franco-Prussian war in 1870 fled to London, where Durand-Ruel became his principal patron and dealer.
After the war, Pissarro returned to France and settled at Pontoise, spending much time with Cézanne, whom he directed towards Impressionism. In 1884 he moved to Eragny. During the 1890s the meadows at Eragny-sur-Epte, looking across to the village of Bazincourt, became one of Pissarro's principal subjects, painted at different times of the day and year.
In 1885 Pissarro came into contact with Seurat and Signac and for a brief period experimented with Neo-Impressionism. The rigidity of this technique, however, proved too restrictive and he returned to the freedom and spontaneity of Impressionism. From 1893 Pissarro embarked upon a series of Parisian themes, such as the Gare St Lazare and the Grands Boulevards. He continued to spend the summers at Eragny, where he painted the landscape in his most poetic Post-Impressionist idiom. Pissarro died in Paris in 1903.
[1] Pissarro and Durand-Ruel Snollaerts erroneously record the present work as oil on panel, not oil on paper laid down on panel, as the location of the painting was unknown when they compiled their catalogue raisonné. The oil paintings on canvas are nos.472, 876, 918, 1007, 1096 and 1324.
[2] Quoted in Pissarro and Durand-Ruel Snollaerts, op. cit., vol. II, p.337.
[3] Quoted in ibid., vol. I, p.217.
[4] Today part of the US Virgin Islands.