Skip to main content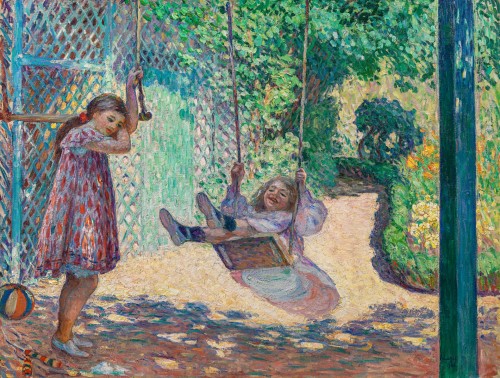 Henri Lebasque L'escarpolette
Oil on canvas: 35.5(h) x 46(w) in / 90.2(h) x 116.8(w) cm
Signed and dated 1906
This artwork is for sale.
Please contact us on: +44 (0)20 7493 3939.
Email us
BL 120
HENRI LEBASQUE
Champigné 1865 - 1937 Le Cannet
L'escarpolette
Signed and dated lower right: H. Lebasque / 1906
Oil on canvas: 35 ½ x 46 in / 90 x 117cm
Frame size: 57 x 46 in / 144.8 x 116.8 cm
Provenance:
Mme Edmond Moussié
Galerie Georges Petit, Paris (acquired in 1927)
Private Collection, Rheims
M Chain
Private collection, London
Sotheby's London, 27th June 1990, lot 120;
private collection (purchased at the above sale);
acquired from the above in 1993 by a private collector, Japan
Exhibited:
Paris, Exposition de la Société Nationale des Beaux-Arts, 1906, no.742
Paris, Galerie Georges Petit, Lebasque, March 1927, no.15
Paris, Grand Palais, Salon d'Automne, November-December 1931, no.1252
Paris, Musée Galliéra, Exposition Rétrospective Henri Lebasque, June-July 1952, no. 21 (as dated 1905)
Literature:
Paul Jamot, 'Les Salons de 1906, La Peinture à la Société Nationale des Beaux-Arts', La Gazette, May 1906, illus. p.383
Adolphe Tabarant, 'Henri Lebasque', L'Art et les artistes, 1920, no.10, p.18
Paul Vitry, Henri Lebasque, Paris 1928, p.134
Denise Bazetoux, Henri Lebasque. Catalogue raisonné, Neuilly-sur-Marne 2008, vol. I, p.93, no.171, illus.; illus. in colour p.11
Henri Lebasque drew his greatest inspiration from his family life. In 1895 he married Catherine Fischer, a young woman from Alsace. Catherine and Henri's two daughters, Marthe (born in 1895) and Helène (born in 1901), were Lebasque's most important models for the rest of his career. They are often shown, as here, in the idyllic settings of family gardens. 
From 1900 to 1906 Lebasque lived at Lagny on the Marne. Marthe later recalled: 'I remember well Lagny, where we settled in 1900. I was then six years old. We would set out walking for entire days and at the whim of his fancy my father would set up his easels'[1]. By 1906, the year that L'escarpolette was made, Lebasque had moved away from his Divisionist phase to employ larger, juxtaposed touches of paint in a subtle range of colours that flood the works with light. In his exploration of the radiance of landscape he was influenced by his friend Matisse, with whom he had set up the Salon d'Automne three years before. In 1906, too, Lebasque first went to Provence and was enchanted by the light of the Midi, which was to have a profound effect on the rest of his career.
The shadowed foreground of L'escarpolette makes the sun-drenched heat of the garden all the more effective. The casual cropping of the swing's framework gives a sense of freedom and intimacy as Helène (nicknamed Nono) swings joyously in and out of the light. Marthe's red-spotted dress, the dappled pathway, the trellis and the trembling leaves fuse as pattern on the picture plane, conveying the vitality of nature and the carefreeness of childhood.
HENRI LEBASQUE
Champigné 1865 - 1937 Le Cannet
Hailed by critics and artists alike as 'the painter of the good life', Henri Lebasque was acclaimed for his individuality, his delicate sense of light and his personal charm. Such were the qualities that prompted Beaunier to write: 'Lebasque merits the renown of a lovely original artist, who knows his calling, uses it well, and never abuses it' (Gazette des Beaux Arts, May 1908, p.366).
Born in Champigné in the Loire valley, the son of a wood merchant, Lebasque went to Paris in 1885 and studied at the Ecole des Beaux Arts. He then entered the atelier of the portraitist Léon Bonnat and began to exhibit at the annual art society exhibitions and the Paris Salons. He later assisted Ferdinand Humbert with the decorative murals of the Panthéon.
Lebasque's vision was coloured by his contact with younger painters, especially Vuillard and Bonnard, founders of the Nabis group and Intimists who favoured the calm and quietude of domestic subject matter. From his acquaintance with Seurat and Signac, Lebasque learnt the significance of a colour theory which stressed the use of complementary colours in shading.
Lebasque was a founding member of the Salon d'Automne in 1903 with his friend Matisse. Two years later a group of artists exhibited there who included Rouault, Derain, Vuillard, Manguin and Matisse. They were dubbed 'Les Fauves' for their stylistic 'savagery'. The critic Vauxcelles noted that Lebasque's talent arrived 'in the midst of the roaring of the unchained beasts'. Like Les Fauves, Lebasque adopted a similar flattening of the picture plane, but blended with a sophisticated, subtle fluidity. He painted domestic scenes with his family as models, landscapes, portraits and nudes.
From 1900 to 1906 Lebasque lived at partly at Lagny on the Marne, but also visited Paris, London and Venice. He was enchanted by the light of the Midi on a trip to St Tropez in 1906 and spent many summers in the south of France. During the First World War, Lebasque was a war artist. He exhibited in America from 1916 and from 1918 was represented by Galeries Georges Petit. In 1924 Lebasque moved to Le Cannet on the French Riviera, where he shared a model with his friend and neighbour Bonnard. He died in Le Cannet on 6th August 1937.
The work of Henri Lebasque is represented in the Louvre, Paris; the Musée d'Orsay, Paris; the Musée d'Angers; the Fine Arts Museums of San Francisco, CA; the Fogg Art Museum, Harvard University, Cambridge, MA; the Nelson-Atkins Museum, Kansas City, MO; the National Museum of Western Art, Tokyo; the Statens Museum for Kunst, Copenhagen and the Thyssen-Bornemisza Museum, Madrid.
Susan Morris
[1] Quoted in Lisa A Banner and Peter M Fairbanks, Lebasque 1865-1937, Bedford 1986, p.112.