Skip to main content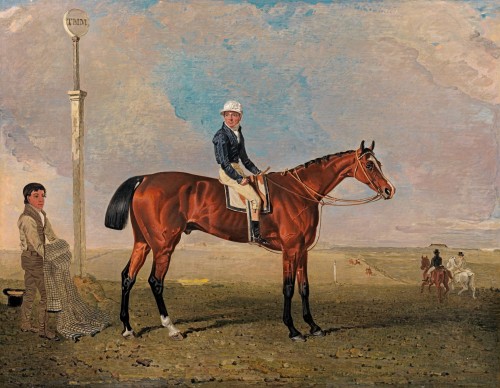 Ben Marshall Lord Jersey's bay colt Mameluke by Partisan out of Miss Sophia with Will Wheatley up and a groom at Newmarket
Oil on canvas: 28(h) x 36(w) in / 71.1(h) x 91.4(w) cm
Signed, inscribed and dated 1828
This artwork is for sale.
Please contact us on: +44 (0)20 7493 3939.
Email us
BX 150
BEN MARSHALL
Leicestershire 1768 - 1835 London
Lord Jersey's bay colt Mameluke by Partisan out of Miss Sophia with Will Wheatley up and a groom at Newmarket
Signed, inscribed Mameluke and dated 1828 lower centre
Oil on canvas: 28 x 36 in / 71 x 91.5 cm
Frame size: 35 ½ x 43 in / 90.2 x 109.2 cm
Provenance:
Private collection, UK
Christie's London, 8th June 1995, lot 54
Richard Green Gallery, London, 1995;
Mr Anthony E Oppenheimer
Exhibited:
Leicester, Leicester Art Gallery, Bicentenary Exhibition, no.17
London, Hayward Gallery/Leicester, Leicestershire Museum and Art Gallery/Liverpool, Walker Art Gallery, British Sporting Painting 1650-1850, 13th December 1974-25th February 1975, p.86, no.131                  
Literature:
Aubrey Noakes, Ben Marshall 1768-1835, 1978, pp.51-52, under no.188          
Mameluke, a bay colt foaled in 1824 by Partisan out of Miss Sophia, was bred by Mr Robert Cary Elwes of Billing Hall, Northamptonshire and sold as a yearling to George Villiers, 5th Earl of Jersey (1773-1859). In 1827 Mameluke ran in two celebrated and controversial races.
The first was the Derby at Epsom of £2,800, which he won, ridden by James Robinson, beating Lord Jersey's Glenartney and Mr Yate's Edmund. Although Lord Jersey owned both the winner and the runner-up, the crowd was convinced that Glenartney had been 'pulled' and that Mameluke had been backed by the stable. Mameluke was then sold on his Derby credentials for £4,000 to Mr John Gully of Ackworth Park, near Pontefract, a former prize-fighter, a power in the betting ring and a future MP for Pontefract.
Mameluke then ran in the St Leger at Doncaster ridden by Sam Chifney and was beaten by the Hon Edward Petre's Matilda by a length. His defeat provoked as much controversy as his previous victory at Epsom. Gully backed Mameluke to win some £40,000, but there was a conspiracy in which William Crockford, a former fish peddler, and two others were implicated.  There was a whisper that Mameluke was not permitted to win and that Crockford had bribed the Starter and the other jockeys to jostle Mameluke at the start. The race was marred by seven false starts and finally Mameluke was left at the post and had too much ground to make up. With the money he won over Mameluke, Crockford set up his famous gaming house in St James's Street.
In 1828, the year this painting was made, Mameluke won the Oatlands Stakes and the Port Stakes at the Newmarket Craven meeting. The course, set in the gently rolling Suffolk countryside, has a history going back to the reign of James I. In 1829, Mameluke won a match for two hundred sovereigns, beating Mr Molony's Rough Robin, and a Handicap Plate, beating Mr Sowerby's
Coroner at Newmarket. In a career lasting from April 1827 and October 1829, Mameluke won seven of his thirteen races. He was then sold to Mr Theobald and sent to his stud at Stockwell.  Later he was exported to America.
In this painting, Marshall depicts Mameluke at Newmarket with Will Wheatley (1786-1848) up. The starting post on the left is marked TMM to indicate the Two Middle Miles of the four-mile Beacon course. On 11th April 1828 Mameluke with Wheatley up won the Port Stakes over the TMM, beating Lord Cavendish's Amphion. It was the only time that Mameluke raced over this course, so Marshall's painting no doubt commemorates this occasion. Marshall sets horse, jockey and groom against the rolling landscape with a huge Suffolk sky of scudding clouds. As always, his understanding of the power and beauty of the racehorse is superb and his portraits of the jockey and groom acutely observed and full of character. In the distance, two gentleman (the owner and trainer?) canter along the course, painted with great brio.  
Described by The Sporting Magazine in 1831 as 'one of the best jockeys in England', Wheatley was principally employed by Lord Lowther. However, he rode Mameluke in several of his best races, including the Ascot Gold Cup, when he beat Zinganee, ridden by his rival Sam Chifney Jnr.
Ben Marshall painted Mameluke at least five times between 1825 and 1828[1], with varying backgrounds and arrangement of figures.
BEN MARSHALL
Leicestershire 1768 - 1835 London
Ben Marshall was the greatest horse portraitist to succeed George Stubbs. He painted racing, hunting and shooting scenes, boxing subjects, game cocks and portraits.
Marshall was born in Leicestershire, where he worked as a school master. He then moved to London and studied with the portrait painter Lemuel Francis Abbott. By the mid 1790s, Marshall had established his reputation as a leading sporting artist, enjoying patronage from the Prince of Wales and members of the aristocracy. His work was further publicised through The Sporting Magazine, which reproduced some sixty of his paintings between 1796 and 1832.
In 1812, Marshall moved to Newmarket, an area in which he found 'many a man who will pay me fifty guineas for painting his horse, who thinks ten guineas too much for painting his wife'.  Unfortunately, he had a severe coaching accident in 1819, and suffered from temporary paralysis.  He turned to sporting journalism and became a correspondent for The Sporting Magazine, writing under the pseudonyms of Observator and Breeder of Coctails.  In 1825, he returned to London, where he remained for the rest of his life.
[1] See Noakes, op. cit., p.52. A painting signed and dated 1827, with Richard Green in 2006 and now in a UK private collection, depicts Mameluke with a groom and his trainer James 'Tiny' Edwards at Epsom (28 x 36 in / 71.1 x 91.4 cm). The painting signed and dated 1828 formerly in the 5th Earl of Rosebery's collection at Durdans, shown at Ackermann in 1966 in the exhibition George Stubbs and Ben Marshall, shows Mameluke with his trainer and a stable boy, with the TMM marker on the right (28 x 36 in / 71.1 x 91.4 cm).