Skip to main content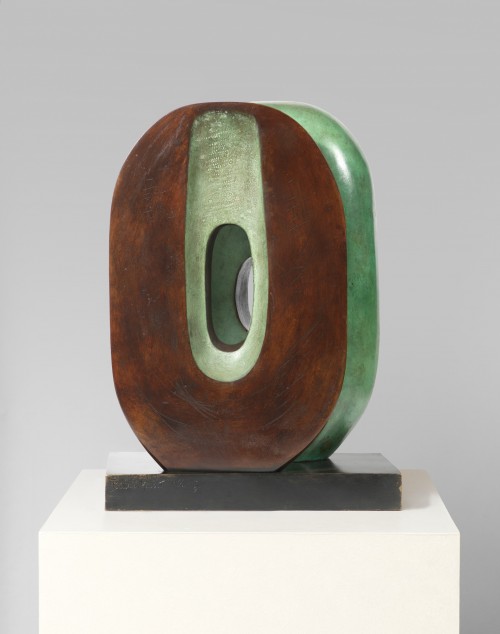 Dame Barbara Hepworth Maquette for Dual Form
Bronze: 20.2(h) x 14.5(w) in / 51.4(h) x 36.8(w) cm
Signed, dated and numbered on the base: Barbara Hepworth, 1966, 7/9 _x000D_ and stamped with the Morris Singer Foundry mark
This artwork is for sale.
Please contact us on: +44 (0)20 7493 3939.
Email us
BX 220
DAME BARBARA HEPWORTH
 Wakefield 1903 - 1975 St. Ives
Maquette for Dual Form
Signed, dated and numbered on the base: Barbara Hepworth, 1966, 7/9
and stamped with the Morris Singer Foundry mark
Bronze: 20¼ in / 51.4 cm height
Conceived in 1965 and cast in bronze in 1966 by the Morris Singer
Foundry, London in a numbered edition of 9+0
Provenance:
Laing Gallerieis, Toronto, 1966
John MacAulay, Winnipeg, 1996
Private collection, Toronto
Exhibited:
London, Gimpel Fils, Barbara Hepworth, May–July 1966, cat. 15, cast 2
Harrogate, Arts Council Exhibition at Harrogate Festival, Chromatic Sculpture, August 1966, cat. 20
Montreal World Fair EXPO 67, Sculpture: Exposition internationale de sculpture contemporaine, British Pavillion, summer 1967
London, Tate Gallery, Barbara Hepworth, April–May 1968, cat. 159, cast 9
Literature:
Alan Bowness (ed.), The Complete Sculpture of Barbara Hepworth 1960–69, Lund Humphries, London, 1971, no.397, p.41 illus. another cast
Miranda Phillips and Chris Stephens, Barbara Hepworth Sculpture Garden, Tate Publishing, London, 2002, illustrated in colour p.19
Sophie Bowness (ed.), Barbara Hepworth, The Plasters, The Gift to Wakefield, Farnham and Burlington VT, 2011, no.24, illus. of plaster pp.142–3
This powerful, imposing work derives from the large bronze Dual Form, 1965 (BH 396, 72 ½ inches height), cast in an edition of 7+0, all but one in public collections including Leeds City Art Gallery; Lancaster University; Rijksmuseum Kröller-Müller, Otterlo, The Netherlands; The Phillips Collection, Washington DC and the Portland Art Museum, Oregon. The cast situated outside the Guildhall in St Ives was given to the town by the artist to mark the conferment of the Honorary Freedom of the Borough of St Ives. Like the large-scale bronze, Maquette for Dual Form seems to be a replication and variation of a pierced Monolith; two shallow half-ovoids standing back to back, flattened at top and bottom, creating distinctive U shapes in their concavities. Penelope Curtis writes of the work: 'A form that may seem familiar, but which has in fact been refined quite differently, with a very successful result, is the deep 'U' shape which we see in Dual Form, another large piece known from its dispersal on public sites around Britain. The variations on Dual Form date from 1965, but clearly go back to Curved Form (Oracle) of 1960, and Two Forms with White (Greek) of 1963, both in wood and in paint. The 'U' shape takes further
the more familiar aureole around the hole and, in slicing off the top, suggests a kind of infinite extension of the sculpture. This adds to the spectator's involvement with the piece, a concern which was important to Hepworth at this time, and which shows that she was not unaware of what was happening in the work of younger colleagues, such as Anthony Caro and Phillip King, and of the move to bring sculpture down to ground level. In 1962 Hepworth was interviewed for The Studio, and pointed out: 'It is easy now to communicate with people through abstraction, and particularly so in sculpture since the whole body reacts to its presence…people become themselves a living part of the work.'[1]
The mirrored yet divergent forms construct a brilliant play of contrasts between mass and space, plane and curve, smooth exterior and roughly textured recessions. Obliquely angled and placed off-centre on their base, the twin forms overlap and almost touch, but light and space can be seen between, as well as through them. Their circular and elongated oval openings offer a view through the sculpture uniting the space in front of and behind the work, recalling the artist's first piercing of the block, seen at the time as imbuing the works with 'air, intimacy and a sort of stereoscopic quality.'[2] The greatest and most vivid contrast afforded by Hepworth's use of bronze is the exceptional colour, the warm bronze of the primary form set against the bright, Verdigris of the other (and its recession), like lichen-covered rock. The plaster for the maquette, at the Hepworth Wakefield, was built up using an aluminium sheet armature bent into shape onto which scrim was laid (whose texture can be seen in the recessed area of the brown form).[3] Plaster of Paris was then layered and worked using spatulas and the artist's bare hands. When dry, Hepworth carved the hard surface with tools and 'surform' planes. As Sophie Bowness relates, the surface texture of the plaster and its related bronze, 'its expressiveness and variety, was of great importance to Hepworth'[4] in order to 'imbue it with my own life & feeling & calligraphy.'[5] 'I only learned to love bronze', she wrote to Ben Nicholson in 1966, 'when I found that it was gentle and I could file it and carve it and chisel it. Each one is a "person" to me – as much as a marble.'[6] Hepworth, with her assistants' help, frequently finished the bronzes by hand
when they returned from the foundry.
In 1965 a retrospective of Hepworth's work was held at the Rietveld Pavilion, Rijksmusem Kröller-Müller, Otterloo in The Netherlands. She was made a Dame Commander of the British Empire and appointed the first female Trustee of the Tate Gallery. The following year, Barbara Hepworth: Drawings from a Sculptor's Landscape was published. Writing in her obituary, Susan Bradwell suggests: 'She enjoyed the numerous honours she received, but perhaps none as much as when in 1968 she was made a Bard and took the name Gravyor in a ceremony in fields outside St Just. In the same year both she and her friend the potter Bernard Leach were given the freedom of St Ives and Dame Barbara in turn presented Dual Form to the Corporation. It stands outside the Guildhall.'[7]
Barbara Hepworth, Dual Form, 1965,
outside The Guildhall, St Ives.
Photograph: Jeremy Haslam /
Alamy Stock Photo.
DAME BARBARA HEPWORTH
Wakefield 1903 – 1975 St. Ives
Barbara Hepworth was born in Wakefield, Yorkshire in 1903, the first of four children of Herbert Hepworth (a civil engineer) and his wife Gertrude Johnson. She was educated at Wakefield Girls' High School before studying at Leeds School of Art from 1920, where she met the sculptor Henry Moore. After taking the two-year course in a single year, she moved to The Royal College of Art, London in 1921. Following a post-graduate year there, Hepworth was short-listed for the Prix de Rome and was awarded a year's travel scholarship. She moved to Florence in 1924 where she married fellow student and winner of the Prix de Rome, John Skeaping in May 1925. They later moved to Rome where Hepworth received a thorough training in carving and began working with stone. In November 1926 they returned to London, moving in 1928 to 7 The Mall Studios in Hampstead. Hepworth and Skeaping held joint exhibitions at the Beaux Arts Gallery in 1928 and at Arthur Tooth & Son in 1930. Their son, Paul was born in August 1929, but their marriage had already begun to deteriorate when Hepworth met Ben Nicholson in 1931. Hepworth and Skeaping divorced in 1933. Nicholson moved into Hepworth's studio in 1932 and they held a joint exhibition of their work at Tooth's Gallery that same year and again at the Lefevre Gallery in 1933.
A member of the Seven & Five Society, Unit One and Abstraction-Création during the 1930s, Hepworth began making entirely abstract sculpture in 1934. She also gave birth to triplets Simon, Rachel and Sarah that year. Nicholson and Hepworth were married in 1938, moving to Cornwall a year later, at first staying in the house of their friend, the author Adrian Stokes and his wife Margaret Mellis. Hepworth would remain in St Ives until her death in 1975. During the first three years of the war, Hepworth was unable to carve, though she drew at night after the domestic demands of the day. Her working conditions became easier after the family moved into a larger house in Chy-an-Kerris, Carbis Bay in 1942 and Hepworth secured a studio. The first retrospective exhibition of Hepworth's work was held at Temple Newsam, Leeds in 1943. She represented British sculpture at the Venice Biennale in 1950 and was commissioned by the Arts Council to produce two sculptures for the Festival of Britain in 1951. Two further retrospectives in Wakefield in 1951 and at The Whitechapel Art Gallery, London in 1954 helped to confirm her Post-War reputation.
Hepworth bought Trewyn Studio, St Ives in 1949 and lived there permanently from 1950 following her separation from Nicholson and their divorce in 1951. In 1953 her first child, Paul Skeaping, was killed in an air crash. Hepworth travelled to Greece in 1954 in an effort to recover from his sudden death. Large public commissions such as Single Form, erected outside the United Nations Building, New York in 1964 helped to confirm Hepworth's international standing, as did the award of the Grand Prix at the 1959 São Paulo Biennial. She was awarded a CBE in 1958 and appointed DBE in 1965, the same year in which she was elected a Trustee of the Tate Gallery. Along with her friend the potter Bernard Leach, Hepworth was awarded the Freedom of St Ives in 1968 in acknowledgement of her importance to the town. Hepworth died in 1975 as a result of a fire in her studio. According to her wishes, Trewyn studio was opened to the public as the Barbara Hepworth Museum in 1976 and is now part of the Tate Gallery.
[1] Penelope Curtis, Barbara Hepworth, St Ives Artists, Tate Publishing, London, 1998, p.46.
[2] John Grierson, 'The New Generation in Sculpture', Apollo, vol.12, no.71, Nov. 1930, p.351.
[3] Sophie Bowness (ed), Barbara Hepworth, The Plasters. The Gift to Wakefield, Farnham and Burlington VT, 2011, p.142.
[4] Sophie Bowness (ed.) Barbara Hepworth, The Plasters. The Gift to Wakefield, op. cit., p.44.
[5] The artist cited in Sophie Bowness (ed.) Barbara Hepworth, The Plasters. The Gift to Wakefield, ibid., p.44.
[6] The artist cited in Sophie Bowness, Barbara Hepworth, Polished Bronzes, exh. cat., New Art Centre Sculpture Park and Gallery, 2001, unpag.
[7] Susan Bradwell, 'Barbara Hepworth', Arts Review, London, 30th May 1975. Obituary based on an interview with Hepworth shortly before her death cited in Sophie Bowness (ed.), Barbara Hepworth Writings and Conversations, op. cit., p.289.