Skip to main content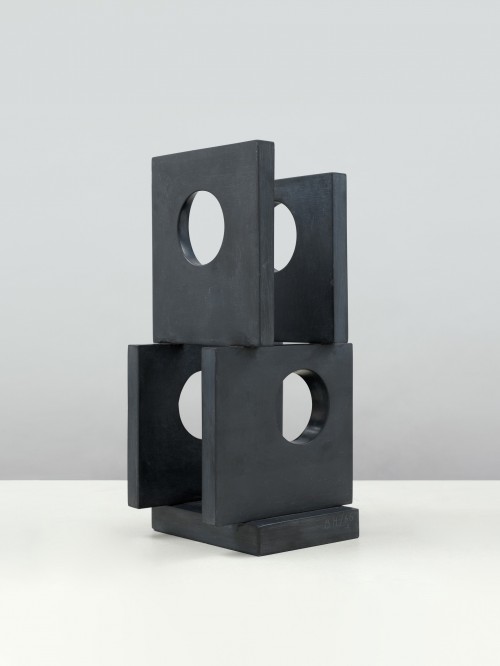 Dame Barbara Hepworth Maquette for large sculpture: Four-square (Four circles)
Slate: 11(h) x 556.2(w) in / 27.9(h) x 1412.7(w) cm
Signed with initials and dated on the base: B.H./ 66 / A; signed and dated on the underside: Barbara Hepworth 1966 A
This artwork is for sale.
Please contact us on: +44 (0)20 7493 3939.
Email us
DAME BARBARA HEPWORTH DBE
Wakefield 1903 - 1975 St Ives
Ref: BT 179
Maquette for large sculpture: Four-square (Four circles)
Signed with initials and dated on the base: B.H./ 66 / A; signed and dated on the underside: Barbara Hepworth 1966 A
Slate: 11 x 5 ½ x 5 in / 27.9 x 14 x 12.7 cm
Carved in 1966 in a numbered edition of 3
BH 407
Provenance:
Mr & Mrs Rautbord, Chicago, acquired through Gimpel Fils, London in 1967
Christie's New York, 13th May 1998, lot 205
Waddington Galleries, London, acquired from the above
Private collection, Connecticut, acquired from the above in 1999
Exhibited:
London, Gimpel Fils, Barbara Hepworth, May–June 1966, cat. no.31, illus. (as Four-square (four circles) Version A)
Plymouth, City Art Gallery, Barbara Hepworth, 16th June–16th August 1970, cat. no.48
London, Marlborough Fine Art, Barbara Hepworth carvings, July–August 1982, cat. no.13, illus. p.21
Literature:
Gene Baro, 'Barbara Hepworth in her Times', Studio International, June 1966, vol. 171, no. 878, referred to and illustrated p.256
Alan Bowness (ed.), The Complete Sculpture of Barbara Hepworth 1960–69, Lund Humphries, London, 1971, cat. no.407, p.42, pl.145 as Maquette for large sculpture: Foursquare
(Four circles)
Matthew Gale and Chris Stephens, Barbara Hepworth: Works in the Tate Gallery Collection and the Barbara Hepworth Museum St Ives, Tate Gallery Publishing, London, 1999, referred to p.240
Sophie Bowness (ed.), Barbara Hepworth: Writings and Conversations, Tate Publishing, London, 2015, referred to p.234
This work will be included as BH 407 in the forthcoming catalogue raisonné of Barbara Hepworth's sculptures being revised by Dr Sophie Bowness.
Despite Edward Mullins' statement that Hepworth 'never works from a maquette: "you can't blow things up"'[1], Four-square (Four circles) is one of three small scale works which anticipate the monumental bronze, Four-square (Walk through) (BH 433), an edition of 3 with casts at the Norton Simon Museum, Pasadena, Churchill College, Cambridge and the Barbara Hepworth Museum, St Ives, all dated 1966; including the 'table-sized'[2] 24 in. slate of the same title (BH 416), also in the collection of Mr & Mrs Rautbord, and its incarnation in bronze (BH 428), an edition of 7+0, a cast at the Royal College of Art, London.
In conversation with the artist in 1971, Alan Bowness describes the present work as 'The first idea of the Walk through (407)' and its related works as inviting execution on a monumental scale, suggesting the impetus behind their creation was Hepworth's fight against cancer at that time. Hepworth replied: 'Yes of course it was. It was the same in 1938. If War is imminent, or you're very ill or something's threatening, you want to put something down for big work while you can. I was in an absolute fever of ideas, without much hope of fulfilment. It's never easy for a sculptor to have enough money, enough space and enough material to do quickly what he wants to do. Maybe you have to wait. I could only make small works, but I wrote in my records, projects for monuments.'[3]
Both slate maquettes, whose difference in size suggests a process of scaling-up,[4] established the fundamental pierced rectangular forms and irregular relationships of the environmental sculpture, each individual element suggesting and yet confounding a paired uniformity; the lower forms projecting over the base to different extents, 'in the 'echelon' displacement favoured by the artist since works of the 1930s, such as Discs in echelon (Tate)'[5] and the upper pair   conspicuously different in height. The simplicity of the group's geometric syntax recalls Hepworth's work of the 1930s, such as the carving, Monumental stele, 1936 (BH 82, destroyed after being damaged by shrapnel during the war). Described by the artist as 'a particular favourite of mine',[6] Monumental stele informed other large scale work of the 1960s, in particular Squares with two circles (BH 347), one of Hepworth's largest monolithic bronze sculptures, which anticipated Four square (Walk through).
One of the most exciting and interactive of Hepworth's large-scale open-air sculptures, Four square (Walk through) was 'conceived as something the spectator may inhabit ... so that he may feel the sculpture to be an actual extension of himself.'[7] As well as creating a more balanced relationship between mass and space, the piercings, positioned in relation to the human figure, allow further interaction between the visitor, the sculpture and the environment. During the same interview with Bowness, Hepworth stated of the work: 'I wanted to involve people, make them reach to the surfaces and the size, finding out which spiral goes which way, realizing the differences between the parts.'[8] Shortly after the completion of the sculpture in 1967, Mullins stated: 'This piece emphasises her insistence that the whole body must be engaged in response to sculpture. 'This engagement helps to orientate us – give us an image of security and a sense of
architecture'. On another occasion [Hepworth said] 'You can't look at sculpture if you
don't move, experience it from all vantage-points, see how the light enters it and changes
the emphasis.'[9]
Hepworth posed for a photograph leaning out of one of the holes in Four-square (Walk through),[10] and spoke of climbing through the circles of her sculptures. Alan Bowness linked this comment to the pierced standing stone Men-an-tol, which Hepworth observed had ratified her ideas 'that when you make a sculpture you're making an image, a fetish, something which alters human behaviour or movement.'[11] Hepworth shared the influence of Neolithic stones, as well as the arrangement of shallow, rectilinear planes, with the reliefs of Ben Nicholson during the 1930s and the 1960s.
Barbara Hepworth, Four-square (Walk through), 1966
Bronze: 169 x 78 x 90 in / 429 x 199 x 229.5 cm
Hepworth Estate, on long-term loan to the Barbara
Hepworth Museum and Sculpture Garden, Tate
Photograph © Tate
DAME BARBARA HEPWORTH
Wakefield 1903 – 1975 St. Ives
Barbara Hepworth was born in Wakefield, Yorkshire in 1903, the first of four children of Herbert Hepworth (a civil engineer) and his wife Gertrude Johnson. She was educated at Wakefield Girls' High School before studying at Leeds School of Art from 1920, where she met the sculptor Henry Moore. After taking the two-year course in a single year, she moved to The Royal College of Art, London in 1921. Following a post-graduate year there, Hepworth was short-listed for the Prix de Rome and was awarded a year's travel scholarship. She moved to Florence in 1924 where she married fellow student and winner of the Prix de Rome, John Skeaping in May 1925. They later moved to Rome where Hepworth received a thorough training in carving and began working with stone. In November 1926 they returned to London, moving in 1928 to 7 The Mall Studios in Hampstead. Hepworth and Skeaping held joint exhibitions at the Beaux Arts Gallery in 1928 and at Arthur Tooth & Son in 1930. Their son, Paul was born in August 1929, but their marriage had already begun to deteriorate when Hepworth met Ben Nicholson in 1931. Hepworth and Skeaping divorced in 1933. Nicholson moved into Hepworth's studio in 1932 and they held a joint exhibition of their work at Tooth's Gallery that same year and again at the Lefevre Gallery in 1933.
A member of the Seven & Five Society, Unit One and Abstraction-Création during the 1930s, Hepworth began making entirely abstract sculpture in 1934. She also gave birth to triplets Simon, Rachel and Sarah that year. Nicholson and Hepworth were married in 1938, moving to Cornwall a year later, at first staying in the house of their friend, the author Adrian Stokes and his wife Margaret Mellis. Hepworth would remain in St Ives until her death in 1975. During the first three years of the war, Hepworth was unable to carve, though she drew at night after the domestic demands of the day. Her working conditions became easier after the family moved into a larger house in Chy-an-Kerris, Carbis Bay in 1942 and Hepworth secured a studio. The first retrospective exhibition of Hepworth's work was held at Temple Newsam, Leeds in 1943. She represented British sculpture at the Venice Biennale in 1950 and was commissioned by the Arts Council to produce two sculptures for the Festival of Britain in 1951. Two further retrospectives in Wakefield in 1951 and at The Whitechapel Art Gallery, London in 1954 helped to confirm her Post-War reputation.
Hepworth bought Trewyn Studio, St Ives in 1949 and lived there permanently from 1950 following her separation from Nicholson and their divorce in 1951. In 1953 her first child, Paul Skeaping, was killed in an air crash. Hepworth travelled to Greece in 1954 in an effort to recover from his sudden death. Large public commissions such as Single Form, erected outside the United Nations Building, New York in 1964 helped to confirm Hepworth's international standing, as did the award of the Grand Prix at the 1959 São Paulo Biennial. She was awarded a CBE in 1958 and appointed DBE in 1965, the same year in which she was elected a Trustee of the Tate Gallery. Along with her friend the potter Bernard Leach, Hepworth was awarded the Freedom of St Ives in 1968 in acknowledgement of her importance to the town. Hepworth died in 1975 as a result of a fire in her studio. According to her wishes, Trewyn studio was opened to the public as the Barbara Hepworth Museum in 1976 and is now part of the Tate Gallery.
[1] Edwin Mullins, 'Scale and Monumentality: Notes and Conversations on the Recent Work of Barbara Hepworth', Sculpture International, no.4, 1967, p.21 cited in Chris Stephens and Matthew Gale, op.cit., p.240.
[2] Mullins, ibid, p.20.
[3] The artist cited in 'Alan Bowness : conversations with Barbara Hepworth', 1970, op. cit., p.12.
[4] Mullins 1967, op. cit., p.20.
[5] Matthew Gale, Barbara Hepworth: Works in the Tate Gallery Collection and the Barbara Hepworth Museum St. Ives, 1999, p.240
[6] The artist cited in 'Alan Bowness : conversations with Barbara Hepworth', 1970, op. cit., p.12.
[7] Edwin Mullins 1970, 'Barbara Hepworth' in Barbara Hepworth Exhibition, 1970, exh. cat., Hakone Open-Air Museum, Japan 1970, unpag cited in Stephens and Gale, op. cit., p.238.
[8] The artist cited in 'Alan Bowness : conversations with Barbara Hepworth', 1970, op. cit., p.12.
[9] Mullins 1967, p.20 cited in Stephens and Gale, op. cit., p.242.
[10] Barbara Hepworth, Barbara Hepworth: Pictorial Autobiography, Adams & Dart, Somerset, 1970, p.128.
[11] The artist cited in 'Alan Bowness : conversations with Barbara Hepworth', 1970, op. cit., p.13.