Skip to main content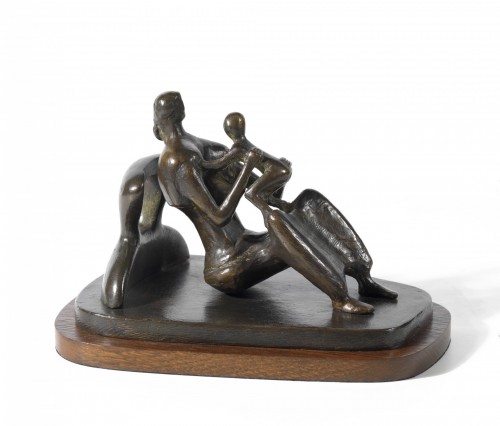 Henry Moore Maquette for Mother and child: Arms
Bronze: 5.2(h) x 8(w) in / 13.3(h) x 20.3(w) cm
Signed and numbered on the base: Moore 1/9
This artwork is for sale.
Please contact us on: +44 (0)20 7493 3939.
Email us
HENRY MOORE
Castleford 1898 - 1986 Much Hadham
Ref: BR 50
Maquette for Mother and child: Arms
Signed and numbered on the base: Moore 1/9
Bronze with brown patina: 5¼ x 8 x 5¼ in / 13.3 x 20.3 x 13.3 cm
Frame size: 5¼ x 8 x 5¼ in / 13.3 x 20.3 x 13.3 cm
Conceived and cast in 1976 at Fiorini in a numbered edition of 9 plus 2 artist's copies
LH 697
Provenance:
Lauren Bacall, New York, acquired from the artist's studio, March 1978
Literature:
Alan Bowness (ed.), Henry Moore, The Complete Sculpture 1974-1980, Vol. 5, Lund Humphries, London, 1999, no. 697 (another cast illustrated)
The larger version of this bronze sculpture, Mother and child: Arms (LH 698), measures 31 ½ in / 80 cm in length, in an edition of 9, including one cast in the Prefectural Museum of Modern Art, Fukushima.
Moore was fascinated by the subject of the mother and child throughout his career and executed numerous versions in a wide variety of media. 'From very early on I have had an obsession with the Madonna and Child theme. It has been a universal theme from the beginning of time and some of the earliest sculptures we've found from the Neolithic Age are of a Mother and Child. I discovered, when drawing, I could turn every little scribble, blot or smudge into a Mother and Child…So that I was conditioned, as it were, to see it in everything. I suppose it could be explained as a "Mother" complex'.[1] In 1946 depictions of the bond of parental love took on an even greater personal resonance for Moore as his first and only child, Mary, was born on 7th March, named after her paternal grandmother and aunt.
Moore wrote of the subject, 'The 'Mother and Child' is one of my two or three obsessions, one of my inexhaustible subjects. This may have something to do with the fact that the 'Madonna and Child' was so important in the art of the past and that one loves the old masters and had learned so much from them. But the subject itself it eternal and unending, with so many sculptural possibilities in it – a small form in relation to a big form, the big form protecting the small one, and so on. It is such a rich subject, both humanly and compositionally, that I will always go on using it.'[2]
The seventh child of Raymond Spencer and Mary Moore, Henry was born in Castleford, Yorkshire in 1898. His paternal great-grandfather was of Irish origin, but his father and grandfather were born in Yorkshire where, for two or three generations, they worked the land or went down the mines. At the age of twelve Moore obtained a grant to study at the Grammar School in Castleford where he was inspired by his art teacher to pursue a career in the arts. In 1916 he began to teach, but by February 1917 he had joined the army and left to fight in
France. After being wounded in action in November 1917 at the battle of Cambrai, Moore was excused from active service. He returned to England, where he became a physical education instructor in the army. At the end of the war, Moore received a veteran's grant to study at Leeds School of Art and in 1921 he joined a course at the Royal College of Art in London. A further grant enabled him to travel extensively from 1925, visiting Rome, Florence, Venice, Ravenna and Paris, where he met Picasso, Giacometti, Ernst, Eluard and Breton among others.
On returning from his travels Moore was appointed Professor of Sculpture at the Royal College of Art where he worked two days a week until 1931, as well as teaching at the Chelsea School of Art until 1939. He was appointed an Official War Artist during the Second World War from 1940–1942 for which he made a series of drawings of people sheltering in the London Underground, as well as studies of miners at the coal face. In these pictures he frequently used
watercolour over wax crayon. After the war Moore enjoyed a great deal of success, with his works receiving critical acclaim all around the world. He executed many major commissions for museums, public institutions, private collectors and municipal buildings and as a result he became one of the most famous British artists of the twentieth century.
At the beginning of the 1970s Moore created a foundation, the aim of which was to promote public awareness of sculpture and to protect his own work for the future. Located in his home village of Much Hadham, Hertfordshire, the foundation houses a library, archives and a collection of drawings, prints, maquettes and sculptures by the artist. Heavily influenced by the work of Michelangelo, Moore created monumental works in marble, stone and bronze and was enthralled by the theme of the family, and in particular the mother and child. His unique oeuvre draws inspiration from prehistoric, archaic, Egyptian, African, Mexican and Roman sculpture.
Throughout his career he was noted for his output of graphic art – drawings, watercolours, etchings and lithographs which were not necessarily related to individual sculptures.
[1] The artist cited in John Hedgecoe and H. Moore, Henry Spencer Moore, Simon and Schuster, New York, 1968, p.61.
[2] The artist cited in Alan Wilkinson (ed.), Henry Moore, Writings and Conversations, Berkeley, 2002, p.213.