Skip to main content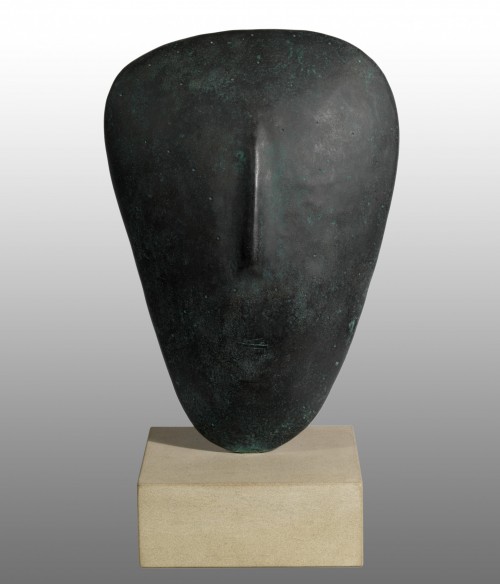 William Turnbull Mask
Bronze with a green patina: 15.5(h) x 11(w) in / 39.4(h) x 28(w) cm
Stamped with monogram, numbered and dated above the base: 5/6 82
This artwork is for sale.
Please contact us on: +44 (0)20 7493 3939.
Email us
BR 43
WILLIAM TURNBULL
Dundee 1922 - 2012 London
Mask
Stamped with mongram, dated and numbered above the base: 82 5/6
Bronze with a green patina: 15 ½ x 11 x 3 ¾ in / 39.4 x 27.9 x 9.5 cm
On a stone base: 3 ⅛ x 8 x 8 in / 7.9 x 20.3 x 20.3 cm
Conceived in 1982 and cast in April 1986
Provenance:
Terry Dintenfass Inc., New York, 1988;
private collection, acquired from the above
Literature:
Amanda A. Davidson, The Sculpture of William Turnbull, The Henry Moore Foundation in association with Lund Humphries, Hertfordshire, 2005, no.217, p.159 (another cast illus.)
Turnbull's first recorded Mask, 1946, was made of cement, its surface covered with designs in string: a flat and frontal sculpture 'using the conventions of masks to present a three-dimensional impression in a two-dimensional manner.'[1] In 1953, the artist wrote, 'I made a series of masks which are concerned with surface as a skin: the division of inside and outside space in volume sculpture. My linear sculpture had been concerned with motion, and later, I realized that a mask is an arrest of movement.'[2] Inspired by the simple forms of archaeological and anthropological artefacts, as well as pre-classical forms of art, in particular African and Greek theatrical masks, Turnbull created further solid pieces during the 1950s, accentuating their surfaces. Turnbull declared 'the mask is a marvellous example of the attempt to fix that which is maybe most continuously fleeting and mobile – the expression on a face.'[3]
While maintaining their sense of flat, frontality, in contrast to these earlier works whose markings Turnbull gouged out of a flat bed of plaster or clay prior to casting, his later Masks are more refined explorations of three-dimensional form. Physical features, such as the straight, protruding nose and narrow mouth, are suggested as economically as possible, keeping the shape simple and clear, in the present work resembling a shield. Low indentations across the surface, like tattoos on the skin, are highlighted by the beautiful green patination, drawing the eye around and across the elegant, implacable mask.
William Turnbull, Mask I, 1979                William Turnbull, Mask I, 1953
Bronze: 25 x 22.5 x 9 cm                         Bronze: 23 x 20.5 x 7 cm
Arts Council Collection                          Tate
WILLIAM TURNBULL
Dundee 1922 - 2012 London
William Turnbull, the internationally renowned sculptor, painter and printmaker, was born in Dundee on the 11thJanuary 1922. Having demonstrated an early passion for drawing, Turnbull left school at fifteen and got a job as an illustrator for the local periodical publishing house, D.C. Thompson, while studying art in the evenings. After serving as a pilot in the Royal Air Force during the Second World War, he enrolled at the Slade School of Art and studied there from 1946 to 1948, meeting Eduardo Paolozzi, before spending two years in Paris. While he was abroad, Turnbull met and was profoundly influenced by the artists Constantin Brancusi (1876-1957) and Alberto Giacometti (1901-1966). He visited America for the first time in 1957, and travelled to Japan, Cambodia, and Malaysia in 1962 with his wife, the artist Kim Lim. The first one-man show of his sculpture was held in 1950 at the Hanover Gallery, his paintings were exhibited there two years later. In 1952 he represented Britain at the Venice Biennale. He had a solo exhibition of sculpture and painting at the Institute of Contemporary Arts, London in 1957 and exhibited in This is tomorrow at the Whitechapel Art Gallery, London in 1956 and Situation at the RBA Galleries, London in 1960.  In 1973 the Tate Gallery held a retrospective of his work and in 1995-6 the Serpentine held a major show of his work.  From 1952-61 and 1964-72 he taught at the Central School of Art in London. 
The work of William Turnbull is represented in the Government Art Collection, the National Galleries of Scotland, the Art Gallery of New South Wales, Australia, Cass Sculpture Foundation, Goodwood, the Smart Museum of Art at the University of Chicago, Tate Britain, London, the Tehran Museum of Contemporary Art, Iran, University of South Florida Contemporary Art Museum.
[1] Amanda Davidson, op. cit., p.12.
[2] Ibid., p.28.
[3] The artist cited in Amanda Davidson, ibid., p.28.