Skip to main content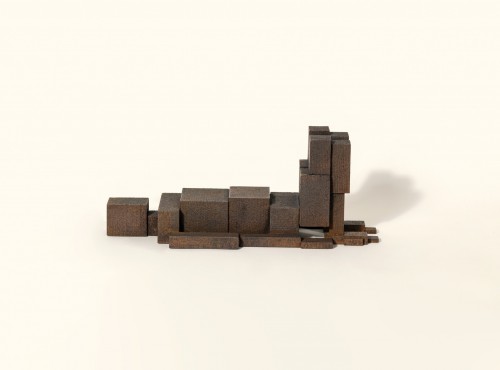 Sir Antony Gormley MEME CCXCVII, 2013
Cast iron: 4.1(h) x 1027.8(w) in / 10.5(h) x 2610.5(w) cm
Incised with initials, numbered and dated underneath: AMDG / 1713 / 2013
This artwork is for sale.
Please contact us on: +44 (0)20 7493 3939.
Email us
SIR ANTONY GORMLEY OBE RA
Born London 1950
Ref: BZ 203
MEME CCXCVII, 2013
Incised with artist's initials, numbered and dated underneath: AMDG / 1713 / 2013
Cast iron: 4 ⅛ x 10 ¼ x 4 ⅛ in / 10.5 x 26 x 10.5 cm
Made from a single mould cast that is destroyed on release of the cubes. It is considered a 'lost cast' process and is therefore  a unique work.
Provenance:
Private collection, UK
The internationally renowned, Turner Prize-winning artist, Antony Gormley is celebrated for his large-scale public sculptures and installations, including the Angel of the North, 1994 and Event horizon, 2007, consistently exploring the relationship between the human body and its environment. In Gormley's series MEMES, 2009-2018, each miniature sculpture or model is constructed from 27 cast-iron blocks arranged to depict the body in a range of postures, evoking various psychological states. The series refers to the term coined by evolutionary biologist, Richard Dawkins, in his best-selling book, The selfish gene, 1976, which defines a meme as a carrier of cultural ideas or behaviours transmitted from person to person through the act of imitation,[1] responding, like genes, to conditional environments and capable of mutation. 'These small solid iron works use the formal language of architecture to replace anatomy and construct volumes to articulate a range of 33 body postures. The ambition is to make intelligible forms that form an abstract lexicon of body-posture but which nevertheless carry the invitation of empathy and the transmission of states of mind.'[2]
Though the reclining posture of the present work suggests a state of relaxation, the bent knees and straight arms close to the body's side could also imply a yogic pose held in tension. The unique character of the blocks arrangement can be interpreted in multiple ways, encouraging the viewer to connect with the complexity of the human subject. Writing in an essay for the artist's exhibition at the Anna Schwartz Gallery, Melbourne in 2011, the philosopher and sociologist, Renata Salecl explains, 'Gormley's MEMES open this possibility of looking at the world we inhabit from a distance. Since it is in our (human) hands to decide how the world we live in will look in the future, we can take the MEMES as a tool to think through the God-like position humans are in regarding the space we inhabit and to question what humanity is about in times when this space is radically changing and when we can imagine it inhabited by more and more robot-like objects. But, on top of making such reflections, the viewer must not forget the simple pleasure of playing with them.'[3]
[1]'Dawkins models the word 'meme' on the word gene, but also invokes the Greek meanings of the word. In Greek mimma alludes to something being imitated; mimeisthai refers to the process of imitation and mimos to doing a mime.' Renata Salecl, 'Memes as triggers of emotion: multitude and identification,' Antony Gormley: MEMES, Anna Schwartz Gallery, Melbourne, Australia, 2011, footnote 1, https://antonygormley.com/resources/essay-item/id/129
[2] https://antonygormley.com/sculpture/item-view/id/278
[3] Renata Salecl, op. cit.