Skip to main content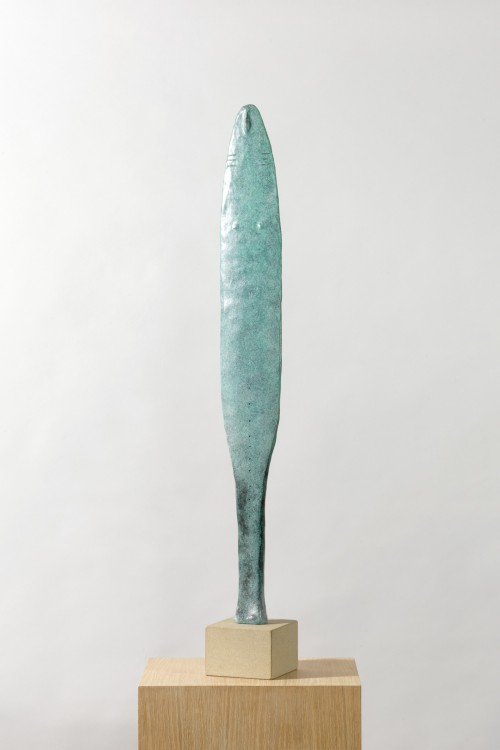 William Turnbull Paddle Venus 5
Bronze: 29(h) x 3.7(w) in / 73.7(h) x 9.5(w) cm
Stamped with monogram, numbered and dated above the base: 6/6 85
This artwork is for sale.
Please contact us on: +44 (0)20 7493 3939.
Email us
BZ 130
WILLIAM TURNBULL
Dundee 1922 - 2012 London
Paddle Venus 5
Stamped with monogram, numbered and dated above the base: 6/6 / 85
Bronze with green patina: 29 x 3 ¾ x 1 in / 73.7 x 9.5 x 2.5 cm
On a Portland stone base: 2 ¾ x 4 x 4 in / 7 x 10.2 x 10.2 cm
Conceived in 1985 and cast in March 1988 in a numbered edition of 6
Provenance:
Hazlitt Holland-Hibbert, London; John J Studzinski CBE, June 2007, acquired from the above
Literature:
Amanda A Davidson, The Sculpture of William Turnbull, The Henry Moore Foundation in association with Lund Humphries, Aldershot, 2005, no.235, p.167 (another cast illus.)
The Tate retrospective of William Turnbull's work in 1973, curated by Richard Morphet, was a revelation for the artist, revealing a consistency of themes and ideas of which he had been unconscious. In response he decided to revisit and redefine his earlier thoughts about sculpture and from 1979, began to develop a new series of Idols, often a fascinating mix of fertility figurines and prehistoric tools. Amanda Davidson writes 'Turnbull went on to develop his archetypal tool figures into much larger pieces. He no longer disguised but celebrated the practical inspirations for some of these works…transforming a practical object and the experience of creating art into an artwork.'[1]
In title and shape, Paddle Venus references both a Polynesian paddle[2] and a standing figure or sacred icon, specifically the Roman goddess of love, beauty, prosperity, fertility and victory, Venus. Across the main face, short lines and indentations, like tattoos on the skin, offer 'a symbolic way of taking your eyes around the sculpture.'[3] These markings, echoes of an ancient human art form, suggest figurative elements as economically as possible, preserving the sculpture's clear and simple shape. A striking example of Turnbull's mature work, Paddle Venus 5, 1985, builds on the artist's idol series of the 1950s with a refined sense of shape, texture and colour. Davidson continues, 'The new idols are often a synthesis between the human figure [for example Cycladic sculpture] and other subjects. This series of anthropomorphic figures is also related to objects from other cultures, such as the ceremonial spoons and vessels in African cultures, including those created by the Dan people from the Ivory coast and Liberia in West Africa. The Dan spoons are frontal art objects that emphasise the fertile female form. They are used to express hospitality, but additionally are in daily use.'[4] Roger Bevan suggests that some of Turnbull's idols, including the Paddle Venus series, are 'partly based on the flat, oval shape of a churinga, a totemic object of the Aboriginal tribes in Australia. These sacred objects were made from boards of wood or stone and decorated with designs in red ochre that represented the sacred stories and history of that tribe.'[5] David Sylvester wonders whether these forms 'are not also an unconscious memory of the aircraft wings which he lived with for four years while a wartime pilot in the RAF. The plaques serenely carve their way through the air so that existence in space approaches a condition of pure movement or stance liberated from mass.'[6]
William Turnbull, Idol 2, 1956                             William Turnbull, Queen 2, 1988
Bronze: 161.3 x 43 x 49.5 cm                              Bronze: 212 x 48.9 x 27.9 cm
Tate                                                                         Yorkshire Sculpture Park
WILLIAM TURNBULL
Dundee 1922 - 2012 London
William Turnbull, the internationally renowned sculptor, painter and printmaker, was born in Dundee on the 11th January 1922. Having demonstrated an early passion for drawing, Turnbull left school at fifteen and got a job as an illustrator for the local periodical publishing house, DC Thompson, while studying art in the evenings. After serving as a pilot in the Royal Air Force during the Second World War, he enrolled at the Slade School of Art and studied there from 1946 to 1948 before spending two years in Paris. While he was abroad, Turnbull met and was profoundly influenced by the artists Constantin Brancusi (1876-1957) and Alberto Giacometti (1901-1966). He visited America for the first time in 1957, and travelled to Japan, Cambodia, and Malaysia in 1962.
The first one-man show of his sculpture was held in 1950 at the Hanover Gallery; his paintings were exhibited there two years later. In 1952, he represented Britain at the Venice Biennale. He had a solo exhibition of sculpture and painting at the Institute of Contemporary Arts, London in 1957 and took part in This is tomorrow exhibition at the Whitechapel Art Gallery, London in 1956 and Situation at the RBA Galleries, London in 1960. In 1973 the Tate Gallery held a retrospective of his work and in 1995-6 the Serpentine held a major show of his work. From 1952-61 and 1964-72 he taught at the Central School of Art in London. Turnbull was married to the sculptor and printmaker Kim Lim, with whom he had two sons. He died in London on the 15th November 2012.
The work of William Turnbull is represented in the Government Art Collection; the National Galleries of Scotland; the Art Gallery of New South Wales, Australia; Cass Sculpture Foundation, Goodwood; the Smart Museum of Art at the University of Chicago; Tate Gallery, London and the Tehran Museum of Contemporary Art, Iran.
[1] Amanda A Davidson, The Sculpture of William Turnbull, op.cit., p.62.
[2] Colin Renfrew in conversation with the artist in William Turnbull Sculpture and Paintings, Waddington Galleries, London, 1998, p.12.
[3] Amanda A Davidson, The Sculpture of William Turnbull, op.cit., p.68.
[4] Ibid., pp.68-9.
[5] Roger Bevan cited in ibid., p.65.
[6] David Sylvester, 'Bronze idols and untitled paintings', in William Turnbull: Sculpture and Paintings, Merrell Holberton and Serpentine Gallery, London, exh cat, 1995, p.10.