Skip to main content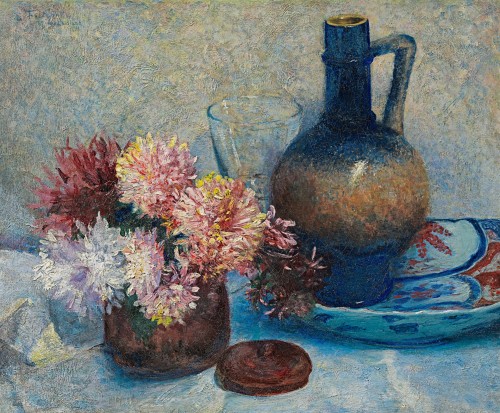 Katherine Maccausland Pichet et bouquet de dahlias
Oil on canvas: 14.1(h) x 18.1(w) in / 35.9(h) x 46(w) cm
Signed and inscribed upper left: à Filiger / K MacCausland
This artwork is for sale.
Please contact us on: +44 (0)20 7493 3939.
Email us
KATHERINE MACCAUSLAND
Dublin 1859 - 1928 St-Germain-en-Laye
Ref: CL 3682
Pichet et bouquet de dahlias
Signed and inscribed upper left: à Filiger / K MacCausland
Oil on canvas: 14 1/8 x 18 1/8 in / 35.9 x 46 cm
Frame size: 19 x 22 in / 48.3 x 55.9 cm
Provenance:
Charles Filiger (1863-1928), a gift from the artist
Katherine MacCausland's charming bouquet of vibrant Dahlias stand out against the richly textured, iridescent backdrop of pale blue, yellow and pink. Rendered in thick, impasted strokes, the jagged ruffles of the multi-petalled, sculptural flowers bring warmth and depth to the canvas. In glorious hues from white to pale pink and violet to magenta, burnished bronze and maroon with vibrant touches of yellow, the blooming cut flowers delightfully lead the eye across the composition to the rustic pitcher and decorative plate, whose pattern beautifully echoes the fiery flowers.
Charlotte Katherine MacCausland was born in Dublin in the mid-nineteenth century and belonged to a generation of Irish artists who left home to study in Paris. MacCausland is recorded as a student at the Académie Julian c.1885-88, in the ateliers of Carolus-Duran, Henner and Robert Fleury and from c.1887-89, in the atelier of Boulanger and Lefebvre.[1] She remained in France for the rest of her life, painting at several of the most popular artistic communities there including Marlotte, Pont-Aven, Concerneau and Grez-sur-Loing. Dr Julian Campbell describes MacCausland as 'a long term resident at Grez-sur-Loing. She was painting at Lowestoft in England in 1883, and settled at Grez perhaps in c.1890, staying first at the Hôtel Chevillon, and later buying a house of her own. She was a close friend of American painter Francis Chadwick and his wife Emma, and it is possible that she lived with Chadwick for a while. She seems to have become well-known in the village, and was nicknamed 'Miss Mac.''[2] Campbell suggests it is likely at Grez that she met Roderic O'Conor (1860-1940) and his close friend, the Chicago artist, Guy Ferris Maynard (c.1856-1936), who became her long-term companion.
The majority of MacCausland's known works are genre scenes or portraits of women and children which she exhibited at the Société des Artistes Français, the Société Nationale and the Salon des Independents in Paris, as well as at the Royal Society of British Artists, the Institute of Painters in Oil Colours, the Society of Women Artists, the New English Art Club and the Royal Academy in London. Addresses given to the Royal Academy between 1886 and 1904, suggest MacCausland lived in London before moving to Paris and painted Fishing boat at Lowestoft (Town Hall, Bourron-Marlotte) in Suffolk in 1883.
Charles Filiger (1863-1928), to whom this painting was inscribed, was a French Symbolist painter associated with Paul Gauguin and the artists' colony at Pont-Aven.
[1] Julian Campbell, 'Irish Painters in Paris, 1868-1914', Irish Arts Review Yearbook, 1995, Vol.11, p.163.
[2] Julian Campbell, The Irish Impressionists: Irish Artists in France and Belgium, 1850-1914, exh. cat., The National Gallery of Ireland, 1984, p.95.