Skip to main content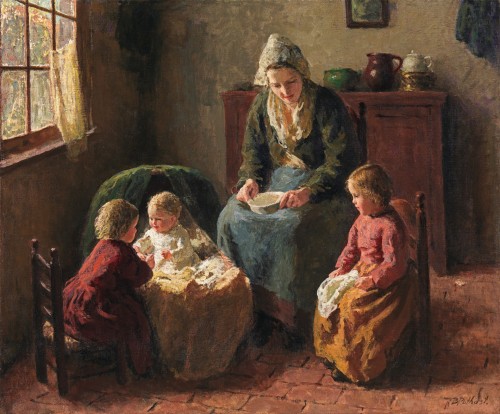 Bernard Pothast Playing with baby
Oil on canvas: 19.8(h) x 23.7(w) in / 50.2(h) x 60.3(w) cm
Signed lower right: B. Pothast
This artwork is for sale.
Please contact us on: +44 (0)20 7493 3939.
Email us
BX 208
BERNARD JEAN CORNEILLE POTHAST                  
Hall, Brummen, Gelderland 1882 – 1966 Laren, North Holland
Playing with baby
Signed lower right: B. Pothast
Oil on canvas: 19 ¾ x 23 ¾ in / 50.2 x 60.3 cm
Frame size: 27 ½ x 31 ½ in / 69.8 x 80 cm
Provenance:
Private collection, UK, 1969, then by descent
In Playing with baby, a sweet tableau of familial bliss is illuminated by the soft, breaking light of morning; glowing sunlight and rosy-red cheeks warm this rustic interior and signal the delightful stirrings of a day's beginnings. Following in the footsteps of Jozef Israëls's cottage interiors such as The joy of motherhood, 1890 (Rijksmuseum, Amsterdam), Bernard Pothast produced charming genre scenes that explore the bonds between mother and child. Whether the mother is depicted instructing or attending to her young ones, Pothast's maternal figures are imbued with virtue and strength. In a welcome departure from the restraint of his predecessor, in the present work Pothast saturates an idyllic moment of quiet contentment with great tonal vitality, widening the distance between himself and Israëls, who soberly interpreted the domestic through works overcast in shadow.  
Pothast adorns this small but hearty band of little women in a variation of rich colour combinations: a deep crimson dress placed in front of a miniature set of forest-green curtains that neatly encircle both the crib and two soft-haired heads of golden-yellow curls, a dark mustard skirt that overhangs a red-brick floor, the powder-blue sprawl of mother's apron. Though this modest home is decorated sparingly with a humble selection of possessions, Pothast tenderly furnishes the intimate space with a sweet and loving family group. Pothast was afforded success in his lifetime due to the tastes of affluent, wealthy clients such as Dutch and Belgian industrial merchants who sought the charming simplicity present in sentimental renderings of rural, provincial life.
B Pothast, Dutch interior with mother and children                       B Pothast, Family group                                   
Towneley Hall Art Gallery & Museum                                  North Carolina Museum of Art
BERNARD JEAN CORNEILLE POTHAST                  
Hall, Brummen, Gelderland 1882 – 1966 Laren, North Holland
Bernard Jean Corneille Pothast is most admired for his interior scenes celebrating the humble life of the Netherlandish peasant. He is particularly noted for his ability in capturing the particular intimacy between mothers and children. His technique is rooted in the rich tonal palette and bravura loose brushwork which has characterised masters of the Flemish School since Peter Paul Rubens.
Pothast received his formal artistic training at the Rijksakademie in Amsterdam between 1904 to 1907. His teacher was the Director of the Rijksakademie, Auguste Allebé (1838-1927), who is best remembered for his genre paintings, which are mostly in a small intimate format. Pothast furthered his studies at the Ecole des Beaux-Arts in Paris under Gabriel Ferrier (1847-1914) who painted a pair of ceilings entitled Fleurs and Parfums for the Hôtel de Ville of Paris in the 1890s.
The work of Bernard Pothast is represented in the public collections of Glasgow Museums, Towneley Hall Art Gallery & Museum and North Carolina Museum of Art, amongst others.