Skip to main content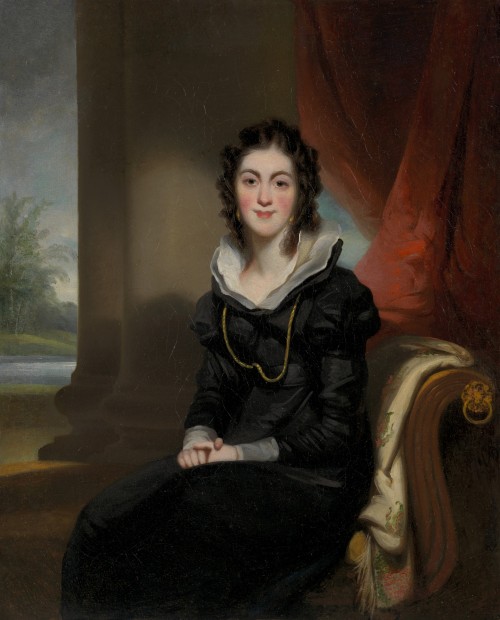 George Chinnery Portrait of Catherine Hungerford
Oil on canvas: 15.2(h) x 12.5(w) in / 38.7(h) x 31.8(w) cm

This artwork is for sale.
Please contact us on: +44 (0)20 7493 3939.
Email us
BM 65
GEORGE CHINNERY
London 1774 - 1852 Macao
Portrait of Catherine Hungerford
Oil on canvas: 15 ¼ x 12 ½ in / 38.7 x 31.7 cm
Frame size: 19 ½ x 16 ¾ in / 49.5 x 42.5 cm
Painted circa 1822
Provenance:
The sitter;
by descent in a private collection, UK
George Chinnery maintained a studio in Calcutta from 1811 to 1822, when he fled to escape his debts, settling in Macao in 1825. He was much sought-after for small-scale portraits of East India Company officials and their families. This portrait of Catherine Hungerford is a fine example of the genre. Catherine sits on a sofa draped with a Kashmir shawl, with a flamboyant red curtain behind her. To the left is the glimpse of an Indian landscape. Chinnery's painterly manner and his subtle treatment of light and shade add to the charm of this portrait. 
Catherine (d.1836) was the daughter of John Townsend Hungerford, Solicitor to the Honourable East India Company. She married Welby Brown Jackson, Judge of the Sudder Court, at St John's church in Calcutta on 10th April 1823, an event which may have prompted the commissioning of this portrait. The couple had six children.
GEORGE CHINNERY
London 1774 - 1852 Macao
George Chinnery was a portraitist, miniaturist and landscapist who became an important chronicler of life in India and China in the first half of the nineteenth century. Born in London in 1774, the son and grandson of writing masters, he first exhibited at the Royal Academy in 1791 and entered the Royal Academy Schools in 1792. He moved to Dublin in 1795 and married in 1799. Despite his success in Ireland, Chinnery returned to London in 1802 owing to the failure of his marriage, and sailed to India where his family had a firm called Chase, Sewell and Chinnery of Madras.
Chinnery went to Calcutta in 1807 to paint the Chief Justice of the Bengal Supreme Court, Sir Henry Russell (High Court, Calcutta). Lucrative commissions followed, including a portrait of the Governor-General, Gilbert Elliott, 1st Earl of Minto, c.1812-13 (Scottish National Portrait Gallery, Edinburgh). Chinnery was sociable and extravagant; among his friends and pupils was Sir Charles D'Oyly, 7th Bt., Collector in Dacca, where Chinnery lived from 1808 to 1811, before returning to Calcutta. His early works include portraits, miniatures on ivory and landscapes executed in ink and watercolour, which give a delightful, informal flavour of Indian life. His most important sitters during this period were William Hickey, the diarist; the future novelist William Makepeace Thackeray, aged three, and the children of Col. James Achilles Kirkpatrick. Chinnery's irregular lifestyle, eccentricity and free-spending ways put him 30,000 rupees into debt. In 1822 he fled to the Danish settlement of Serampore and in 1825 left India for good, leaving behind many unfinished commissions.
Chinnery spent the rest of his life in Macao, the main port for foreigners in China, where the merchants had their summer homes. He made brief visits to Canton and to Hong Kong after its acquisition by Britain in 1841. Chinnery's small-scale portraits of both British and Chinese merchants were much in demand, and he continued to make fluent, deftly observed drawings and watercolours of the local populace and landscape. His sitters included Dr William Jardine and his partner James Matheson, founders of the trading house of Jardine Matheson, and the powerful Chinese merchant How Qua. Chinnery continued to exhibit at the Royal Academy between 1830 and 1846, sending his pictures from Canton. He died at Macao in 1852.