Skip to main content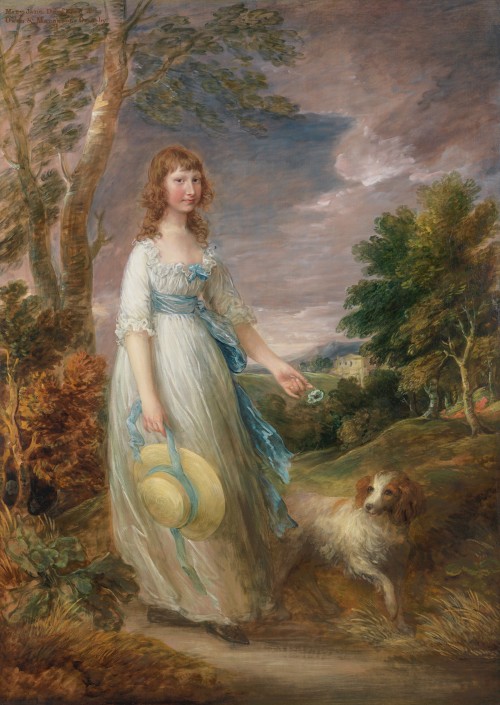 Gainsborough Dupont Portrait of Mary-Jane Ormsby of Porkington
Oil on canvas: 74.8(h) x 53.3(w) in / 189.9(h) x 135.3(w) cm

This artwork is for sale.
Please contact us on: +44 (0)20 7493 3939.
Email us
BT 167
GAINSBOROUGH DUPONT
Sudbury, Suffolk 1754 - 1797 London
Portrait of Mary-Jane Ormsby (1781–1869) of Porkington
Inscribed upper left: Mary. Jane Daughter of / Owen & Margaret Ormsby.
Oil on canvas: 74 3/4 x 53 5/16 in / 189.8 x 135.4 cm
Frame size: 83 x 63 ¼ in/ 210.8 x 160.7 cm
Painted circa 1794
Provenance:
Commissioned by the sitter's parents for Porkington Hall (renamed Brogyntyn), near Oswestry, Salop;
by descent to the sitter's son, John Ormsby-Gore, 1st Baron Harlech (1816–1876); transferred to Glyn Cywarch, Gwynedd in 1956;
by descent to Jasset, 7th Baron Harlech (b.1986)
Exhibited:
London, Royal Academy, 1794, no.214 (as 'Portrait of a young lady');
Arts Council Great Britain, An Exhibition of some Masterpieces from Welsh Houses, 1946, cat. no.23
Literature:
John Steegman, A Survey of Portraits in Welsh Houses, Cardiff 1957, vol. I, p.74, no.48, pl.12B
Ellis Waterhouse, Gainsborough, London 1958, p.41
John Hayes, The Landscape Paintings of Thomas Gainsborough, London 1982, pp.195, 216, pl. 247
This canvas is arguably the most accomplished female portrait that Gainsborough Dupont painted. The thirteen-year-old sitter was an unexpected and treasured daughter of a couple who had married late in life. In the background is a view of Porkington; the portrait is an assurance that the estate will continue in the family's ownership for years to come.
In 1777, at the relatively late age of thirty-nine, Margaret Owen (1738–1806) married Owen Ormsby (c.1737–1804) of Willowbrook, Co. Sligo, where their only child Mary-Jane was born on 17th September 1781 ([1]). On the death of her unmarried brother, Robert Godolphin Owen, in 1792, Margaret inherited Porkington, an estate close to the Welsh border two miles north-west of Oswestry in Shropshire. To mark her eventual inheritance this portrait of Mary-Jane was commissioned from the London artist, Gainsborough Dupont. When aged five she sat to Thomas Lawrence for a pastel portrait ([2]) and in about 1810 she sat for a miniature by Andrew Limer ([3]).  Dupont's portrait, the only original full-length female portrait he is known to have painted, was the most important likeness of the heiress.
Gainsborough Dupont was born in Sudbury, Suffolk on 24th December 1754, the third son of Philip Dupont and his wife, Sarah (née Gainsborough). Sometime in the 1760s the boy had been sent to Bath to be raised by his uncle, the painter Thomas Gainsborough. Possibly his move coincided with that of his widowed aunt Mary Gibbon who set up a millinery shop there, beside her brother's studio in 1762. The earliest evidence of Dupont working in his uncle's studio is a portrait of about 1768 known as the Pitminster Boy (private collection on loan to Gainsborough's House, Sudbury) which has recently been identified as a likeness of Dupont. On 12th January 1772 Dupont was formally apprenticed to Gainsborough; on 6th March 1775, some nine months after the Gainsboroughs moved to London, he joined the Royal Academy Schools ([4]). After his formal training he worked in his uncle's studio and continued to live in Schomberg House, Pall Mall where he learnt to scrape mezzotints and made small copies in oil after his uncle's portraits. In 1784 Gainsborough delegated to his assistant a commission to copy a portrait of Queen Caroline to accompany a portrait of her husband George III by John Shackleton in Huntingdon Town Hall ([5]). It was not, however, until after Gainsborough's death on 2nd August 1788 that his nephew had the opportunity to develop his own practice.
After Gainsborough's death Dupont continued to work in his uncle's studio at Schomberg House. Portrait commissions came, from amongst others, some of the children of his uncle's friends. In 1793 he was given his most prestigious commission to paint a huge canvas, larger than any his uncle had painted, of the Elder Brethren of Trinity House: thirty-one figures placed across a canvas nine and a half feet tall and nearly nineteen feet wide ([6]). The group portrait — commissioned to decorate the newly completed headquarters of Trinity House on Tower Hill — took three years to complete. In 1794 Thomas Harris (d. 1820), a theatrical proprietor, commissioned a series of spirited portraits of actors that are, with a few exceptions, now in the Garrick Club ([7]).
1794 was a busy year for Dupont. He contributed four paintings to the Royal Academy exhibition: a portrait of George III based on his uncle's portrait of the King painted in 1781 (Royal Collection Trust); a decorative 'fancy' picture of a shepherd boy listening to a bird singing (formerly Lord Blakenham); one of the portraits commissioned by Harris showing the actor John Quick as Spado, a character from the comic opera The Castle of Andalusia by Samuel Arnold (Garrick Club); and a 'Portrait of a Young Lady'. It seems likely that this was the portrait of Mary-Jane Ormsby.
Dupont based the design of the portrait on Gainsborough's canvas of Elizabeth Lowndes-Stone (Fundaçao Calouste Gulbenkian, Lisbon), reversing the composition, lifting the pose of the small lap dog in Gainsborough's portrait of Queen Charlotte of 1781 and enlarging the size of the animal to meet the requirements of his own design. Like his uncle, Dupont painted a number of accomplished landscapes; this full-length of Miss Ormsby provided him with the opportunity to paint a lively background with a framing silver birch trunk on the left and a wooded ravine leading to a generalized view of a house which must be intended to represent Porkington. The sitter holds out a white flower, perhaps a pansy, used often as a symbol for thought, no doubt a reference to her connection with the estate.
On 11th January 1815 Mary Jane Ormsby married a major in the 1st Dragoon Guards, William Gore (1779–1860) and on 14th October 1814 by royal license he had changed his name to Ormsby-Gore ([8]). In preparation for their marriage they commissioned Benjamin Gummow to alter Porkington and aggrandise it by rendering its façades and adding a fine ionic portico with a Coade stone coat of arms to the south-east front ([9]). Ormsby-Gore served as an anti-Catholic Tory Member of Parliament for Co. Leitrim in Ireland in 1806–1807; thereafter he represented Carnarvon Boroughs (1830–1831) and finally Shropshire North (1835-1857) ([10]). During his career he served at times as Sheriff for Shropshire and Caernarvon, a Justice of the Peace, a Deputy Lieutenant for Shropshire and Mayor of Oswestry. After his death on 4th May 1860, his wife sold their London house in Portland Place and returned to Porkington where she died on 10th September 1869 and her remains were buried alongside her husband at Selattyn. Their eldest son, John, continued his father's political activities serving as MP for Carnarvon from 1837 to 1841 and taking over the constituency of Shropshire North from 1859 until his elevation to the peerage on 14th January 1876. He was created Baron Harlech in recognition of his services as Groom-in-Waiting to Queen Victoria and died six months later on 15th June 1876.
Hugh Belsey
[1] Owen Ormsby sat to Dupont for a head-and-shoulders portrait presumably at the same date as his daughter's portrait (Steegman, op. cit. 1957, p. 74, no. 46). For biographical details see Hon. Mrs Bulkekey-Owen, 'Selattyn: A History of the Parish', Transactions of the Shropshire Archaeological and Natural History Society, 2nd series IV, 1892, pp. 229–31.
[2] Reproduced in N. Jeffares's online catalogue: http://www.pastellists.com/Articles/LAWRENCE.pdf Mary-Jane's mother sat for a pastel portrait at the same time.
[3] Steegman, op. cit., 1957, p.78, no.84.
[4] The apprenticeship document is in Gainsborough's House, Sudbury; see H. Belsey, Gainsborough at Gainsborough's House, London 2002, p.103, no.50, illus. in colour.
[5] J. Hayes, The Letters of Thomas Gainsborough, New Haven and London 2001, pp.160–161, no.98.
[6] The commission and the preparatory studies for it are examined by John Hayes in 'The Trinity House Group portrait', Burlington Magazine, CVI, July 1964, pp.309–16.
[7] See J. Hayes, 'Thomas Harris, Gainsborough Dupont and the Theatrical Gallery at Belmont', Connoisseur, CLXIX, December 1968, pp.221–27.
[8] The few recorded biographical details of the sitter are given by Bulkekey- Owen, op. cit. pp.231–33.
[9] Porkington had been designed by Francis Smith for Mary-Jane's grandfather, William Owen (c.1688–1767), in 1735–36 (H. M. Colvin, A Biographical Dictionary of British Architects 1600–1840, New Haven and London 2008, pp.455–56, 945). Details of Gummow's improvements are given in J. Newman and N. Pevsner, The Buildings of England: Shropshire, 2nd edition, New Haven and London 2006, pp.170–71.
[10] His parliamentary activity is given in History of Parliament: http://www.historyofparliamentonline.org/volume/1820-1832/member/ormsby-gore-william-1779-1860