Skip to main content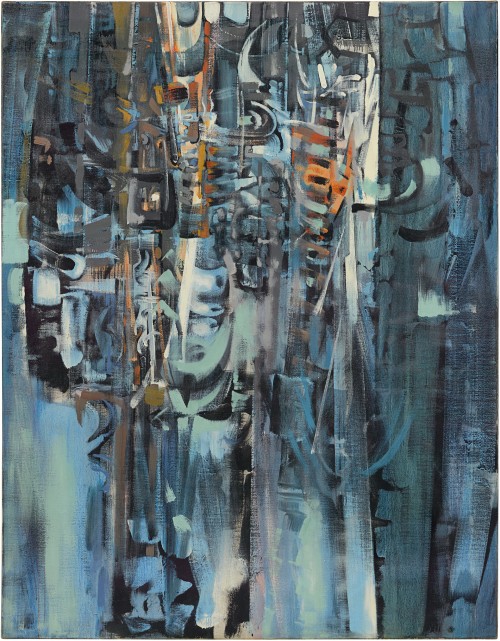 Bryan Wynter Sea journey
Oil on canvas: 56(h) x 44(w) in / 142.2(h) x 111.8(w) cm
Inscribed on the stretcher: SEA JOURNEY No 15
This artwork is for sale.
Please contact us on: +44 (0)20 7493 3939.
Email us
BT 285
BRYAN WYNTER
London 1915 – 1975 Penzance
Sea journey
Inscribed on the stretcher: SEA JOURNEY No 15
Oil on canvas: 56 x 44 in / 142.2 x 111.8 cm
Frame size: 57 ½ × 45 ½ in / 146 × 115.6 cm
Painted in 1958
Provenance:
Dr Damiano
Design Research Unit, London
Christie's London, 26th October 1994, lot 155
Williams & Glyn Bank
Robert Sandelson, London
Paul Bedford
Private collection, UK
Exhibited:
London, Waddington Galleries, Bryan Wynter, Recent Paintings, 10th March-4th April 1959, cat.no.15
London, Arts Council of Great Britain, Hayward Gallery, Bryan Wynter, Paintings, Kinetics and Works on Paper, 1915-1975, 5th-30th August 1976, cat.no.41, illustrated pl.7
Bryan Wynter's Sea journey was first exhibited at the Waddington Galleries in March 1959, in a show described by Michael Bird as 'a series of virtuoso all over paintings in which this manner of working... attained classic status.'[1]The one-man show coincided with 'New American Painting', a survey of American Abstract Expressionism at the Tate and Wynter was declared the 'one serious challenge' to American dominance of the London scene.'[2] Alan Bowness reinforced this view, asserting that Wynter, 'is now among the few English painters of unquestionable international status.'[3]
The sensuous, shimmering depths of Wynter's resplendent Sea journey reveal the freedom and confidence of an artist at their peak. Its flickering, calligraphic design and intense palette suggests a fluid sense of space, structure and movement in an epic exploration of both the tones and
textures of the natural world and the inner workings of the mind. Wynter was fascinated by the underwater cinematography pioneered by Jacques Cousteau, in particular his 1956 film, The Silent World, whose 'beautiful, alien images of the marine world… turned scuba-diving into a popular pursuit.'[4]
Wynter settled in an isolated, primitive cottage at Zennor Carn, from September 1945 to May 1964, in what Bird defines as 'an experiment in living that was integral to his wider creative endeavour'.[5] Wynter immediately immersed himself in the wild, unsociable landscape, declaring, 'My solo expeditions onto the moors or to the coast are almost feverishly exciting.'[6]
Though Wynter approached his work with no plan or preconception, he was methodical in his working practice, Bird suggests placing him on the cusp between Abstract Expressionism and Op Art. His unique combination of open improvisation with technical virtuosity inevitably drawing parallels with the Jazz music he listened to, including Duke Ellington, Louis Armstrong, Miles Davies and Charles Mingus. Describing the artist's method, Michael Bird relates: 'Whereas he revelled in living amid a landscape of rough, exposed, unfinished surfaces, in his work Wynter always retained the high level of technical professionalism that early reviewers had noted. It was important to him that, however obscurely instinctual its origins, a painting or drawing was well made in terms of its fabrication – so that, whatever Wynter's success in keeping conscious intention at bay while he worked, an element of skilful construction was always present. Although his late 1950s abstracts convey a strong feeling of limber physical engagement in the act of painting, he was never an action painter as the term was popularly understood, conjuring up images of Hans Namuth's legendary (and legend-making) film from 1950 of Pollock at work, in which the artist dances around and above his painting (executed in glass for the camera) like a Native American shaman in a trance.'[7]
The artist wrote: 'About 1956 I was trying to create a kind of visual flux, a surface on which the eye found it difficult to rest so that, if it were not rebuffed, it would be compelled to push deeper and come to terms with the forces underlying the painting. This demanded an act of imagination from the spectator.'
Seafall, 1959                                                 Seedtime, 1958-9
Rugby Art Gallery and Museum                 Tate
Wynter studied at Westminster School of Art from 1937-38 and at the Slade School of Art, London from 1938-40. He was a Conscientious Objector during the Second World War, working first on land drainage in Oxfordshire then looking after monkeys studied by the zoologist Solly Zuckerman at the Department of Primates, Oxford University. He settled in a rustic cottage at the Carn, Zennor, Cornwall in 1945 and co-founded the Crypt Group the following year. He immediately immersed himself in the natural environment, walking, climbing, canoeing, swimming. A deep involvement with the landscape and its natural processes would remain important throughout his life.
Wynter held his first solo exhibition at the Redfern Gallery, London in 1947. He married Suzanne Lethbridge in 1949 and taught at Bath Academy of Art, Corsham, 1951-56. He was also a member of the London Group of artists and the Penwith Society of Artists. Wynter began his first non-figurative paintings in 1956, perhaps as a response to the American Abstract Expressionism exhibition at the Tate. In 1959 he married Monica Harman. In 1960, the artist began working in three dimensions creating IMOOS (Images Moving Out Onto Space); kinetic constructions which were an extension of his painted works.
[1] Michael Bird, Bryan Wynter, Lund Humphries, Farnham, 2010, p.119.
[2] 'American Explosion', Art and Artists, vol.1, no.5, May 1959, p.1.
[3] Alan Bowness, 'The Paintings of Bryan Wynter', Art News and Review, vol.9, no.4, 14th March 1959, pp.3,17.
[4] Michael Bird, op.cit., p.140.
[5] Michael Bird, op.cit., p.17.
[6] The artist cited in Michael Bird, ibid., p.47.
[7] Michael Bird, op.cit. p.118.