Skip to main content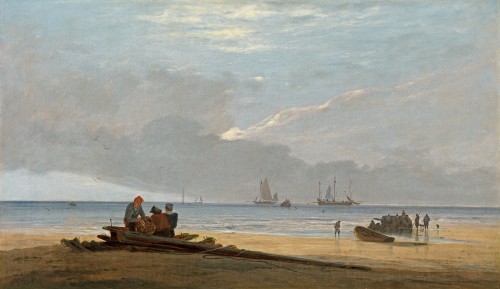 Alfred Stannard Sea shore, morning
Oil on canvas: 15.2(h) x 25.5(w) in / 38.7(h) x 64.8(w) cm
Signed and dated lower left: Alfred Stannard 18**; numbered and inscribed on a label attached to the stretcher: no.3 / Sar Shore . Morning
This artwork is for sale.
Please contact us on: +44 (0)20 7493 3939.
Email us
BX 181                                                           
ALFRED STANNARD
1806 – Norwich – 1889
Sea shore, morning
Signed and indistinctly dated lower left: 18**;
numbered and inscribed on a label attached to the
stretcher: no.3 / Sea Shore . Morning
Oil on canvas: 15 ¼ x 25 ½ in / 38.7 x 64.8 cm
Frame size: 21 ½ x 32 in / 54.6 x 81.3 cm
Provenance:
Private collection, UK, then by descent
Exhibited:
Possibly, Exhibition of the Norfolk and Norwich Association for the Promotion of the Fine Arts, 1849, no.19
Literature:
Harold AE Day, East Anglian Painters, Vol. III, Eastbourne Fine Art, Sussex, 1969, p.186, record of the above
Sea shore, morning is a beautifully calm panoramic seascape of subtle and exquisite colouring, with more than half the canvas devoted to the detailed study of a cloud-scudded sky. Though the scene is still and with little incident, the lighting is deftly dramatic from the layering of dark clouds on the horizon, to the foreground cast in unexpected shadow. Here three highly finished fisherman check lobster pots by the broken mast of a ship, while the middle-ground charts their colleagues progress from ship to shore. Stannard's serene surface is completed with intense precision, which William Frederick Dickes describes as 'an amount of Dutch finish quite unusual in the true Norwich School.'[1]
Writing of the celebrated family and their maritime views, Peter Kennedy Scott explains their continued importance: 'The Stannard family, who often painted ships at sea, used the sands for their subjects too. Delightful paintings of fishermen, with their boats and haul, provide us with a lasting record of the life and work these men endured. In fact, much of the Norwich School landscape painting is memorable for its historic portrayal of the life and times of this part of eastern England and the toils of the past.'[2]
A Stannard, Yarmouth Beach, Norfolk, 1857                             A Stannard, Yarmouth Jetty, Norfolk, 1841
Norfolk Museums                                                                  Norfolk Museums
ALFRED STANNARD
1806 – Norwich – 1889
Alfred Stannard was a painter of marines and landscapes. Most of his landscapes are from the Norwich area and the coast around Yarmouth. He was the brother and pupil of Joseph Stannard (1797-1830). Both brothers were part of the Norwich circle of painters. Alfred reputedly studied with John Crome. Alfred Stannard principally painted scenes of his beloved Norwich countryside with motifs of shipping and light effects reminiscent of the Romantic marine painters of Holland. He exhibited in London between 1826 and 1860. He showed eight paintings at the British Institution and seven paintings at the Royal Society of British Artists, Suffolk Street.  He was a vital member of many East Anglian artistic societies amongst them the Norfolk and Norwich Association of the Fine Arts, the Norfolk and Suffolk Institution for the Promotion of Fine Arts, the East of England Art Union and the Norwich Society of Artists.
Alfred Stannard married Miss Sparkes in 1827. The marriage produced fourteen children.   Alfred George Stannard and Eloise Harriet Stannard both became artists, Alfred George became a landscape painter like his father, while Eloise Harriet was best known for her still life painting.
The work of Alfred Stannard is represented in Norfolk Museums (including Elizabethan House Museum, Great Yarmouth), Canterbury Museums and Galleries, Derby Museum and Art Gallery and South Somerset District Council. Alfred Stannard was included in Harold A E Day's East Anglian Painters (vol III) and in the 1934 Stannard retrospective exhibition.
[1] William Frederick Dickes, The Norwich School of Painting, Jarrold & Sons, London, p.534.
[2] Peter Kennedy Scott, A Romantic Look at the Norwich School Landscapes by a Handful of Great Little Masters, Acer Art Publishing, 1998, p.36.