Skip to main content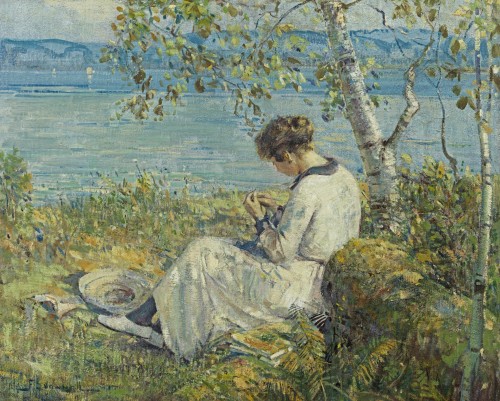 Franklin Peleg Brownell Sewing under the trees
Oil on canvas: 24.3(h) x 30.2(w) in / 61.6(h) x 76.8(w) cm
Signed and dated lower left: F Brownwell 17; inscribed on the reverse: F.b/17
This artwork is for sale.
Please contact us on: +44 (0)20 7493 3939.
Email us
BY 139
FRANKLIN PELEG BROWNELL
New Bedford, MA 1857 – 1946 Ottawa
Sewing under the trees
Signed and dated lower left: F Brownell 17; inscribed on the reverse: F.b/17
Oil on canvas: 24 ¼ x 30 ¼ in / 61.6 x 76.8 cm
Provenance:
Private collection, Scotland
Exhibited:
Ottawa, National Gallery of Canada, Retrospective exhibition of the work of Franklin Brownell, R.C.A., 1st – 30th November 1922, no. 14.
By 1917, the year in which Sewing under the trees was executed, Franklin Brownell was well established in his role as Headmaster at the Women's Art Association of Ottawa (later the Art Association of Ottawa). While his own achievements were perhaps overshadowed by those of the Group of Seven (or otherwise known as the Algonquin School), Brownell's work is significant within the narrative of twentieth century, "later" Canadian painting. Neither an academic realist, nor a pure Impressionist, Brownell could justifiably be called the first among Canadian romantic Impressionists: a school of thought and practice preserving the orthodoxy of the perspective system as the basis for creating the illusion of space in a composition, yet free from the structure of realism. Born in New Bedford, Massachusetts, Brownell studied at the Tufts School of The Museum of Fine Arts in Boston and at the Académie Julien in Paris, under such luminaries as William-Adolphe Bouguereau (1825-1905), Léon Bonnat (1833-1922) and Tony Robert-Fleury (1837-1911). While in Paris, Brownell met Canadian artist and fellow expatriate William Brymner (1855-1925), who would later recommend Brownell for his teaching position in Ottawa. Moving to Canada in 1886, after a short period in Montreal, Brownell settled in Ottawa, where he spent the rest of his life. In keeping with the disciplined academic tutoring, he would have received in Paris, Brownell's early works were often figurative interiors, broadly conforming to the principles of his training. He also produced busy street and market scenes, depicting his beloved Ottawa, often adorned in thick blankets of pure white snow. Brownell's later palette and technique are more aligned to the early Impressionists; as the countryside around Ottawa become more accessible, Brownell started to make regular painting trips into the wilds of Quebec, as well as to Algonquin Park in Ontario, producing a series of brightly painted landscapes and lake scenes. Elected a member of the Royal Canadian Academy of Arts in 1895, Brownell was honoured with a retrospective exhibition at the National Gallery of Canada in 1922. Capturing a sunlit moment along the riverside, the landscape rendered bears a strong resemblance to the Gatineau region, in western Quebec. The present work is bathed in an overwhelming sense of tranquillity, it fills the entire canvas in tandem with the soft, yellow glow of the afternoon sun. The subject, a young woman in a daisy white ensemble with navy trim, sits nestled amongst the greenery of the riverbank, busying herself with her task in quiet solace. The elegant figure is reminiscent of another featured in Brownell's 1917 work Summertime (Private collection), which was cited by Eric Brown (1877-1939), then director of the National Gallery of Canada (named the first director of the National Gallery of Canada in 1910), as an iconic example of Canadian art.[1]
Franklin Brownell, Gatineau Landscape, c.1920
Oil on canvas: 46.6 x 66.7 cm
National Gallery of Canada, Ottawa
[1] Leslie Dawn, National Visions, National Blindness, Canadian Art and Identities in the 1920s, Vancouver, UBC Press, 2006.