Skip to main content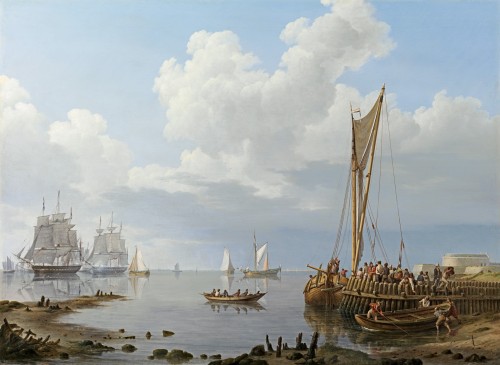 Johannes Hermanus Koekkoek Shipping in a calm estuary
Oil on canvas: 23.7(h) x 32.2(w) in / 60.3(h) x 81.9(w) cm
Signed and dated 1836
This artwork is for sale.
Please contact us on: +44 (0)20 7493 3939.
Email us
BY 180
JOHANNES HERMANUS KOEKKOEK
Veere 1778 - 1851 Amsterdam
Shipping in a calm estuary
Signed and dated lower right: J.H. Koekkoek 1836
Oil on panel: 23 ¾ x 32 ¼ in / 60.3 x 81.9 cm
Frame size: 31 ½ x 39 ¾ in / 80 x 101 cm
Provenance:
Private collection, Europe
Sotheby's London, 14th November 1973, lot 226;
Richard Green Gallery, London, 1973;
private collection, UK
Literature:
C.C.P. Marius (ed. Geraldine Norman), Dutch Painters of the 19th Century, Antique Collectors' Club, 1973, p.290, illus.
Johannes Hermanus Koekkoek was the father and the founder of a formidable family of artists, active in Holland in the late eighteenth century to the early twentieth century, which contributed greatly to the development of the Dutch Romantic School.
Born at Veere in 1778, Johannes Hermanus Koekkoek began his career employed in a tapestry factory. As an artist, he was primarily self-taught and specialised in marine and river scenes, in which he combined a meticulous attention to detail, clear colours and smooth finish. Such paintings were admired and secured him his membership of the Amsterdam Academy.
The work of Koekkoek is represented in the major museums of Holland, and the municipal art galleries of Hamburg, Munich and Bristol.