Skip to main content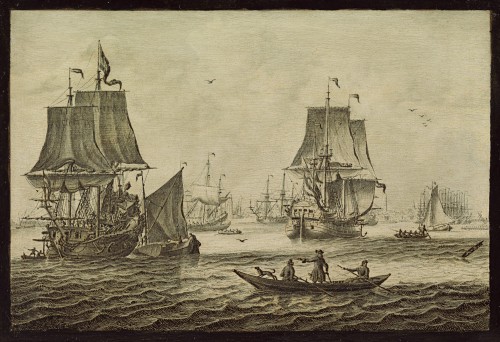 Adriaen van Salm Shipping off a Dutch seaport
Pen, ink and oil on panel: 7(h) x 10(w) in / 17.8(h) x 25.4(w) cm
Signed lower right with monogram : AvS
This artwork is for sale.
Please contact us on: +44 (0)20 7493 3939.
Email us
BY 108
ADRIAEN CORNELISZ. VAN SALM
1657 – Delfshaven – 1720
Shipping off a Dutch seaport
Signed with monogram lower right: AvS
Pen, ink and oil on panel: 7 x 10 in / 17.8 x 25.4 cm
Frame size: 11 ½ x 14 ½ in / 29.2 x 36.8 cm
Painted circa 1700
Provenance:
The Viscount of Roda, Madrid, by circa 1930;
by descent to a private collector, Madrid;
from whom acquired by a private collector, USA
Like many seventeenth century Dutch artists, Adriaen van Salm pursued several careers in his lifetime. For many years a schoolmaster, he ended his days as a prosperous textile merchant in Delfshaven, a whaling port then belonging to Delft, but now a suburb of Rotterdam. Van Salm specialised in penschilderijen, 'pen paintings' in ink on panel prepared with a white ground. Originally invented in the sixteenth century to emulate engravings, pen painting had been practised with great brilliance by Willem van de Velde the Elder (1611-1693), who recorded contemporary Dutch naval battles. Van Salm's expertise in pen painting, like Ludolf Backhuysen's (1630-1708), may have grown out of his skills as a calligrapher: he painted the Ten Commandments (still in situ) for the Oude Kerk in Delfshaven, the church from which the Pilgrim Fathers had sailed.
This work shows van Salm's subtlety in evoking the radiance and airiness of a coastal scene within his grisaille format. He prepared the panel with a light ground, then washed in the composition with brush largely in grey. Details, such as the intricacies of the shipping and the ruffled waves, were hatched over this with a pen, achieving a work that is both highly specific and atmospheric. Bands of sunlight and shadow on the sea create the sense of recession. The cloudscape, with takes up two-thirds of the composition, is softly put in with grey wash alone, conveying a sense of movement. 
Fig. 1 Detail of left-hand side.
This lively penschilderij depicts shipping off a Dutch seaport, vividly conveying how many and varied were the vessels in the roads around the turn of the seventeenth and eighteenth centuries. The Dutch had harnessed their skill as sailors – inevitable in such a watery nation – into a powerhouse of the economy. Merchantmen travelled to the East Indies and the West, whalers to the frozen north. Coastal fishing boats provided an essential part of the Dutch diet, while shore-hugging cargo boats transported goods more efficiently than carts on the muddy, rutted and dangerous roads. 
On the left of the penschilderij is a well-armed ship with guns run out on the upper deck, which is probably an East Indiaman (Fig. 1). The Dutch East India Company (VOC), founded in 1602, traded with the Mughal Empire, China and the Dutch colonies in Africa and Java,  bringing back spices, silks and porcelain, driving the vogue for the blue and white ceramics seen in so many still lifes of the period. With their months-long voyages through perilous waters, the ships had to be heavily armed. This vessel is backing, with the fore and main topsail pushing against the masts and the fore course raised but not furled. On the extreme left, one of her anchors is hanging down ready to be dropped, unlike the one on the other side, which is 'fished'. However, it has its cable attached, which suggests that it will be dropped after the other one is settled. Two men in a boat are looking at the anchor on the left, perhaps to make sure it is clear. The ship is about to come to anchor and the sails are backing to give it sternway as the cable runs out, as was standard practice.
At the vessel's stern is a small barge or smalschip. The leeboards (used to steer in shallow waters, instead of a keel) are comparatively large and it is rigged with a spritsail. A similar boat is shown in an etching by Nooms (Fig 2).
Fig. 2. Etching of a sprit-rigged smalschip by Nooms.
Fig. 3. Detail.
The ship in the centre is a large merchant ship of typical Dutch style, with bulbous, rounded stern and comparatively elaborate decoration and windows above for such a vessel (Fig. 3). There is no sign of any armament, which would maximise cargo space. The two ports at the stern are perhaps used to load long pieces of timber. The ship has just raised its anchor, which is hanging vertically. The sails are set and she is making way to sail off.
Fig. 4. Detail.
Below is a small boat with rising bow and stern (Fig. 4) – not unlike the one shown below in an etching by Jan van de Velde (Fig. 5), but with more pointed extremities. The man standing up, wearing a sword, is clearly important, perhaps a customs officer or an official of the East India Company.
Fig. 5. Etching by Jan van de Velde.
Information based on a report by Brian Lavery, Curator Emeritus at the National Maritime Museum, Greenwich and comments by Pieter van der Merwe, also a Curator Emeritus at the NMM.
ADRIAEN CORNELISZ. VAN SALM
1657 – Delfshaven – 1720
Adriaen van der Salm was born in Delfshaven in 1657. In 1686 he married Annetje Roelofs van der Veur of Schoonderloo in the village of Charlois near Rotterdam. They had nine children, including Roelof (1688-1765), who worked in the same style as his father. The year of his marriage Salm applied for a teaching job in Schoonderloo, explaining that he had 'studied reading, writing and arithmetic for several years' and was 'competent to tutor small children in the foresaid skills'[1].
Salm moved to Delfshaven, where he is documented from September 1693, continuing to teach until at least 1699. From 1698 to 1717 he was a member of the 10th Regiment of the Delfshaven militia, serving as pikeman and from 1709 as corporal. In 1701 he bought a house on the west side of the Oude Haven. In 1706 he was registered as a 'master draughtsman' with the Guild of St Luke in Delft. At the end of his life Salm was a textile merchant, with a shop on the Oude Haven selling clothing, wall fabrics and sailcloth. He died in 1720, a reasonably prosperous man. An inventory of his estate includes fine silverware and porcelain, 'two Japanese robes', a painting of 'the town school' (presumably where he had taught) and a 'model book'.
No oil paintings by Salm are known. He specialised in penschilderijen (pen paintings) on panel, mostly of marine subjects, following in the tradition of Willem van der Velde the Elder (1611-1693), whose first pen paintings on panel were made in 1649. Salm's pen paintings emulate the delicacy of engravings. He prepared a panel with a light ground, then washed in the composition with brush largely in grey. Details, such as the intricacies of the shipping and the choppy waves, were hatched in with a pen, achieving a work that is both highly specific and atmospheric. One of Salm's characteristic techniques was to paint details, such as the whales in Whalers (Maritiem Museum Prins Hendrik, Rotterdam)[2], in both pen and brush, then scratch the surface with a hard, fine-tipped object to expose the colour underneath.
Salm made views of Amsterdam and Archangel for Tsar Peter the Great, who also owned a book of forty-two of his drawings (Hermitage, St Petersburg). He executed several pen paintings of whalers operating off Greenland, often identifying the ships on the stern. Dutch whaling was at its most prosperous during his lifetime and Delfshaven was a major centre. He also put his hand to more mundane commissions, painting the Ten Commandments and Twelve Articles of Faith for the Oude Kerk in Delfshaven, where they remain to this day. Salm is named in documents as 'Salm', 'V. Salm' and 'van der Salm', but he seems to have preferred the signature 'A. V. Salm' on his pen paintings later in his career.
The work of Adriaen van der Salm is represented in the Maritiem Museum Prins Hendrik, Rotterdam; the Hermitage, St Petersburg; the National Maritime Museum, Greenwich; the Victoria and Albert Museum, London; the Ferens Art Gallery, Hull and the Mariners' Museum, Newport News.
[1] See Rotterdam, Museum Boymans Van Beuningen/Berlin, Staatliche Museen zu Berlin, Gemäldegalerie im Bodemuseum, Praise of Ships and the Sea: The Dutch Marine Painters of the 17th Century, pp.463-7.
[2] See Praise of Ships, op. cit., pp.464-6, cat. no.110.