Skip to main content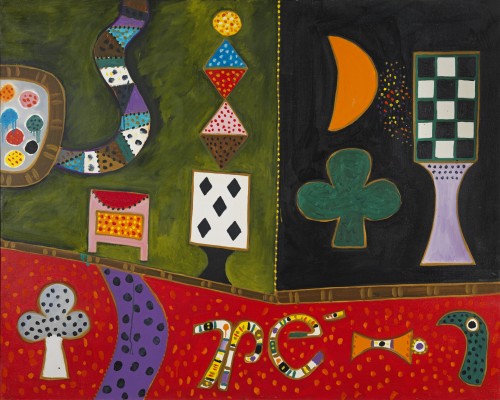 Alan Davie Sorcerer's wall no.3
Oil on canvas: 48(h) x 60(w) in / 121.9(h) x 152.4(w) cm
Signed, dated and inscribed on the reverse: SORCERER'S WALL NO.3 / JAN 70 / Alan Davie / JAN 70
This artwork is for sale.
Please contact us on: +44 (0)20 7493 3939.
Email us
SP 5090
ALAN DAVIE CBE RA
Grangemouth, Scotland 1920 – 2014 Hertfordshire
Sorcerer's wall no.3
Signed, dated and inscribed on the reverse: SORCERER'S WALL NO.3 / JAN 70 /
Alan Davie / JAN 70
Oil on canvas: 48 x 60 in / 121.9 x 152.4 cm
Frame size: 49 ⅛ x 61 in / 124.8 x 154.9 cm
In a gilded tray frame
Provenance:
Gimpel Fils, London
Private collection, New York
Exhibited:
London, Gimpel Fils, Alan Davie Paintings 1969-1970, 5th-30th May 1970, no.9, illus.
Literature:
Douglas Hall and Michael Tucker, Alan Davie, Lund Humphries, London, 1992, p.180, no.606
In comparison to the improvisatory approach and gestural application of paint in the 1950s, Davie's work of the 1960s and '70s was more considered and clearly defined. By 1968 his enigmatic symbols proliferated, playing an increasingly important role, adding to the early triangles and diamonds, clubs, stripes, spirals, playing card motifs, birds and crescent moons as seen in the present work. The new lucidity of Davie's esoteric iconography was most likely a result of his change in practice, the improvisation previously played out on the picture surface now taking place at an earlier stage of drawing.
Writing on the importance of magic in the artist's work and the sources of his eclectic imagery, Michael Tucker revealed: 'Magic is a word which Davie often uses when talking about art : the magic of exaltation, of transformation – of the passage from isolation and depression to unity and affirmation, and from the exhaustion of history to the plenitude of origins…As is well known, the search for magic in painting has led Davie deep into what Jungians would call the collective unconscious ; one might say the same about the music he recorded between 1970 and 1975. It is possible to discern in Davie's work echoes of ancient shamanic rites; Egyptian symbolism; Tantric art; the Western magical tradition, and a host of other cultures from neolithic Britain to aboriginal Australia, and from West Africa to Native America. And, throughout, there is the unmistakable mark of Davie's own Celtic heritage, in both the luminosity of his colours and the organic interplay of his linear invention'.[1]
The spatially ambiguous pictorial field of the previous decade also developed a more distinct structure with events taking place in room like spaces or stage sets. It is possible
that a commission to paint a mural for a school in Berlin in 1969, consisting of a group of connecting, hexagonal-shaped rooms, also effected this stylistic development. Davie produced a series of drawings, gouaches and oils for the ultimately abandoned project, a number which featured walls, populated by forms that invade the room, folding out into the space (see Patrick Elliot, Alan Davie: Work in the Scottish National Gallery of Modern Art, Edinburgh, 2000, p. 87, no. 39, Ideas for a children's wall No. 9, 1969). This rich cycle produced new forms and symbols which can be seen in the present work as well as Davie's Guli Mask and Guli Wall series, 1969-71, and culminated in a sequence of 'Studio' paintings in 1974-5, two of which belong to the Scottish National Gallery of Modern Art.
Alan Davie, Barbaric Tales No. 2 [Opus 0.596H], 1968/74
Oil on canvas: 172 x 214 cm
National Galleries of Scotland [GMA 4115]
ALAN DAVIE RA CBE
Grangemouth, Scotland 1920 – 2014 Hertfordshire
Alan Davie was born on 28th September 1920 at Grangemouth, Scotland, to a pianist mother and artist father. Davie studied at the Edinburgh College of Art from 1937 and was awarded the Andrew Grant Scholarship in 1938 and 1941. From 1941–46, Davie carried out his military service with the Royal Artillery, during which he received the Guthrie Award for best painting at the Royal Scottish Academy summer show of 1942. He also discovered a passion for writing and reading poetry, in particular the work of Walt Whitman. In 1945 the artist was impressed by exhibitions on Picasso and Klee which he visited while on leave in London. Demobilised from the army, Davie held his first one-man exhibition in a bookshop in Edinburgh in 1946. On a visit to London that same year, an exhibition of African sculpture inspired a profound interest in primitive art. The following year he married Janet (Bili) Gaul, an artist/potter, and became a full-time jazz musician, playing tenor saxophone with Tommy Sampson's Orchestra. He also began making and selling silver jewellery (in 1951, jewellery designed by Davie was worn by Vivian Leigh in Anthony and Cleopatra). Davie took up his deferred scholarship and travelled throughout Europe in the late 1940s through France, Switzerland, Spain and Italy, holding exhibitions in Florence and Venice, where he met and sold a painting to Peggy Guggenheim in 1948. Guggenheim also showed Davie her important collection of modern art, which may have been his first glimpse of American Abstract Expressionism. In 1950 he held his first solo show at Gimpel Fils, London and exhibited there every two years after that. Davie bought a cottage in Landsend, also in 1950, which he visited during the following summers. In 1954 the artist converted stables at Gamels, Hertfordshire into a home and studio.
Davie's first American exhibition was held at the Catherine Viviano Gallery, New York in 1956, which he attended, meeting Abstract Expressionists Willem de Kooning, Franz Kline, Robert Motherwell, Jackson Pollock and Mark Rothko. The Museum of Modern Art (MOMA) and Albright Art Gallery, Buffalo, purchased paintings from the exhibition.  The artist's interest in Zen Buddhism, inspired by Eugen Herrigel's book Zen in the Art of Archery, developed from the mid-1950s along with the Jungian idea of the collective unconscious, animating his intuitive, improvisatory approach to painting. Davie taught at the Central School of Art from 1953-56 and from 1956–59 at Leeds College of Art, having been awarded the Gregory Fellowship at Leeds University. Two retrospectives of Davie's work were held in 1958, at the Whitechapel Art Gallery, London (which made an impact on David Hockney) and Wakefield Art Gallery. Retrospectives were also subsequently held in 1993 at the Barbican Gallery, London and in 2003 at Tate St Ives. During the 1960s, he took up gliding and experimented with lithography. He also produced the first of several records by the Alan Davie Music Workshop. In 1963, Davie exhibited in the British section of the Bienal at São Paulo, Brazil, winning the award for best foreign painter. Alan Bowness published his monograph of the artist with Lund Humphries in 1967. Davie was awarded a CBE in 1972 and was commissioned the same year by the architect Peter Haupt to paint the Berlin School Murals. He also produced tapestry and mosaic designs, the latter for his home town, Grangemouth, for which he was awarded the Saltire Award in 1977. From the late 1970s, Davie began spending winters in St Lucia. He was elected a Senior Royal Academician in 2012 and was the subject of a BP Spotlight display at Tate Britain in 2014, featuring the eight oil paintings by Davie in their collection.
[1] M. Tucker, 'Music Man's Dream', Alan Davie, Lund Humphries, London, 1992, p. 80.