Skip to main content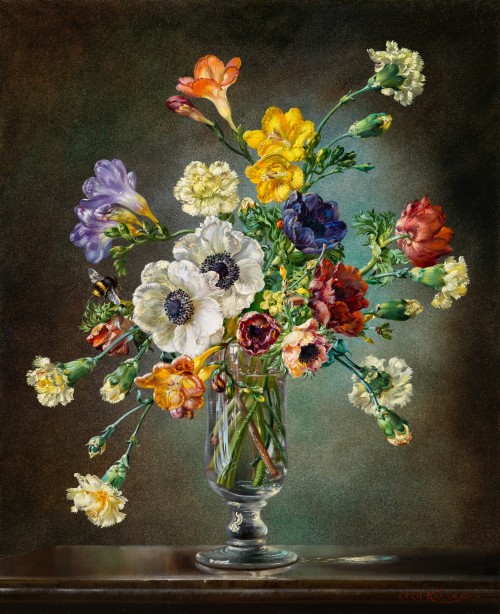 Cecil Kennedy Spring Flowers
Oil on canvas: 20(h) x 16(w) in / 50.8(h) x 40.6(w) cm
Signed lower right: Cecil Kennedy
This artwork is for sale.
Please contact us on: +44 (0)20 7493 3939.
Email us
BY 135                                               
CECIL KENNEDY
Leyton 1905 - 1997 St Albans
Spring flowers
Signed lower right: Cecil Kennedy; inscribed on the stretcher with varnishing notes  
Oil on canvas: 20 x 16 in / 50.8 x 40.6 cm
Frame size: 27 x 23 in / 68.6 x 58.4 cm
Painted circa 1978
Provenance:
MacConnal-Mason & Son, London
Private collection, UK
In this glorious, jewel-coloured arrangement of flowers, Kennedy depicts white, violet and red anemones interspersed with pale yellow carnations and vivid orange and lilac freesias, some in full bloom, some still in bud with the promise of more colour to come. The artlessly arranged, vivacious bouquet is redolent of the joys of spring, its vibrant palette enlivening the senses, its extraordinarily lifelike representation attracting a bee.
Cecil Kennedy will be best remembered for his minutely detailed depictions of flowers, though he also worked as a portraitist. His greatest works are admired for their exquisite detail and artful compositions, and many of these were produced during the 1950s and 60s. His wife Winifred created the brilliant flower arrangements, usually placed in one of their collection of mid-eighteenth century Waterford vases, which continually inspired his work.
Kennedy was born into a large, artistic Victorian family, the youngest of thirteen children. His grandfather was an artist who had lived in France, sketched with Jean-Baptiste-Camille Corot (1796-1875) and exchanged drawings with him. His father was a landscape painter and four of his brothers were artists. His brother Charles, who died in the 'flu epidemic of 1918, was a particular influence on him. In the early 1930s Cecil met and married Winifred Aves. She became his inspiration and for sixty-four years they worked together as a creative team.
In the Second World War Kennedy fought in the British Army in Europe. He was in Antwerp during the winter of 1944, where he befriended Flemish painters. Studying Flemish and Dutch still life paintings in their natural setting brought about a change in his painting style. He maintained contact with Flemish artists for the rest of his life.
Cecil Kennedy had many important patrons. Queen Mary bought his work, as did the Duke of Windsor and the Astors. Queen Mary is quoted as saying 'When I see Cecil Kennedy's pictures I can smell the flowers and hear the hum of the bees.' She noticed he had painted a ladybird on a flower stem. Thereafter all his paintings contained a ladybird. Lord Thompson of Fleet, a friend and patron, commented that 'his pictures conveyed a joy of life and artistic creativity.'
Kennedy had an important exhibiting career, showing before the age of twenty-four at both the Royal Scottish Academy and the Royal Hibernian Academy, regularly at the Royal Academy and in the provinces. From the 1950s until the 1970s, he exhibited regularly with the Fine Art Society, who were keen advocates of his work. He was awarded a silver medal at the Paris Salon in 1956, and a gold medal in 1970. He was celebrated in a retrospective of contemporary flower painting, Three Flower Painters, held at the Richard Green Gallery in 1997.
Kennedy's artful juxtapositions of modern, exotic hybrid blooms and humble favourites like field grasses, as well as the plant species celebrated in the works of the Old Masters, revealed his knowledgeability as a plantsman as well as an artist.  While studying in the great national collections of London, Paris, Antwerp and Zurich, he fell under the influence of the Old Masters, from whom he derived his meticulous technique. The novelty of his all-white arrangements reflected an awareness of twentieth century horticultural innovations, found for example in Vita Sackville-West's White Garden at Sissinghurst.