Skip to main content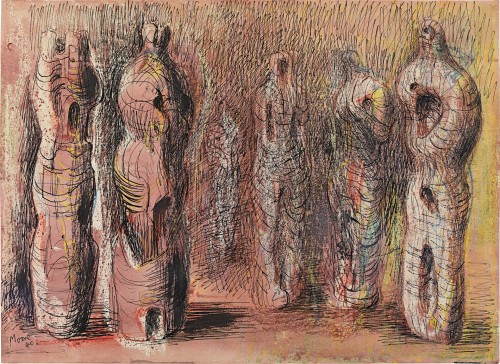 Henry Moore Standing figures
Mixed media on card: 11(h) x 15(w) in / 27.9(h) x 38.1(w) cm
Signed and dated lower left: Moore / 40
This artwork is for sale.
Please contact us on: +44 (0)20 7493 3939.
Email us
HENRY MOORE
Castleford 1898 - 1986 Much Hadham
Ref: BS 162
Standing figures
Signed and dated lower left: Moore / 40
Chalk, crayon, watercolour wash, pen and ink on card: 11 x 15 in / 27.9 x 38.1 cm
Frame Size: 22 x 25¼ inches / 55.9 x 64.1 cm
Recorded in the Henry Moore Foundation archives as HMF 1511
Provenance:
Private Collection, UK
Literature:
Ann Garrould (ed.), Henry Moore, Complete Drawings, 1940-1949, Vol. III, Lund Humphries, London, 2001, p. 31, no. AG 40.38 (HMF 1511)
Kenneth Clark, Henry Moore, Drawings, Harper & Row, London, 1974, p. 135, pl. 120
In November 1939, Kenneth Clark, the Director of the National Gallery, London, was appointed the Chairman of the War Artists' Advisory Committee and it was Clark who was able to persuade a very reluctant Henry Moore to become an official War Artist. During this time the walls of the National Gallery had been stripped bare and its treasures had been removed and transported to Wales. They safely remained in Bangor and several other locations in Wales for the duration of the war. The National Gallery remained open to the public - despite it being bombed several times during the Blitz - and would hold free lunchtime concerts everyday where musicians, such as the distinguished pianist Myra Hess, would play. These concerts would draw in huge crowds and many would stay after to view the work of the war artists that now hung on the walls. It was thanks to Clark's persistence that Moore became a War Artist and began to receive wider exposure for his work, his recognition from the public was instantaneous – "People could relate to them because they were drawings of themselves" (Henry Moore).[1]
The grouped and hollowed figures in Standing figures, 1940 have large, bulking forms that appear alien and unfamiliar in comparison to our own. In the conception of these hollow figures, 'Moore seems to have created a credible alternative to the human race, as if millions of years ago, evolution had taken a different course…That the internal-external figures are, to some extent, inspired by hollow trees, is clear enough in the early drawings of the motif, where the edge of the aperture has the gratifying bluntness of wood.'[2] Standing figures, 1940 is a drawing executed in the early stages of Moore developing this motif. Here the standing forms show the apertures and caves normally found in the form of trees and Moore transposes them onto the shape of a human body. As he continued to develop this motif through his drawing, the exterior of the forms gradually changed from wooden to metallic in texture and came to possess a harsher surface. Here the 'mechanism of the interior becomes more assertive' (Kenneth Clark). Moore then went on to his drawings to further experiment with this motif - the 'internal-external figure' - in sculptural relief. Standing figures, 1940 is not a preparatory study for sculpture but a fully realised work of art in which Moore has created form through a colourful use of mixed technique. Though not preparatory it does mirror the exploration of forms in space that later preoccupied Moore in his sculpture works.  
Potentially reflective of the period in which it was created, this drawing harbours a sensation of alienation. The figures themselves have strange and unknown forms and though grouped they stand alone, detached from one another. In 1940 Moore began his Shelter Drawings. After the Blitz started (7th September 1940) many Londoners would seek refuge in the tunnels of the Underground and Moore became drawn to the tragedy of the city's situation. Though none of the drawings, as in Standing figures, 1940, were specific in their location or aiming to capture particular people, they embodied the fear and isolation that was inescapable. This looming tension is evident in the unidentifiable bulking forms that command the pictorial space of this drawing; they seem tense and as though caught in a moment of nervous apprehension. The anxious nature of the repetitive markings made through the overlapping layers of pen, crayon and chalk, opposes the naturally calming nature of the wood. Moore himself spoke of how art and nature often coincide in their randomness and of how most of what occurs in both is accidental. 
"Art tends to arrive as a true result through instinct … Besides the human form, I am tremendously excited by all natural forms, such as cloud formations, birds, trees and their roots." (Henry Moore)
In 1940 Moore's studio in Hampstead was significantly damaged by bombing and the artist left London for the village of Perry Green near Much Hadham in Hertfordshire. Within a few months Moore and his wife Irina were renting an old farmhouse called Hoglands. Hoglands would come to be their family home and remained so for the rest of their lives.
Henry Moore, Standing Figures, 1940
Wax, coloured pencil, ink and watercolour on paper support: 26.4 x 18.1 cm
Tate Collection [N05210]
HENRY MOORE OM, CH
Castleford, Yorkshire 1898 - 1986 Much Hadham, Herts
The seventh child of Raymond Spencer and Mary Moore, Henry was born in Castleford, Yorkshire in 1898. His paternal great-grandfather was of Irish origin, but his father and grandfather were born in Yorkshire where, for two or three generations, they worked the land or went down the mines. At the age of twelve Moore obtained a grant to study at the Grammar School in Castleford where he was inspired by his art teacher to pursue a career in the arts. In 1916 he began to teach, but by February 1917 he had joined the army and left to fight in France.
After being wounded in action in November 1917 at the battle of Cambrai, Moore was excused from active service. He returned to England, where he became a physical education instructor in the army. At the end of the war, Moore received a veteran's grant to study at Leeds School of Art and in 1921 he joined a course at the Royal College of Art in London. A further grant enabled him to travel extensively from 1925, visiting Rome, Florence, Venice, Ravenna and Paris, where he met Picasso, Giacometti, Ernst, Eluard and Breton among others.
On returning from his travels Moore was appointed Professor of Sculpture at the Royal College of Art where he worked two days a week until 1931, as well as teaching at the Chelsea School of Art until 1939. He was appointed an Official War Artist during the Second World War from 1940–1942 for which he made a series of drawings of people sheltering in the London Underground, as well as studies of miners at the coal face. In these pictures he frequently used watercolour over wax crayon.
After the war Moore enjoyed a great deal of success, with his works receiving critical acclaim all around the world. He executed many major commissions for museums, public institutions, private collectors and municipal buildings and as a result he became one of the most famous British artists of the twentieth century.
At the beginning of the 1970s Moore created a foundation, the aim of which was to promote public awareness of sculpture and to protect his own work for the future. Located in his home village of Much Hadham, Hertfordshire, the foundation houses a library, archives and a collection of drawings, prints, maquettes and sculptures by the artist. Heavily influenced by the work of Michelangelo, Moore created monumental works in marble, stone and bronze and was enthralled by the theme of the family, and in particular the mother and child. His unique oeuvre draws inspiration from prehistoric, archaic, Egyptian, African, Mexican and Roman sculpture. Throughout his career he was noted for his output of graphic art – drawings, watercolours, etchings and lithographs which were not necessarily related to individual sculptures.
[1] Ann Garrould (ed.), Henry Moore, Complete Drawings, 1940-1949, Vol. III, Lund Humphries, London, 2001, p.4
[2] Kenneth Clark, Henry Moore, Drawings, Harper & Row, London, 1974, p.114