Skip to main content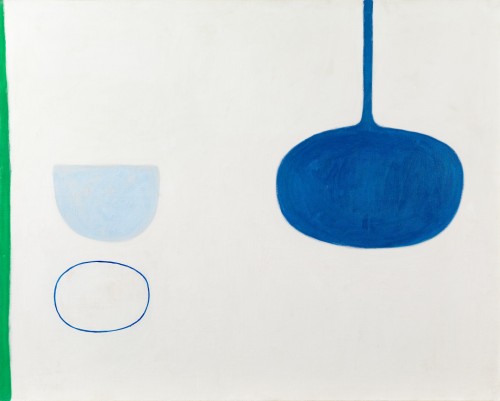 William Scott Still life green edge
Oil on canvas: 40(h) x 50(w) in / 101.6(h) x 127(w) cm
Signed and dated on the reverse: W SCOTT 71
This artwork is for sale.
Please contact us on: +44 (0)20 7493 3939.
Email us
WILLIAM SCOTT
 Greenock 1913 - 1989 Somerset
Ref: BY 179
Still life green edge
Signed and dated on the reverse: W SCOTT 71
Oil on canvas: 40 x 50 in / 101.6 x 127 cm
Frame Size: 41¾ x 52 inches / 106 x 132.1 cm
Provenance:
Martha Jackson, New York [14533];
private collection, Ohio, USA, acquired from the above in March 1973
Exhibited:
New York, Martha Jackson Gallery, William Scott, 3rd January – 10th February 1973
Literature:
Sarah Whitfield (ed.), William Scott Catalogue Raisonné of Oil Paintings 1969-1989, Vol. 4, Thames & Hudson in association with the William Scott Foundation, London 2013, no.A145, illus., p.371
From 1969 to 1972, Scott executed a series of carefully controlled, minimalist still lifes, whose objects are abstracted into succinct silhouettes, hovering weightlessly on flat or softly variegated grounds. Like the highly refined forms, Scott's application of paint is remarkably restrained, with little sign of the artist's actions, allowing attention instead to fall on subtle ambiguities and internal tensions between echoing shapes. For Norbert Lynton, 'The clarity of these neoclassical still lifes also addresses our senses as perfection: a few notes cleanly struck, at finely judged intervals...As in the best Neoclassical painting and sculpture, purity is revealed as refined sensuality, austerity as an acute form of luxury.'[1] By the late 1960s, Scott had achieved a considerable international reputation as a painter, with works in major collections, both public and private, worldwide and in 1972, the Tate Gallery held a major retrospective of his career presenting a wide range of works from 1938–71.
William Scott, Grey still life, 1969                                          William Scott, White shapes entering, 1973
Oil on canvas: 168 x 172.7 cm                                            Oil on canvas: 107.5 x 122.3 cm
Scottish National Gallery of Modern Art                          Fermanagh County Museum
WILLIAM SCOTT CBE RA
Greenock 1913 – 1989 Somerset
Born in Greenock, Scotland on the 15th February 1913 to an Irish father and Scottish mother, William Scott grew up in Enniskillen, a small town in Northern Ireland.  He studied at Belfast College of Art from 1928-31 and at the Royal Academy Schools in London from 1931-35, first in the sculpture school then from 1934 in painting.  During his education at the Royal Academy, Scott won a silver medal for sculpture, became a Landseer scholar in painting and on leaving the schools was awarded a Leverhulme Scholarship.  In 1936 Scott worked for six months in Mousehole, Cornwall.  The following year he married a fellow student at the Royal Academy, Mary Lucas.  For the next two years William and Mary Scott travelled and lived abroad, mainly in France, Venice and Rome.  William, Mary and Geoffrey Nelson ran an art school at Pont-Aven in Brittany in the summer months of 1938 and 1939, living for the rest of the year in the south at St. Tropez and Cagnes–sur-mer.  In 1938 he was elected Sociétaire du Salon d'Automne, Paris.  He left France in the autumn of 1939, spending a few months in Dublin before returning to London.  In January 1941 he took a cottage at Hallatrow, near Bristol, where he ran a market garden and taught part-time at Bath Academy. 
In 1942 Scott was given his first one-man exhibition at the Leger Galley, London.  The same year he volunteered for the army and served nearly four years from 1942-6 in the Royal Engineers, during which time his painting practically ceased.  While in the map making section, Scott learnt the technique of lithography.  In 1945 he illustrated the Soldier's Verse, chosen by Patric Dickenson with original lithographs by W Scott.
In 1946 Scott was appointed Senior Painting Master at Bath Academy, Corsham.  He was elected a member of the London Group in 1949 and in 1953, after teaching at a summer school in Canada, Scott visited New York, where he met Jackson Pollock, Willem de Kooning, Mark Rothko and Frans Kline.  In 1958 a retrospective exhibition of Scott's work was exhibited at the British Pavillion at the Venice Biennale, and he was commissioned to create a large mural for Attnagelvin Hospital, Londonderry.  In 1959 he was awarded first prize in the painters' section at John Moores Liverpool Exhibition.  William Scott died on the 28th December 1989.
[1] Norbert Lynton, William Scott, Thames & Hudson, London 2004, p.317.