Skip to main content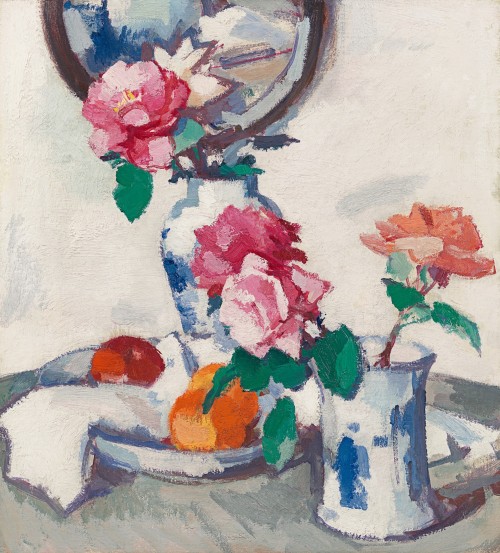 Samuel John Peploe Still life with roses & fruit
Oil on canvas: 22(h) x 20(w) in / 55.9(h) x 50.8(w) cm
Signed on the reverse and again on the stretcher: Peploe
This artwork is for sale.
Please contact us on: +44 (0)20 7493 3939.
Email us
SP 5430
SAMUEL JOHN PEPLOE RSA
 1871 - Edinburgh - 1935
Still life with roses & fruit
Signed on the reverse and again on the stretcher: Peploe
On the reverse A still life including a basket with vegetables
Oil on canvas: 22 x 20 in / 55.9 x 50.8 cm
Frame size: 31 x 29 in / 78.7 x 73.7 cm
Painted circa 1922
Provenance:
Willy Peploe, the artist's son, then by descent
Exhibited:
Glasgow, McLellan Galleries, Memorial Exhibition of Paintings by S.J. Peploe RSA, February 1937, no. 120 (label attached to the reverse; catalogue untraced), lent by Mrs S.J. Peploe
London, Richard Green, Pre-War Scotland, May 2015, no. 11
This exceptional still life with roses, from the private collection of the artist's son, was painted in Peploe's large, luminescent studio at 54 Shadwick Place, Edinburgh, previously occupied by the painter James Patterson (1854-1932).[1] Like his friend and fellow Scottish-Colourist J.D. Fergusson, Peploe painted the stark, bright work space white, allowing him to achieve an astonishing radiance and depth of colour in his painting. During the early 1920s, he painted almost exclusively on an absorbent gesso ground which, though technically difficult, allowed for a variety of finish, typically resulting in a dry, built-up surface with a compelling materiality. The exquisite elegance of the present work eloquently expresses the extraordinary care the artist took over his still life compositions. Writing on the occasion of Peploe's 1985 retrospective at the Scottish National Gallery of Modern Art, the artist's grandson writes: 'From about 1914 until his death, Peploe sought to paint the perfect still life...He concentrated on a few simple props: Chinese vases, a black fan, a blue jug, books, the 'Raeburn' chair, fruit, and patterned fabrics often bought at Whytock and Reid...What seems to be repetition should be understood as a finely tuned sensibility playing subtle variations on a theme.'[2]
Here Peploe achieves the ideal equilibrium between the graceful, curved silhouettes of the cropped oval mirror, the circular table and opening ellipses of blue and white china, and the multi-faceted petals of the more geometric flowers. The cool, light-toned porcelain, white napkin and walls combine with the muted grey table and its reflection in the mirror to provide the perfect foil for the luminous, lush pink, red and orange of the fruit and fresh-cut flowers.
From October 1921, The Scottish Gallery in Edinburgh and Alexander Reid in Glasgow agreed to jointly purchase the artist's work and manage his career, which gave Peploe, if not a regular income, the confidence and security to purchase the flat at 13 India Street that his family had rented for a decade.[3] In January 1923, Peploe also exhibited with the Leicester Galleries in London alongside Cadell and Hunter. The following summer, the three Scotsmen were joined by Fergusson at an exhibition in the Galerie Barbazanges, Paris, titled Les Peintres de l'Ecosse Moderne.
SJ Peploe, Pink Roses                                            SJ Peploe, Roses, c. 1920
Oil on canvas: 61 x 50.8 cm                                Oil on canvas: 50.8 x 40.6 cm
The Burrell Collection, Glasgow Museums       Kelvingrove Art Gallery & Museum, Glasgow
SAMUEL JOHN PEPLOE RSA
1871 - Edinburgh - 1935
Samuel John Peploe was the eldest of the Scottish Colourists and worked in a style remarkable for its painterly freedom and richness of colour. Together with Francis Campbell Boileau Cadell, George Leslie Hunter and John Duncan Fergusson, whose work was also characterised by the bold handling and use of colour, they were dubbed 'Les Peintres de L'Ecosse Moderne' following their first exhibition in Paris in 1924.
Peploe first studied at the Edinburgh College of Art in 1893, and then continued his training in Paris, at both the Académie Julian under Adolphe William Bouguereau (1825-1905), and the Académie Colarossi. At this time he was considerably impressed by the work of Jean-Baptiste-Camille Corot (1796-1875), Jean-Baptiste-Siméon Chardin (1699-1779), Gustave Courbet (1819-1877) and Paul Cézanne (1839-1906). He also admired Diego Velázquez (1599-1660), and seventeenth-century Dutch painters, especially Frans Hals (c1582-1666), whose work he saw on a visit to the Rijksmuseum, Amsterdam, in 1895. During this period, Peploe led a cosmopolitan life, working in Britain, and travelling extensively throughout France, in the company of his friend and colleague, Fergusson, with whom he spent several holidays painting at Etaples, Paris Plage, Dunkirk, Berneval, Dieppe and Le Tréport. In 1896, Peploe returned to Edinburgh and settled at his first studio in Shandwick Place, where the dark surroundings suited the sombre palette of his early still lifes, nudes and figure studies. He moved to Devon Place in 1900, where he developed a more sophisticated choice of subject matter, matched by an increasingly rich application of paint, and to York Place in 1905, where lighter space was reflected in the heightened tonality of his work.
He married Margaret MacKay in 1910, and decided to move to Paris where he remained until 1912, when he returned permanently to Edinburgh and set up a studio in Queen Street. He painted in Arran in 1913, in Crawford and Kikcudbright in 1914, and frequently spent the summer painting in Iona, with Cadell, between 1920- 1933. Peploe exhibited at the Royal Scottish Academy, where he was elected a member in 1927, at the Royal Glasgow Institute of Fine Arts, and in London at the Allied Artists' Association.
The work of Samuel John Peploe is represented in Aberdeen Art Gallery & Museums, University of Aberdeen; University of St Andrews; Rozelle House Galleries, South Ayrshire; Birmingham Museums Trust; Cartwright Hall Art Gallery, Bradford; Brighton and Hove Museums and Art Galleries; the Fitzwilliam Museum, Cambridge; Pallant House Gallery, Chichester; Gracefield Arts Centre, The Stewarty Museum, Dumfries and Galloway; Lillie Art Gallery, East Dunbartonshire; Dundee Art Galleries and Museums, University of Dundee; National Museum Scotland, Scottish National Gallery of Modern Art, Scottish National Portrait Gallery, Royal Scottish Academy of Art & Architecture, Edinburgh, City of Edinburgh Council, University of Edinburgh; Kirkcaldy Galleries, Fife; the Burrell Collection, Hunterian Art Gallery, University of Glasgow, Kelvingrove Art Gallery and Museum, Glasgow, Glasgow Museums Resource Centre; Ferens Art Gallery, Hull, University of Hull; McLean Museum and Art Gallery, Inverclyde; Abbot Hall Art Gallery, Lakeland Arts Trust, Kendal; Leeds Museums and Galleries; The Courtauld Gallery, the Fleming Collection, Tate Britain and William Morris Gallery, London; Middlesbrough Institute of Modern Art (MIMA); Manchester City Galleries; National Trust for Scotland; Laing Art Gallery, Newcastle; Paisley Museum and Art Galleries, Renfrewshire; Perth & Kinross Council; The Atkinson, Southport; The Potteries Museum & Art Gallery, Stoke on Trent and Ulster Museum, National Museums Northern Ireland.
[1] Peploe painted at 54 Shadwick Place from 1917 until 1934.
[2] Guy Peploe, S J Peploe 1871-1935, exh cat, Scottish National Gallery of Modern Art, Edinburgh, 1985, p. 13.
[3] Peploe purchased the tenement flat in August 1924. The Scottish Gallery in Edinburgh was part of Aitken Dott & Co, the gilding and picture restoring firm. Alexander Reid's Glasgow Gallery was La Société des Beaux-Arts. See Alice Strang, S.J. Peploe, exh cat, National Galleries of Scotland, Edinburgh, 2012, p. 12.