Skip to main content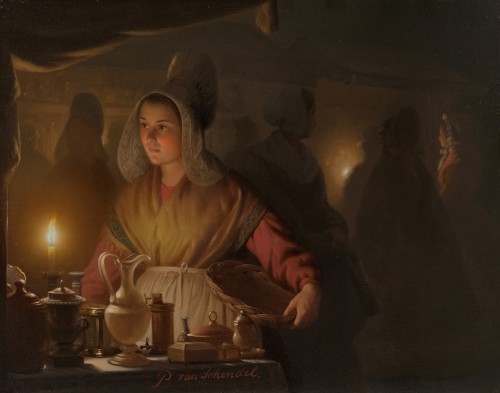 Petrus van Schendel Study for The Fair of Breda
Oil on panel: 9.1(h) x 11.6(w) in / 23.2(h) x 29.5(w) cm
Signed lower left: P. van Schendel.
This artwork is for sale.
Please contact us on: +44 (0)20 7493 3939.
Email us
BV 114
PETRUS VAN SCHENDEL
Terheyden near Breda 1806 – 1870 Brussels
Study for The Fair of Breda
Signed lower left P. van Schendel
Oil on panel: 9 ⅛ × 11 ⅝ in / 23.2 × 29.5 cm
Frame size: 18 ¾ × 21 in / 47.6 × 53.3 cm
Painted circa 1863
Provenance:
Andrew Francis Percival, Peterborough, c. 1920s–30s, then by descent
Private collection, Cambridgeshire
Literature:
J Grosfeld, H van der Holst, Petrus van Schendel 1806–1870. Master of the Twilight, Breda 2012, pp.35–36
Jan MM de Meere, Petrus van Schendel (1806–1870). Een leven tussen licht en donker, Primavera, Leiden 2012, pp.186–189
As a tribute to the city of his youth, Petrus van Schendel painted Breda's biannual fair in 1863, a market he knew very well (the artist's mother sold textiles and other commodities there) and which certainly inspired him to create market scenes throughout his career with a great variety of stalls, products and light sources. As far as we know, Breda as an accurate market location was only painted by him in 1863. Most of his market scenes featured an Amsterdam, Rotterdam, The Hague or Brussels background.
If we look at the final composition of The Fair of Breda, 1863 (oil on canvas: 120 × 93 cm, Stedelijk Museum Breda), with the characteristic tower of the great church in the background, we notice several differences that make the hypotheses plausible that this study was not made before the final version, but after the completion as an independent artwork. Van Schendel often made smaller versions where he repeated and changed parts of a larger composition. In this study,
the maid in front of the stall is wearing the characteristic lace cap with long lappets from the region of Breda, called the 'Baronie'. She is looking at or perhaps dreaming about the luxury goods displayed before her and on the stall. In the final version, Van Schendel depicts slightly different tableware and trinkets than in the present study. He also left out the figure of a man behind the maid and the so-called 'Pfifferaro', the dressed-up shepherd from Italy playing music
at fairs to earn extra money. Both would draw too much attention in this study, so Van Schendel replaced them with some figures in the shadow strolling amongst the stalls where candle light elucidates the silhouettes of their bodies. In a slightly larger study of the same left corner of the final work (oil on panel: 46 × 33 cm, private collection), Van Schendel kept the two figures behind and beside the woman and also put a candle on the table of the stall. On the reverse of the larger study, most likely made before the final version, Van Schendel inscribed the place and date: 'Bruxelles 28 Augustus 1863'.
Dr Jan MM de Meere, August 2018
         Petrus van Schendel, The Fair of Breda, 1863. Oil on canvas, 120 x 93 cm. Collection Stedelijk  
         Museum Breda, inv.nr. S 6401.
PETRUS VAN SCHENDEL
Terheyden near Breda 1806–1870 Brussels
Born at Terheyden in 1806, Petrus van Schendel studied at the Antwerp Academy
under Mathieu-Ignace van Breen (1773–1839), a painter of historical subjects. He then
worked in Amsterdam for two years before moving to Rotterdam in 1832 where he
remained until 1838. He resided in The Hague until his death in Brussels in 1870.
Petrus van Schendel was a prolific artist, exhibiting regularly in Amsterdam, Antwerp and The Hague between 1827 and 1867. He also exhibited in Brussels and Ghent, and won a gold medal for Market scene by moonlight exhibited in Brussels in 1845. He became a member of the Royal Academy in Amsterdam in 1834 and a member of Arti Sacrum in Rotterdam. Petrus van Schendel was also interested in the science of mechanics and his research culminated in him patenting an important improvement in the propelling of locomotives.
The work of Petrus van Schendel is represented in several museums including the Amsterdams Historisch Museum, the Stedelijk Museum, the Rijksmuseum, Amsterdam, the Groninger Museum, Groningen and the Museum Boymans-van Beuningen, Rotterdam.