Skip to main content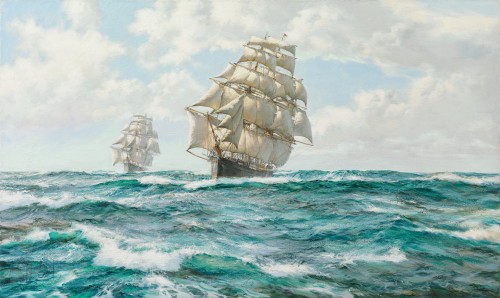 Montague Dawson Surging Forward: The Race between the Clipper Ships 'Lightening' and 'Red Jacket' across the Atlantic in 1854
Oil on canvas: 30(h) x 50(w) in / 76.2(h) x 127(w) cm
Signed lower left: Montague Dawson
This artwork is for sale.
Please contact us on: +44 (0)20 7493 3939.
Email us
MONTAGUE DAWSON
 Chiswick 1895 - 1973 Midhurst, Sussex
Ref: BT 123
Surging Forward: The Race between the Clipper Ships 'Lightening' and 'Red Jacket' across the Atlantic in 1854
Signed lower left: Montague Dawson
Oil on canvas: 30 x 50 in / 76.2 x 127 cm
Frame Size: 37 x 56¾ in / 94 x 144.1 cm
Provenance:
Frost and Reed Ltd., London, inv. no.37464
Tryon Gallery, London
Richard Green, London, 1995;
Nelson Doubleday Jr. (1933-2015), USA
Montague Dawson was fascinated by the towering grace of the mid-nineteenth century clipper ships, which inspired some of his most celebrated works. Races between clippers, such as the competitions to bring the new season's cargo of tea from China to London, caused much excitement, with wagers, announcements in the press, and a hero's welcome for the winning Captain.
This painting depicts an informal race across the Atlantic between Lightening and Red Jacket in 1854. Lightening sailed from Boston for Liverpool on 18th February, while Red Jacket sailed from New York the following day. The two ships arrived in Liverpool on 4th March, Red Jacket making better time by eighteen hours. Dawson shows the two ships in mid-Atlantic, cracking on with all sails set in a heavy swell, Lightening in the foreground wearing the house flag of the Black Ball Line. The low viewpoint and richly-impasted, deep green sea, adds to the sense of drama and peril.
Lightening was built by the legendary Donald McKay, arguably the finest clipper designer of the nineteenth century, for James Baines of the Liverpool company, the Black Ball Line. Launched in 1854, during the Australian gold rush, she was intended to be both speedy and stable, able to withstand the huge seas and storms of the Australia run. Lightening cost £30,000 to build and Baines lavished a further £2,000 on interior decoration, with staterooms of exotic wood, marble, gilding and stained glass. She could reach speeds of nearly twenty knots. In 1854-55, Lightening made the passage from Melbourne to Liverpool in sixty-five days. In 1869, loaded with a cargo of wool and copper, she caught fire at Geelong in Australia and was scuttled in Corio Bay.
Red Jacket was 2,305 tons to Lightening's 2,084. She was designed by Samuel Hartt Pook and built by George Thomas in Rockland, Maine. Launched in 1853, she was named after the Seneca Indian chief Sagoyewatha, named 'Red Jacket' by settlers. She set a record for an Atlantic crossing by making the journey from New York to Liverpool in thirteen days, 1 hour, twenty-five minutes. In 1854 Red Jacket was bought by Pilkington & Wilcox of Liverpool and chartered by the White Star Line for a run to Melbourne, making the journey in sixty-nine days. Red Jacket served the Australian immigrant trade until 1867, and ended her days in 1885 as a coaling hulk in Madeira.
This painting comes from the collection of Nelson Doubleday Jr. (1933-2015), whose career was in the famous publishing company founded by his grandfather Frank Nelson Doubleday. He served as its President and Chief Executive from 1978 to 1986, and later became the majority shareholder of the New York Mets. A keen yachtsman and owner of the 125-foot schooner Mandalay, Nelson Doubleday Jr. amassed a fine collection of marine paintings at his Long Island estate.
MONTAGUE DAWSON, FRSA, RSMA
Chiswick 1895 - 1973 Midhurst, Sussex
Montague Dawson was the son of a keen yachtsman and the grandson of the marine painter Henry Dawson (1811-1878).  Much of his childhood was spent on Southampton Water where he was able to indulge his interest in the study of ships. For a brief period around 1910 Dawson worked for a commercial art studio in London, but with the outbreak of the First World War he joined the Royal Navy.  Whilst serving with the Navy in Falmouth he met Charles Napier Hemy (1841-1917), who considerably influenced his work.  Dawson was present at the final surrender of the German Grand Fleet and many of his illustrations depicting the event were published in the Sphere.
After the War, Dawson established himself as a professional marine artist, concentrating on historical subjects and portraits of deep-water sailing ships often in stiff breeze or on high seas.  During the Second World War, he was employed as a war artist and again worked for the Sphere. Dawson exhibited regularly at the Royal Society of Marine Artists, of which he became a member, from 1946 to 1964, and occasionally at the Royal Academy between 1917 and 1936.  By the 1930s he was considered one of the greatest living marine artists, whose patrons included two American Presidents, Dwight D Eisenhower and Lyndon B Johnson, as well as the British Royal Family.
The work of Montague Dawson is represented in the National Maritime Museum, Greenwich and the Royal Naval Museum, Portsmouth.