Skip to main content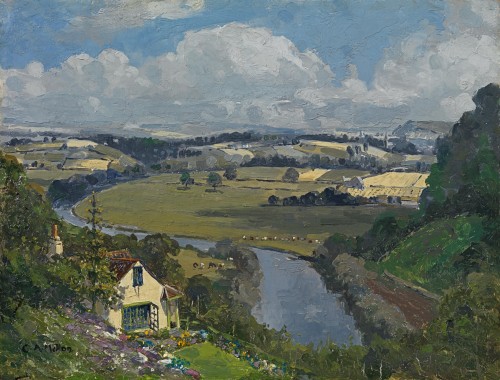 Campbell A. Mellon Symonds Yat
Oil on board: 9(h) x 12(w) in / 22.9(h) x 30.5(w) cm
Signed lower left: C. A. Mellon.
This artwork is for sale.
Please contact us on: +44 (0)20 7493 3939.
Email us
BY 131
CAMPBELL A. MELLON RBA ROI
Sandhurst 1876 – 1955 Gorleston-on-Sea
Symonds Yat
Signed lower left: C.A. Mellon; inscribed with the previous owner's name and address on the reverse
Oil on board: 9 ¼ x 12 in / 23.5 x 30.5 cm
Frame size: 13 x 15 ½ in / 33 x 39.4 cm
Provenance:
Private collection, Gorleston, acquired directly from the artist,
then by decent
Symonds Yat is a village in the Wye Valley, Herefordshire, close to the Welsh border in an area of outstanding natural beauty. Painted from a high vantage point, perhaps Symonds Yat Rock, Mellon captures the glorious curve of the river Wye through the wooded gorge, passed green pastures, and golden fields of corn in the distance.
Campbell Archibald Mellon was an oil painter of landscapes and beach scenes. Born at Sandhurst in Berkshire on the 16th June 1876, Mellon's family settled in Nottingham in 1903. He studied art under Carl Brenner, a nephew of B.W. Leader. In 1918 he moved to Gorleston in Norfolk where he studied under Sir John Arnesby Brown for three years and devoted the rest of his life to painting. In 1924 he first exhibited at the Royal Academy, showing a total of fifty works there over the years. He also exhibited at the Royal Society of British Artists and at the Walker Art Gallery, Liverpool, among others. He was elected a member of the Royal Institute of Painters in Oil in 1938, as well as a member of the Royal Society of British Artists. Campbell Mellon remained a resident of Gorleston-on-Sea until his death on the 28th August 1955.
Campbell Mellon, Pembroke
Oil on canvas: 22 x 30 in / 56 x 76 cm
Government Art Collection