Skip to main content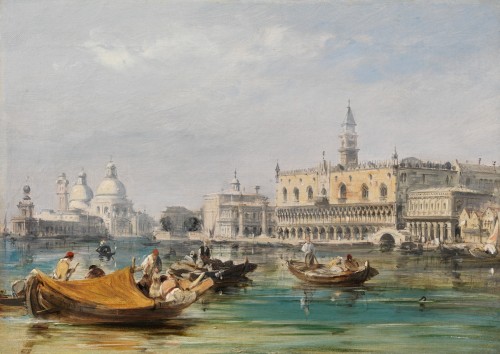 Edward Pritchett The Bacino di San Marco, Venice, with Santa Maria della Salute and the Doge's Palace
Oil on canvas: 10(h) x 14(w) in / 25.4(h) x 35.6(w) cm
Signed lower left: E. Pritchett
This artwork is for sale.
Please contact us on: +44 (0)20 7493 3939.
Email us
BY 116
EDWARD PRITCHETT
British fl. 1828-1864
The Bacino di San Marco, Venice, with Santa Maria della Salute and the Doge's Palace
Signed lower left: E. Prichett
Oil on canvas: 10 x 14 in / 25.4 x 35.6 cm
Frame size: 14 x 18 in / 35.6 x 45.7 cm
Provenance:
Williams & Son, Grafton Street, London
Private collection, UK
Edward Pritchett was among the group of English artists, including JMW Turner (1775-1851) and James Holland (1799-1870), who drew deep inspiration from Venice. He probably lived in the city for long periods and the bulk of his output is Venetian views in both oil and watercolour. Venice had drawn visitors since the eighteenth century Grand Tour. In the nineteenth century, her days of power were long past, but her gently crumbling magnificence held writers such as Byron, Ruskin and Henry James and musicians including Wagner in thrall.   
With fluid, allusive brushwork, Pritchett describes the most famous Venetian view of all, spanning from the Punta della Dogana to the Prigioni. Light falls on the domes of Santa Maria della Salute, the masterpiece of Baldassare Longhena, begun to commemorate the Virgin Mary's delivery of the city from the plague of 1630 and completed in 1687. On the opposite side of the Grand Canal are the Zecca (Mint), Libreria Sansoviniana, the columns of St Mark and St Theodore, and the pink-and-white, fourteenth century façade of the Doge's Palace. In the left background is a gondola with the accustomed felze or covering, which gave protection and privacy; modern tourist gondolas have abandoned this feature. The foreground is filled with a lively assemblage of craft for transporting goods.
Pritchett exhibited at the Royal Academy from 1828 to 1849, at the British Institute, the Society of British Artists and the Suffolk Street Galleries. He occasionally showed English views, of the Isle of Wight and elsewhere.
The work of Edward Pritchett is represented in the Victoria and Albert Museum, London; the Manchester City Art Gallery and the National Gallery, Dublin.