Skip to main content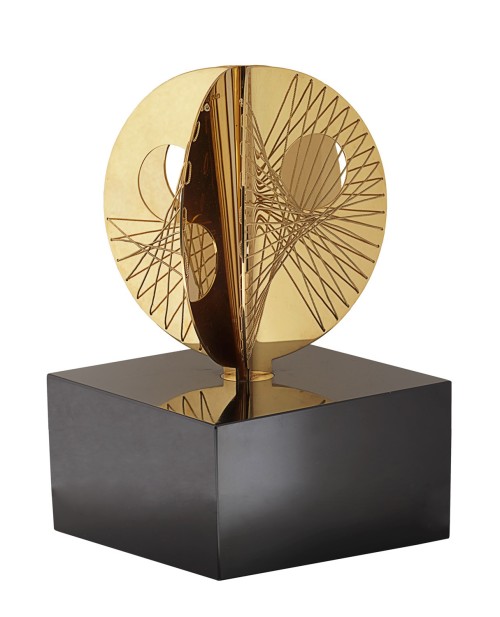 Dame Barbara Hepworth Three curves with strings (Gold Mincarlo)
Stamped with initials, dated and numbered B.H. 1971 / 11/12 on the base. Stamped by the Morris Singer Foundry, London and with 18 carat gold hallmarks on each of the three elements
18 carat gold with strings: 6.5 x 6.3 x 6.26 (in) / 16.5 x 15.9 x 15.9 (cm)

On a Slate base: 4.02 x 5.98 x 5.98 (in) / 10.2 x 15.2 x 15.2 (cm)
This artwork is for sale.
Please contact us on: +44 (0)20 7493 3939.
Email us
DAME BARBARA HEPWORTH DBE
Wakefield 1903 - 1975 St Ives
Ref: CB 111
Three Curves with Strings (Gold Mincarlo)
Stamped with initials, dated and numbered B.H. 1971 / 11/12 on a plate attached to the base. Stamped by the Morris Singer Foundry, London and with 18 carat gold hallmarks on each of the three elements
18 carat gold with strings: 6 ½ x 6 ¼ x 6 ¼ in / 16.5 x 15.9 x 15.9 cm
On a slate base: 4 x 6 x 6 in / 10.2 x 15.2 x 15.2 cm
Conceived and cast from an aluminium prototype on a plaster base by the Morris Singer Foundry, London in 1971 in a numbered edition of 12+0
BH 520
Provenance:
Commissioned by the Morris Singer Sculpture Association Ltd and Christie's Contemporary Art
Sotheby Parke Bernet, New York, 17th March 1976, lot 57
Private collection, gifted in the 1970s
Private collection, Italy
Richard Green, London;
Private collection, UK
Exhibition:
London, Alwin Gallery, Bronze, Silver and Gold, 21st August – 14th September 1973, cat. no. 20 (another cast)
London, The Goldsmith's Hall, March 1975
London, William Darby, Barbara Hepworth 1903-1975, 10th – 28th November 1975, cat. no. 10 (another cast)
Literature:
G S Whittet, 'London', Art and Artists, March 1975, p. 42 (titled Mincarlo)
This work will be included as BH 520 in the forthcoming catalogue raisonné of Barbara Hepworth's sculptures being revised by Dr Sophie Bowness.
This extraordinary sculpture was commissioned by the Morris Singer Sculpture Association Ltd and Christie's Contemporary Art in the early 1970s. Eight internationally renowned contemporary sculptors, including Lynn Chadwick, Michael Ayrton, Kenneth Armitage and Elisabeth Frink, were commissioned to create a dozen individual, small-scale works measuring less than twelve inches in width and cast in 18 carat gold in editions of twelve. As well as proving that 'gold is the best and exciting material for the sculptor', G. S. Whittet, reviewing their exhibition at The Goldsmith's Hall for Art and Artists, stated of the exceptional commission: 'Together they are miniature examples of the spirit of contemporary sculpture in free-standing form...all of them establishing iconic identities within their own intrinsic scales'.[1] Hepworth produced one of the only two abstract works in Mincarlo, which, as Whittet goes on to observe, 'transcribes into gold the wired semi-spheroid she has created previously in bronze and stone'.[2]
Although more than twice the size of Mincarlo, Hepworth's earlier sculptures Disc with Strings (Moon), (BH 484) in aluminium and Disc with Strings (Sun) (BH 485) in polished bronze executed in 1969 are very similar, in their pierced and folded spherical forms, to the present work. The stringing, double piercing and warm colouration of Disc with Strings (Sun), and its smaller, bronze version, Small Sun (BH 489), are most closely related to the main face of Mincarlo, perhaps inspiring the creation of a three piece version in precious metal two years later. Hepworth made two other sculptures in gold, both unique works of 1966: Sun and Moon (BH 417), which was presented to the Queen by Cornwall County Council and Single Form (Sun and Moon) (BH 418) (private collection).
The geometric, abstract forms of the 1930s recur throughout Hepworth's career, in particular the semi-circle from 1969-72 in works such as Theme and Variations, 1969-72 (BH 511), a three part bronze relief made for the Cheltenham & Gloucester Building Society Head Office in Cheltenham constructed with overlapping, rotating semi-circular forms and Two Forms (Divided Circle), 1969 (BH 477). The piercing and segmentation of the circle or sphere, also present in Sphere with inside and outside colour, 1967 (BH 444), recalls the forms and preoccupations present in Mincarlo.
Mincarlo is a rock in the Scilly Isles, to the west of the uninhabited island of Samson. Hepworth visited the Scilly Isles several times on working holidays and enjoyed sailing around them, her sculpture Curved form (Bryher) (BH 299 and BH 305) also relates to her experience of the Isles.
As she approached her seventieth birthday, Hepworth was still producing major works of art in various media and on various scales, from drawings and lithographs such as The Aegean Suite, to carved and cast sculptures. In 1970 she was awarded the Grand Prix at the Salon International de la Femme, Nice and created a major nine part bronze, The Family of Man (versions of which are displayed at the Yorkshire Sculpture Park and the PepsiCo Sculpture Park, New York). That same year Barbara Hepworth: A Pictorial Autobiography was published and the following year, The Complete Sculpture of Barbara Hepworth 1960-69, edited by Alan Bowness.
We are grateful to Dr Sophie Bowness for her assistance with the cataloguing of this work.
DAME BARBARA HEPWORTH
Wakefield, Yorkshire 1903 - 1975 St. Ives, Cornwall
Barbara Hepworth was born in Wakefield, Yorkshire in 1903, the first of four children of Herbert Hepworth (a civil engineer) and his wife Gertrude Johnson. She was educated at Wakefield Girls' High School before studying at Leeds School of Art from 1920, where she met the sculptor Henry Moore. After taking the two-year course in a single year, she moved to The Royal College of Art, London in 1921. Following a post-graduate year there, Hepworth was short-listed for the Prix de Rome and was awarded a year's travel scholarship. She moved to Florence in 1924 where she married fellow student and winner of the Prix de Rome, John Skeaping in May 1925. They later moved to Rome where Hepworth received a thorough training in carving and began working with stone. In November 1926 they returned to London, moving in 1928 to 7 The Mall Studios in Hampstead. Hepworth and Skeaping held joint exhibitions at the Beaux Arts Gallery in 1928 and at Arthur Tooth & Son in 1930. Their son, Paul was born in August 1929, but their marriage had already begun to deteriorate when Hepworth met Ben Nicholson in 1931. Hepworth and Skeaping divorced in 1933. Nicholson moved into Hepworth's studio in 1932 and they held a joint exhibition of their work at Tooth's Gallery that same year and again at the Lefevre Gallery in 1933.
A member of the Seven & Five Society, Unit One and Abstraction-Création during the 1930s, Hepworth began making entirely abstract sculpture in 1934. She also gave birth to triplets Simon, Rachel and Sarah that year. Nicholson and Hepworth were married in 1938, moving to Cornwall a year later, at first staying in the house of their friend, the author Adrian Stokes and his wife Margaret Mellis. Hepworth would remain in St Ives until her death in 1975. During the first three years of the war, Hepworth was unable to carve, though she drew at night after the domestic demands of the day. Her working conditions became easier after the family moved into a larger house in Chy-an-Kerris, Carbis Bay in 1942 and Hepworth secured a studio. The first retrospective exhibition of Hepworth's work was held at Temple Newsam, Leeds in 1943. She represented British sculpture at the Venice Biennale in 1950 and was commissioned by the Arts Council to produce two sculptures for the Festival of Britain in 1951. Two further retrospectives in Wakefield in 1951 and at The Whitechapel Art Gallery, London in 1954 helped to confirm her Post-War reputation.
Hepworth bought Trewyn Studio, St Ives in 1949 and lived there permanently from 1950 following her separation from Nicholson and their divorce in 1951. In 1953 her first child, Paul Skeaping, was killed in an air crash. Hepworth travelled to Greece in 1954 in an effort to recover from his sudden death. Large public commissions such as Single Form, erected outside the United Nations Building, New York in 1964 helped to confirm Hepworth's international standing, as did the award of the Grand Prix at the 1959 São Paulo Biennial. She was awarded a CBE in 1958 and appointed DBE in 1965, the same year in which she was elected a Trustee of the Tate Gallery. Along with her friend the potter Bernard Leach, Hepworth was awarded the Freedom of St Ives in 1968 in acknowledgement of her importance to the town. Hepworth died in 1975 as a result of a fire in her studio. According to her wishes, Trewyn studio was opened to the public as the Barbara Hepworth Museum in 1976 and is now part of the Tate Gallery.
[1] Op. cit., p. 41.
[2] Ibid., p. 42.
Three curves with strings (Gold Mincarlo)
Stamped with initials, dated and numbered B.H. 1971 / 11/12 on the base. Stamped by the Morris Singer Foundry, London and with 18 carat gold hallmarks on each of the three elements
Medium: Small
4.02 x 5.98 x 6.26 (in) / 10.2 x 15.2 x 15.9 (cm)
On a Slate base: 4.02 x 5.98 x 5.98 (in) / 10.2 x 15.2 x 15.2 (cm)