Skip to main content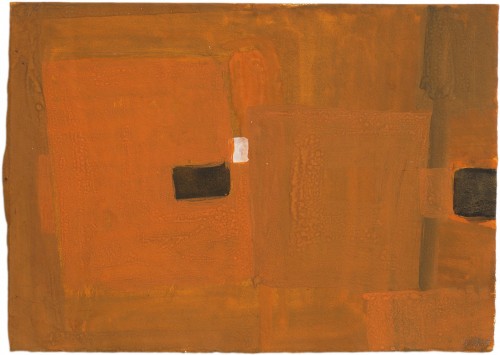 William Scott Untitled
Gouache: 11(h) x 15.5(w) in / 27.9(h) x 39.4(w) cm
Signed lower right: W Scott
This artwork is for sale.
Please contact us on: +44 (0)20 7493 3939.
Email us
BB 310
WILLIAM SCOTT CBE RA
Greenock, Scotland 1913 – 1989 Somerset
Untitled
Signed lower right: W Scott
Gouache: 11 x 15 ½ in / 28 x 39.5 cm
Frame size: 20 ½ x 25 in / 52.1 x 63.5 cm
Painted circa 1952 
Provenance:
Jean Yves Mock, London
The present work is listed with the William Scott Archive as no.1863
In the summer of 1952, Scott embarked on a series of small-scale gouaches that mark his first foray
into full-scale abstraction. Taking their inspiration from a tilted, tabletop still life, these works distort
and stretch the subject beyond the point of recognition and become essays in the relationship of
pure colour and form. The innate characteristics of the gouache medium forced a quick response and
spontaneity of technique and as the series progressed, Scott's move away from the figurative became
more evident.
The results of this extraordinary series of paintings found further development in the abstract oils of
the same period 1952-54, perhaps the best known being Orange, Black & White Composition (Tate
Gallery). To make such a move into full abstraction at this time was still a heroic act, risking as it
did the alienation of the hard-won support of those collectors whose patronage was rare in the
immediate post-war period. That this was a real danger can be seen in the contemporary
abandonment of Victor Pasmore by the influential critic and patron, Kenneth Clark. Alan Bowness refers to this seminal series of gouaches as: 'one of the rare occasions when a medium other than oil paint proper has played a decisive role in his artistic development.'[1]
Note on provenance
Jean-Yves Mock was steadfast champion of the avant-garde for almost half a century. A respected dealer, curator, critic and friend of artists such as René Magritte, he worked alongside Erica Brausen at the Hanover Gallery in London from 1956 until its closure in 1973 and helped to launch the careers of some of the most successful artists of the twentieth century.
William Scott, Orange, black and white composition, 1953
Oil on canvas: 121.9 x 121.9 cm
Tate Britain
WILLIAM SCOTT, CBE RA
Greenock 1913 – 1989 Somerset
Born in Greenock, Scotland on the 15th February 1913 to an Irish father and Scottish mother, William Scott grew up in Enniskillen, a small town in Northern Ireland.  He studied at Belfast College of Art from 1928-31 and at the Royal Academy Schools in London from 1931-35, first in the sculpture school then from 1934 in painting.  During his education at the Royal Academy, Scott won a silver medal for sculpture, became a Landseer scholar in painting and on leaving the schools was awarded a Leverhulme Scholarship.  In 1936 Scott worked for six months in Mousehole, Cornwall.  The following year he married a fellow student at the Royal Academy, Mary Lucas.  For the next two years William and Mary Scott travelled and lived abroad, mainly in France, Venice and Rome.  William, Mary and Geoffrey Nelson ran an art school at Pont-Aven in Brittany in the summer months of 1938 and 1939, living for the rest of the year in the south at St. Tropez and Cagnes–sur-mer.  In 1938 he was elected Sociétaire du Salon d'Automne, Paris.  He left France in the autumn of 1939, spending a few months in Dublin before returning to London.  In January 1941 he took a cottage at Hallatrow, near Bristol, where he ran a market garden and taught part-time at Bath Academy. 
In 1942 Scott was given his first one-man exhibition at the Leger Galley, London.  The same year he volunteered for the army and served nearly four years from 1942-6 in the Royal Engineers, during which time his painting practically ceased.  While in the map making section, Scott learnt the technique of lithography.  In 1945 he illustrated the Soldier's Verse, chosen by Patric Dickenson with original lithographs by W Scott. In 1946 Scott was appointed Senior Painting Master at Bath Academy, Corsham.  He was elected a member of the London Group in 1949 and in 1953, after teaching at a summer school in Canada, Scott visited New York, where he met Jackson Pollock, Willem de Kooning, Mark Rothko and Frans Kline.  In 1958 a retrospective exhibition of Scott's work was exhibited at the British Pavilion at the Venice Biennale, and he was commissioned to create a large mural for Altnagelvin Hospital, Londonderry.  In 1959 he was awarded first prize in the painters section at John Moores Liverpool Exhibition.  William Scott died on the 28th December 1989.
[1] A. Bowness, William Scott: Paintings, Lund Humphries, London, 1964, p.9.