Skip to main content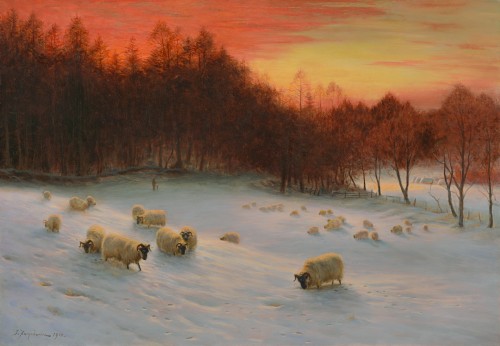 Joseph Farquharson When the West with evening glows
Oil on canvas: 25(h) x 36(w) in / 63.5(h) x 91.4(w) cm
Signed and dated lower left: J. Farquharson 1910
This artwork is for sale.
Please contact us on: +44 (0)20 7493 3939.
Email us
BV 137
JOSEPH FARQUHARSON RA
Edinburgh 1846 - Edinburgh - 1935
When the west with evening glows
Signed and dated lower left: J. Farquharson 1910.
Oil on canvas: 25 x 36 in / 63.5 x 91.4 cm
Provenance:
Private collection, Wilmington, Delaware, USA
Donated to the Episcopal Diocese of Delaware circa 1970
'There is not one of Farquharson's pastoral landscapes which is not treated from the contemplative or poetic point of view: the poetry of snow either in its suggestion of desolation, or of the endurance of peasantry life, or the exquisite beauty of rare tints in the sun or moon on deep snow surfaces and seen through leafless trees…' (Archdeacon William Macdonald Sinclair, DD, 'The Art Journal of Joseph Farquharson, ARA', Christmas edition of The Art Journal, 1913, pp.1-2).
W. M. Sinclair's homage to the pastoral landscapes of Joseph Farquharson could have been written with this painting in mind as it contains all the significant elements of the painter's poetry. The sunset sky is indeed 'exquisite', its flaming hues of orange, yellow and purple seem to warm the inhospitable land and light the snowbound sheep on their way home.  Farquharson began painting his striking snow scenes in 1877 and following the purchase of The Joyless Winter Day, 1883, by the Trustees of the Chantry Bequest, they became perennial favourites with the public.  These snow-covered Highland landscapes were often situated in the artist's family estate of Finzean in the Dee Valley, near Aberdeen. Farquharson made a mobile painting hut to work directly from nature in all weather conditions.
This beautiful snowy, sunset landscape is a slightly smaller version of Farquharson's Royal Academy exhibit of 1910, now in the collection of Bristol Museum & Art Gallery.
JOSEPH FARQUHARSON RA
1846 - Edinburgh - 1935
Joseph Farquharson was a Scottish landscape painter, noted for his winter subjects, especially snowstorms, snowy landscapes and winter woods.  He occasionally painted Oriental mosques and eastern market places, social and rustic genre and portraits.  He combined a career as a painter with his inherited role as Laird of Finzean, Aberdeenshire.  His beautiful, wooded estate far up the Dee Valley on the way to Balmoral, provided him with most of his subjects.  He had a painting hut on wheels constructed so that he could paint from nature despite the temperature.
The artist was born in Edinburgh, and studied first under a friend of his father's Peter Graham RA (1836-), then at the Board of Manufacture School in Edinburgh and the Life School at Royal Scottish Academy.  John MacWhirter (1839-1911), the famous Scottish landscape painter, was a key influence.  In 1880, he moved to Paris where he studied under Charles Carolus Duran (1837-1917).  He made friends with John Singer Sargent (1856-1925) and he obviously saw paintings by Courbet and absorbed the plein-air attitudes towards painting landscape already established by the Barbizon School.  In 1885, he made his first visit to Egypt, returning there several times in his later life.
Sickert in particular appreciated Farquharson's "extraordinary virtuosity [which] has been developed by experience, but it arises certainly from the fact that he is thinking of telling his story;"  he went on to compare the artist's snow scenes with those of Courbet [Daily Telegraph, 7 April, 1926].  In 1859, he first exhibited at the Royal Scottish Academy. He made his début at the Royal Academy in 1873, was elected an Associate of the Royal Academy in 1900 and a full member in 1915.  An exhibition of Farquharson's work was held at the Fine Art Society in March, 1887.
The work of Joseph Farquharson is represented in the following public collections: Aberdeen Art Gallery & Museums; The University of Aberdeen; The Orchar Collection: Dundee Art Galleries and Museums; Royal Scottish Academy of Art & Architecture, Edinburgh; Scottish National Portrait Gallery, Edinburgh; Hunterian Art Gallery, University of Glasgow; Banchory Museum, Aberdeenshire Museums; Perth & Kinross Council; Paisley Museum and Art Galleries;
Towneley Hall Art Gallery & Museum, Burnley; Atkinson Art Gallery Collection, Southport; Williamson Art Gallery & Museum, Wirral; Wolverhampton Art Gallery (Arts and Heritage); Hartlepool Museums and Heritage Service; Herbert Art Gallery & Museum, Coventry; Ferens Art Gallery, Kingston upon Hull; Russell-Cotes Art Gallery & Museum, Bournemouth; Nottingham Castle Museum and Art Gallery; Touchstones, Rochdale Arts & Heritage Service; Bristol Museum and Art Gallery; City Hall, Cardiff; Lady Lever Art Gallery, Port Sunlight; National Museums Liverpool; Leeds Art Gallery; Manchester City Galleries; The Fleming Collection, London;
Royal Academy of Arts, London; Tate Britain, London; Dahesh Museum of Art, New York;
The Laurel Rogers Museum of Art, Laurel, Mississippi.