Skip to main content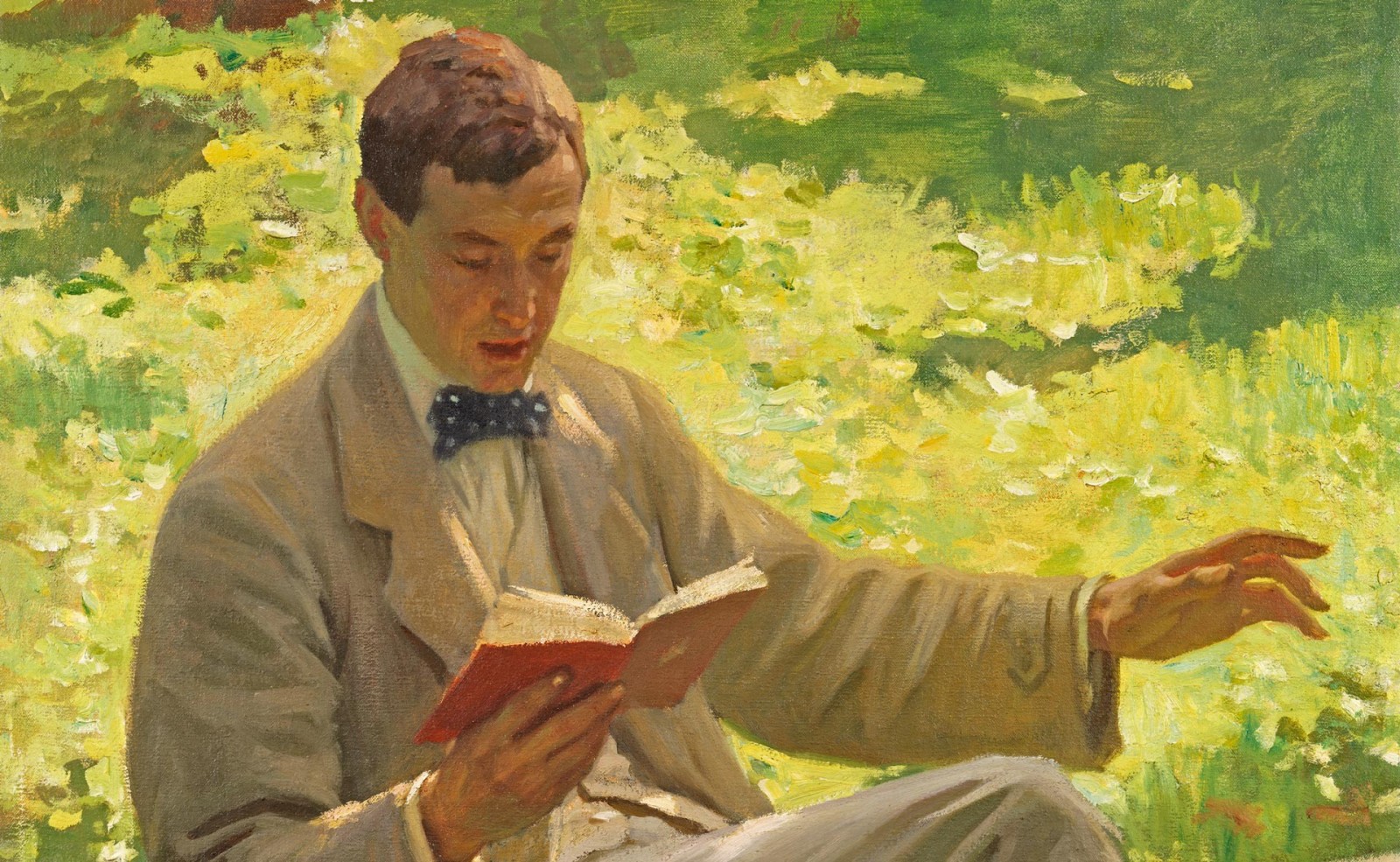 Alfred Munnings reading at Penlee House Gallery & Museum
18 June 2019
Richard Green is delighted to lend Alfred Munnings reading, painted circa 1910, to the Penlee House Gallery & Museum in Penzance, Cornwall for their current exhibition, Munnings in Cornwall (15th June – 7th September 2019). This summertime exhibition celebrates the eccentric and controversial character of Sir Alfred Munnings (1878-1959) and marks the sixty-year anniversary of the artist's death, predominantly exploring the years he spent in Cornwall from 1910 to 1914. Munnings lived first at Newlyn and later in the small village of Lamorna, known for its wonderfully scenic cove. At Newlyn he met his first wife Florence and became firm friends with other modern British artists, including Laura and Harold Knight, Dod and Ernest Procter and Samuel John 'Lamorna' Birch.
In Alfred Munnings Reading, Harold Knight depicts Munnings in a sun-drenched, outdoor setting in which the flamboyant, extrovert young artist, known as 'AJ', enacts a dramatic reading for his contemporaries and friends. Readings, as understood from Laura Knight's memoirs, were, like amateur theatricals, a popular pastime in the artist community at Lamorna.[1] Munnings' magnetism meant that he was often the centre of attention and for Laura he was 'the stable, the artist, the poet, the very land itself!'[2] Not surprisingly, the normally reserved Harold Knight was less enthusiastic.
The discovery of Harold Knight's Alfred Munnings Reading sheds new light on a fascinating moment in the early careers of both artist and sitter. When embarking on her ballet painting, Carnaval (1914), for reasons that remain obscure, Laura Knight selected a canvas which was stretched over her husband's work, and only when this was removed was the portrait of fellow-artist, Alfred Munnings, revealed for the first time. The 'new' work was immediately identified as being closely related to Harold Knight's lost Royal Academy exhibit of 1911, The Sonnet. This later work similarly depicts Munnings situated in a leafy glade, declaiming his verses aloud. However, the later picture is set over afternoon tea and Munnings is performing for a female audience, one of whom, Florence Carter Wood, who sits on the far right, he was shortly to marry.
To learn more about this painting for sale, please contact paintings@richardgreen.com
To find out more about this current exhibition, go to: https://www.penleehouse.org.uk/whats-on/exhibitions
MUNNINGS IN CORNWALL, 15th June – 7th September 2019
at Penlee House Gallery & Museum, Penzance, Cornwall
[1] Laura Knight, Oil Paint and Grease Paint, 1936 (Penguin ed, vol 2, 1941), p.177 ff, records her first sighting of Munnings, surrounded by the so-called 'Myrtage Group' – four female students in Stanhope Forbes' art school in Newlyn. Munnings took charge at parties, leading the group in hunting songs and reading from Dickens. See also Austin Wormleighton, A Painter Laureate, Lamorna Birch and his Circle, 1995 (Sansom and Co), pp.98-9, 112-3.
[2] Knight, vol 2, 1941, p.178; quoted in Janet Dunbar, Laura Knight, 1975 (Collins), p.82; Goodman, 2000, p.89.