Skip to main content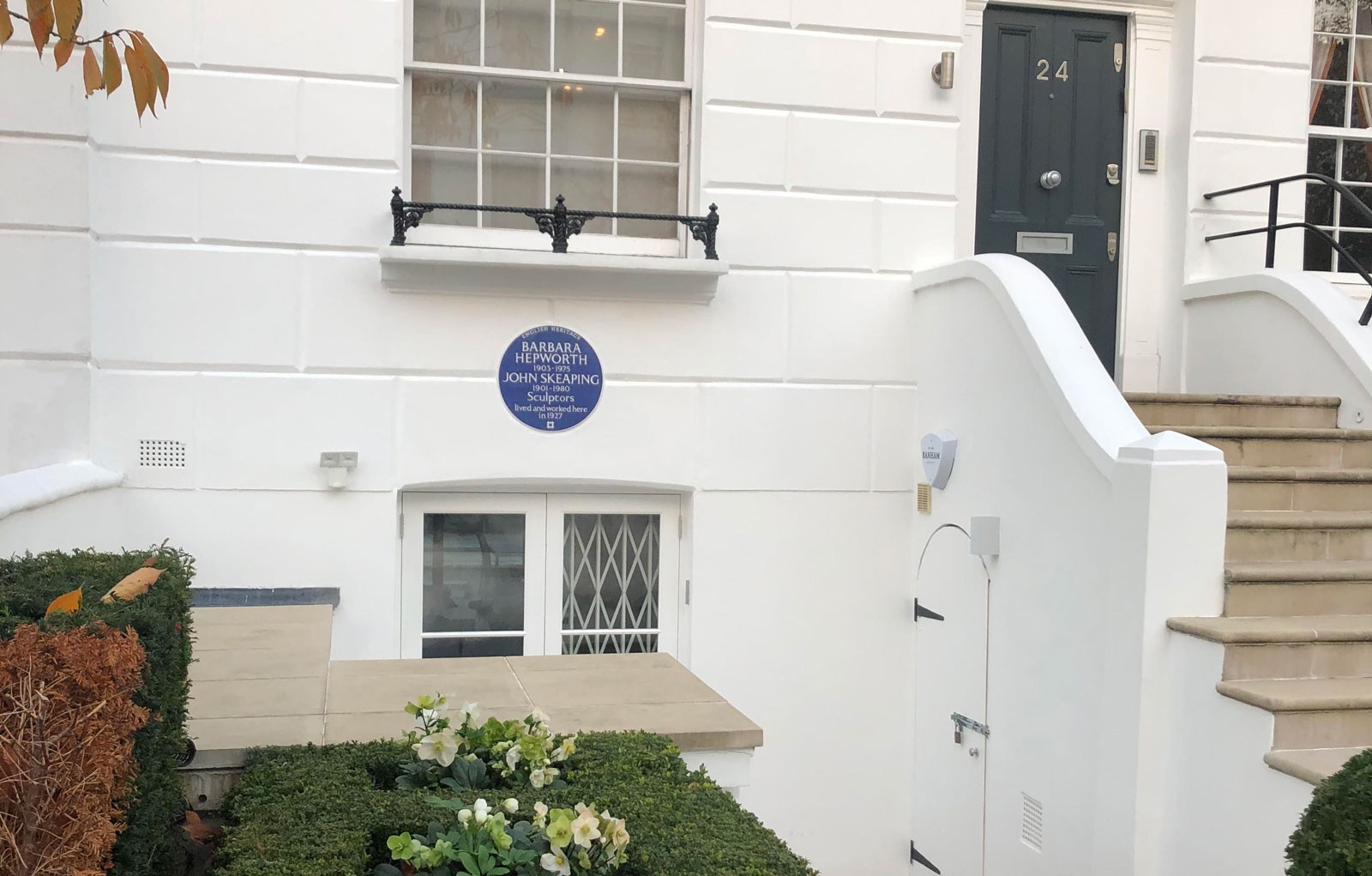 Barbara Hepworth gets a London Blue Plaque
25 November 2020
The St John's Wood home of sculptors Barbara Hepworth (1903-1975) and her first husband John Skeaping (1901-1980) has been commemorated with an English Heritage Blue Plaque. The Blue Plaque scheme, founded in 1866, for many years lagged behind in its representation of women: in 2018, only 14% of the plaques were dedicated to them. Ironically, Hepworth is now a far bigger name than Skeaping.
Hepworth and Skeaping's romance blossomed in Rome, where Skeaping was studying at the British School, having pipped Hepworth to the Prix de Rome in 1924. They married in the Palazzo Vecchio, Florence the following year. Hepworth learned to carve marble from the Roman master carver Giovanni Ardini – a radical step for the time, let alone for a female sculptor. Skeaping and Hepworth returned to London in 1926, fired with a desire to make sculpture from 'direct carving': that is, by working directly with the material, rather than making plaster or clay maquettes which were cast in bronze by specialists.
In 1927 the pair shared a studio at 24 St Ann's Terrace, now the recipient of the plaque. There they held their first exhibition, which launched Barbara's career. Her extraordinary stone Mother and child (Art Gallery of Ontario, Toronto) was bought by famed collector George Eumorfopoulos.
Hepworth's coup de foudre with Ben Nicholson in 1931 finished the marriage: she divorced Skeaping in 1933. Alongside her cast bronzes, Hepworth never gave up direct carving, in marble, in slate, in wood, revelling in the tactile engagement with the medium. She worked in the extremes of abstraction, as well as creating sculptures which reference natural, animal and human forms, however obliquely. Skeaping was a more conservative sculptor – as well as a wonderful draughtsman – with a particular interest in animals. He designed ceramic beasts for Wedgwood, commemorated the racehorse Mill Reef in bronze and in the 1950s became Professor of Sculpture at the Royal College of Art. That Blue Plaque reminds us, however, of two intensely creative people in their twenties, ready to take on the world.
To see works for sale by Barbara Hepworth, explore our exhibition Fortitude, Perseverance, Creativity: Fourteen Women Artists