Skip to main content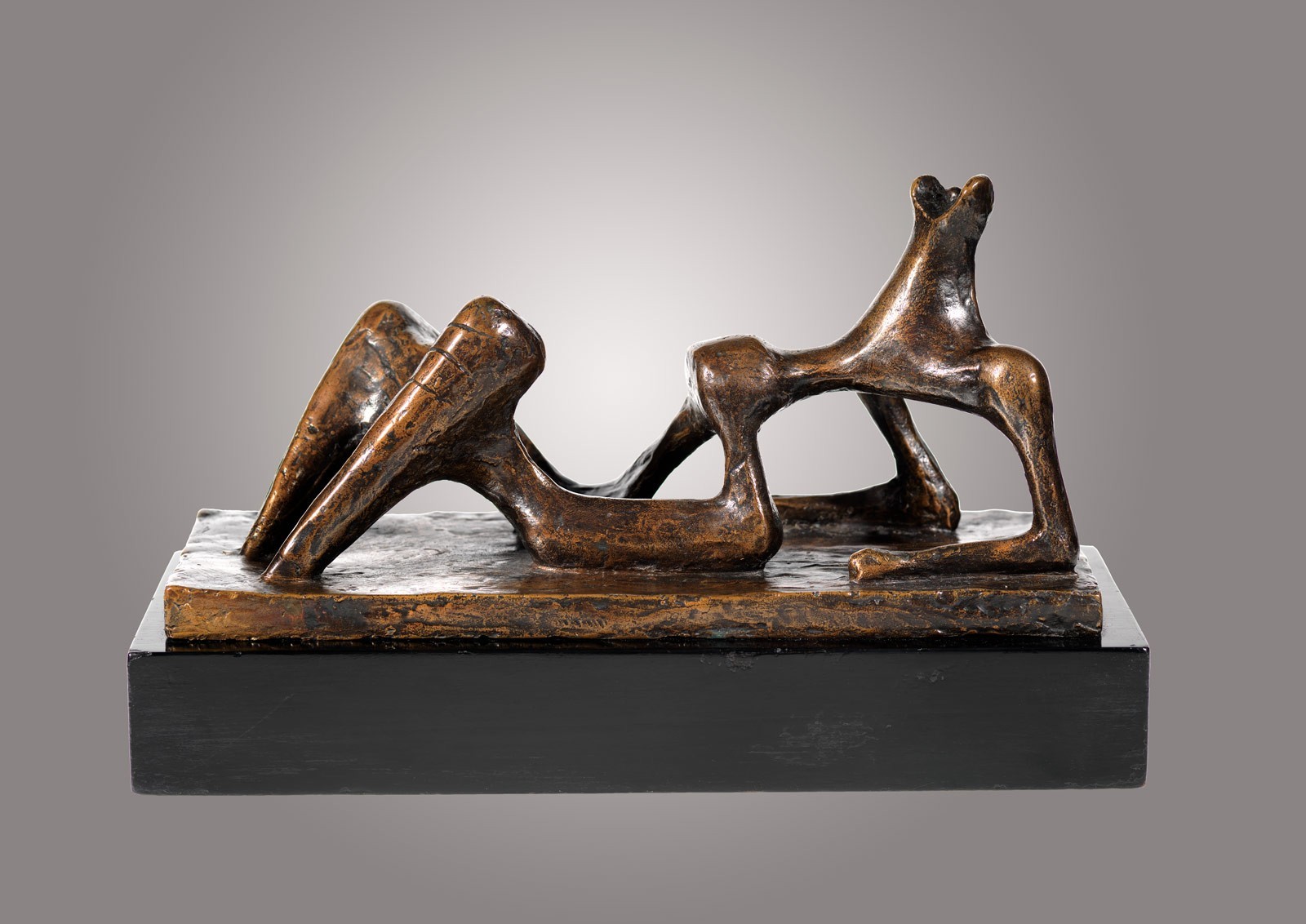 Happy Birthday Henry Moore
30 July 2020
Henry Moore OM CH (1898 – 1986), British artist, master sculptor
Over the past months, Richard Green Gallery has maintained a strong effort to engage with our international audience, considering the breadth of our collection and drawing comfort from our shared, global artistic heritage. It has been a time marked by reflection and measured consideration. We have found light in appreciating our strengths, be it through conversing via new platforms or paying attention to lost pastimes, it has been a shared experience, a strange moment in history.
We have engaged in new practices: for example, we now hold a weekly quiz night on the gallery's Instagram, both educational and fun (which is also being held this evening, on this very subject so keep an eye out!). We use it as an exercise in exploring the further reaches of the gallery's rich and varied collection, the great historic narratives the paintings we acquire represent and retell.
With this in mind, we are building on a series of questions that our quiz will pose, surrounding the life, career, and practice of Henry Moore – one of the most well respected and critically acclaimed British artists of the twentieth century. Today marks the 122nd anniversary of his birth in 1898 and what better way to celebrate! Let us begin…
"It is a mistake for a sculptor or a painter to speak or write very often about his job. It releases tension needed for his work. By trying to express his aims with rounded-off logical exactness, he can easily become a theorist whose actual work is only a caged-in exposition of conceptions evolved in terms of logic and words." – Henry Moore, "The Sculptor Speaks", Listener, 18 August 1937, pp.338–40
Henry Moore, the Yorkshireman
Moore was born in Castleford, Yorkshire, on 30 July 1898. He was the seventh of eight children, in a family that continually struggled with poverty. His father, Raymond Spencer Moore, was a coal miner and was determined his children would achieve greatness; encouraging them to pursue higher education. He was therefore strongly opposed to his son's decision to become a sculptor — a vocation he regarded as manual labour and with very little prospects – that Moore professed he had arrived at after hearing of Michelangelo's achievements during a Sunday School reading, at just 11 years old.
'I lived in Castleford, apart from being in the army, until I suppose I was 22 years old… We lived in Roundhill Road all the years I was a child and growing up … There were seven of us children in that one little house, no bedroom to yourself. In fact, there were three or four in one bed! My upbringing was very normal as with the majority of children in this country … My father was a miner at the time of a very long coal strike … We had a very thing time, but my father was unbelievably resilient and ambitious for his children … Without my knowing it – I didn't know it – he was a marvellous man.'[1]
To learn more about Henry Moore's "recollections of a Yorkshire childhood", please use this link: https://player.bfi.org.uk/free/film/watch-henry-moore-recollections-of-a-yorkshire-childhood-1981-online
Henry Moore, the Educator
In 1915, Henry Moore completed his teacher training and became a student teacher at his old school in Castleford. Moore, at only around 17 years old, felt too young for the role and struggled to maintain order amongst his students. A year later, Moore decided to join the British war effort, he enlisted to the Civil Service Rifles and was sent to fight in the First World War in France. In 1917 however, Moore and his regiment (15th London Regiment) were gassed at the battle of Cambrai and Moore suffered an injury. He therefore spent the remainder of the war recuperating and working as a PT instructor. Due to his service during the war, Moore was entitled to an ex-serviceman's grant and in 1919 he became a student at Leeds School of Art. It was here that Moore met Barbara Hepworth, and the two began a lifelong friendship and healthy professional rivalry. At Leeds School of Art Moore worked in a sculpture studio set up especially for him and was given access to the private collection of the university chancellor, Sir Michael Sadler. It was through Sadler that Moore first came into contact with Modernism. Moore later went on to study at the Royal College of Art, London, from 1921; after receiving a scholarship to study sculpture. He returned to teaching during the interwar period, teaching sculpture part-time for fifteen years, first at the Royal College of Art, from 1924 to 1931, and then at the Chelsea School of Art, from 1931 to 1939.
To learn more about Henry Moore's careers as both student and educator, please use this link to read Rebecca Wade's essay on Moore's teaching practice and how it adapted to both social influences and 'in the context of changing attitudes to art education': https://www.tate.org.uk/art/research-publications/henry-moore/rebecca-wade-learning-from-moore-between-the-wars-henry-moore-as-a-teacher-at-the-royal-r1151310
Henry Moore, the Family Man
1928 was an important year for Henry Moore. The artist held his first solo exhibition at the Warren Gallery, London, consisting of forty-two sculptures and fifty-one drawings. Moore was delighted with the reception of the show, where his works were bought by illustrious artists including, Jacob Epstein (1880-1959), Augustus John (1878-1961) and Henry Lamb (1883-1960)
"[Dorothy Warren] sold £90 worth of my things – thirty drawings at £1 each, several to Epstein, several to Augustus John, and Henry Lamb – it was mostly other artists, and established ones, who bought, and that was a great encouragement to me."[2]
1928 was also the year in which Moore received his first major public commission. Alongside senior, internationally recognised sculptors such as Jacob Epstein and Eric Gill (1882-1940), Moore was commissioned by the architect Charles Holden (1875-1960) – along with seven other artists – to produce a carved relief for the new London Underground Building at St James's. Despite the relief being a departure for Moore, he had always been preoccupied with sculpture in its full spatial richness, he created the West Wind (http://catalogue.henry-moore.org/objects/14243/), a fine example of the artist's direct carving technique. The artist cut into the building as severely as the structure would allow, so the carving would come as close to sculpture in the round as possible.
It was also in 1928 that Moore met his future bride. While still teaching at the Royal College of Art in London, Moore met Irina Radetsky, a painting student. The couple were married just a year later. A fellow artist, Moore cherished Irina's opinion throughout his career. Together they moved into a home in Hampstead, London, which also housed Moore's studio and remained there throughout the 1930s. During this time, Hampstead was a hub of artistic creativity and Henry and Irina had a wonderful array of artistic neighbours during this time, including Naum Gabo, László Moholy-Nagy, Barbara Hepworth, Marcel Breuer, Paul Nash, Ben Nicholson, Roland Penrose and Herbert Read.
Over a decade later, the Moores were living in Burcroft cottage in Kingston, Kent, when war was declared on 3rd September 1939 – with Henry Moore driving up to London a few days a week to teach at the Chelsea School of Art. With the fall of France and the threat of invasion, by June 1940 he and Irina had returned to their studio at 11a Parkhill Road, Hampstead. Shortly after Hepworth and Nicholson's move to Cornwall with the triplets, the Moores accepted the offer of their less expensive space at No. 7 The Mall Studios (just off Parkhill Road) by early September. A month later, after a weekend at the home of their friend Leonard Matters in Hertfordshire, they came back to find the studio badly damaged by bomb blast. The Moores returned to Much Hadham that night and within a few months were renting an old farmhouse called Hoglands in the nearby hamlet of Perry Green which would remain home for the rest of their lives.
Henry Moore, the Surrealist (!)
This section is more for fun than anything! Did you know that Henry Moore had formal links to the Surrealist movement – aside from his work being compared with the sculptures of Alberto Giacometti (1901-1966)? Not only did Moore join Paul Nash's "Unit One" – a group that Nash founded in 1933 to unite all avant-garde artists in Britain – but he served alongside Nash (1899-1946) and Roland Penrose (1900-1984) on the organising committee of the 1936 International Surrealist Exhibition in London. His work was also published in the surrealist journal Minotaure and his name added to various political tracts issued by the British Surrealist Group. Though Moore never committed to the Surrealist experiment wholly, he was continually aligned with international artists whose work was heavily associated with the movement, including Jean Arp (1886-1966), Joan Miró (1893-1983) and of course, Giacometti. It was through Surrealism's "nonsense-aesthetics", or more formally, the movement's attack upon tradition that Moore arrived at his exploration of biomorphism – the expression of abstract forms or images as evocative of naturally occurring objects or beings: plants, organism, the human body.
To see an example of Moore's Surrealist work, please use the following link: https://www.tate.org.uk/art/artworks/moore-three-points-t02269
Henry Moore, Master of Modernism
It is undeniable that Henry Moore became one of the most famous British artists of the twentieth century. In the decades that followed the artist's rise to international prominence, he achieved unparalleled heights.
He was appointed an Official War Artist during the Second World War from 1940-1942 for which he made a series of drawings of people sheltering in the London Underground, as well as studies of miners at the coal face. The work transformed his reputation and the sculptor became known to a much wider audience. After the war he enjoyed a great deal of success, with his works receiving critical acclaim around the world. He executed many major commissions for museums, public institutions, private collectors and municipal buildings, including his Madonna and Child commission for St. Matthew's Church, Northampton which marked the artist's return to sculpture.
At the beginning of the 1970s, Moore created a foundation, the aim of which was to promote public awareness of sculpture and to protect his own work for the future. Located in his home village of Much Hadham, Hertfordshire, the foundation houses a library, archives and a collection of drawings, prints, maquettes and sculptures by the artist.
'A few years before his death, Henry and Irina gave the Perry Green estate with its land and studios along with the remaining collection of his work to the Henry Moore Foundation. This allowed the Foundation to continue to promote his work through exhibitions and to offer grants for the support of sculptural commissions, acquisitions and research.
Moore died at the age of 88 at Perry Green on 31 August 1986 survived by Irina who later died in 1989 and their daughter Mary.'[3]
"Although it is difficult, I have to go out every day for a drive, to see nature, the countryside, the trees, the sky, to be renewed and refreshed … Even now, at the age of 87, it is necessary … An artist lives through his eyes, as a musician lives through his ears." – Henry Moore, Henry Moore: My Ideas, Inspiration and Life as an Artist, Henry Moore and John Hedgecoe (ed.), London, 1986, p.175.
To learn more about the Henry Moore foundation, please use the following link: https://www.henry-moore.org/
And to see our online selection of works by Henry Moore, currently for sale, please go to the link here.
[1] Henry Moore, Henry Moore: My Ideas, Inspiration and Life as an Artist, ed. Henry Moore and John Hedgecoe Ebury Press, London, 1986, pp.10-11
[2] Henry Moore, in 'Conversations with Henry Moore', John and Vera Russell, Sunday Times, 17 December 1961
[3] https://www.henry-moore.org/about-henry-moore/biography/ensuring-a-legacy